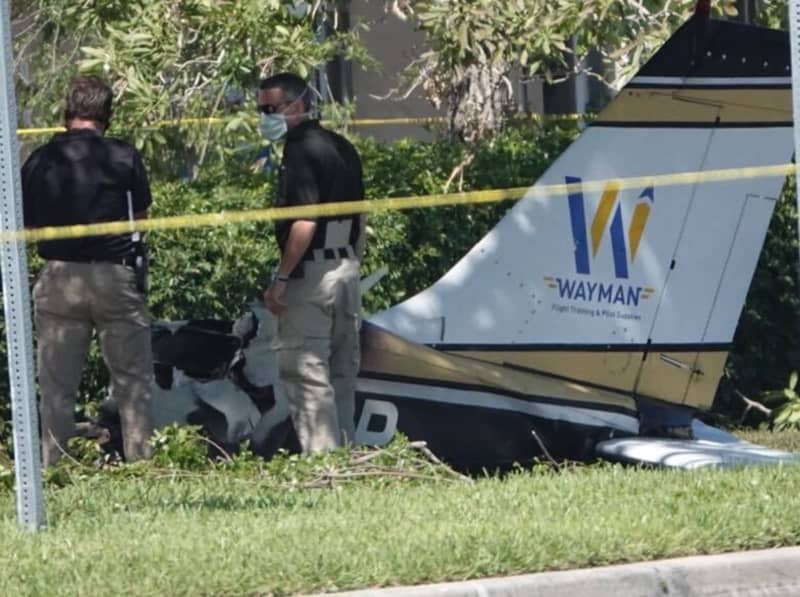 FORT LAUDERDALE, Fla. — A flight instructor blamed engine failure for a plane crash in Miramar this month that killed a 25-year-old pilot in training, a new federal report shows.
But inspectors with the National Transportation Safety Board so far haven't found evidence of the plane failing or malfunctioning. They haven't specified what caused the May 12 crash.
The instructor, who was seriously injured in the crash, said he and the pilot in training, Mark Daniel Scott of Miramar, were halfway to a practice area during the flight when "the right engine failed," according to a preliminary report released Wednesday by the NTSB.
The NTSB is now looking for evidence to verify the instructor's account, as part of an investigation that can take months or longer.
On the day of the crash, Miramar Police spokeswoman Tania Rues said the cause of the crash was mechanical in nature, but didn't provide any additional details.
A log for that flight showed the plane, a Piper PA-34, took off from North Perry Airport in Pembroke Pines, flew west toward the Everglades and turned around just east of U.S. 27.
It would eventually crash near the Miramar Commons shopping center, near the intersection of Pembroke Road and Hiatus Road, about 9 a.m. It clipped a power line on its way down.
The flight log also shows that the plane never got higher than 1,000 feet.
Multiple pilots and flight instructors interviewed after the crash said that that type of plane can reach a few thousand feet and should have been well over 1,000 feet after just a few minutes.
Robert Katz, 60, of Dallas, is a commercial pilot and certified flight instructor. He said that even with just one engine, a multiengine plane like the one that crashed should have been able to fly with no problem, especially if there were only two people on a plane that can carry up to six people.
"There was probably a problem with one or both engines before the plane left the ground or just after takeoff," Katz said. "I'm basing that off the fact that the airplane never climbed past 1,000 feet above sea level."
The instructor was identified as Andres Bastidas by Eddy Luy, vice president of Wayman Aviation, the school that owned the plane. Luy couldn't be reached for comment Wednesday afternoon.
———
(Sun Sentinel staff reporter Eileen Kelley contributed to this report.)
———
©2020 Sun Sentinel (Fort Lauderdale, Fla.)