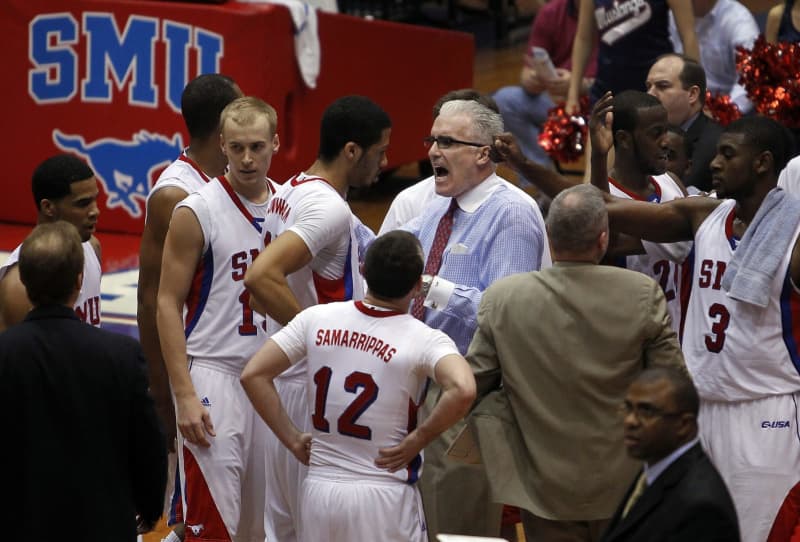 A college head men's basketball coach for 11 seasons at Notre Dame, North Carolina, Florida Atlantic and SMU, Matt Doherty certainly has the necessary credentials to support a bold comment regarding the profession.
"You look into coaching and most coaches are miserable. It is a miserable existence. It is what it is," Doherty, who also spent seven seasons at Kansas as an assistant to Roy Williams and three seasons as an aide at Davidson, said in a phone interview with The Star.
Doherty, 58, has embarked on a new career as a professional growth coach and motivational speaker and co-hosts a pair of radio talk shows in North Carolina. He answered without hesitation when asked why being a head coach in college was such a "miserable" undertaking.
"Pressure, just the pressure" Doherty said. "You have to win the next game. There's no real time to build. You are not in control. Your roster turns over every year, every summer. Guys transfer. It's just a tough existence.
"You see people who have done it for a long time. There's really a lot of respect what they've been able to deal with day in and day out, the grind of it."
Doherty, a 1984 University of North Carolina graduate who has been a frequent guest on sports talk shows the past month and a half in response to ESPN's 10-part documentary on Doherty's former college teammate, Michael Jordan, acknowledges that some of his happiest years in basketball came when he was assisting current UNC coach Williams at Kansas.
In Doherty's seven seasons in Lawrence, the Jayhawks (1992 to 99) reached one Final Four and one Elite Eight and won the conference regular-season crown five times.
"I probably enjoyed my time at Kansas as much as any of my coaching experiences," Doherty said. "My head coaching job at Notre Dame (where he went 22-15 and reached the NIT finals in 1999-00, one year before heading to his alma mater, UNC) was probably there at the top too."
Doherty, who was known as an effective recruiter at KU, says he misses game day in Lawrence.
"I think Allen Fieldhouse is the best place in the country to watch and coach a game," Doherty told The Star, "because it just has that old-school feel with 16,000 (16,300) people in it. You can't replicate that (building) any more for a lot of reasons.
"The passion, the structure, the knowledge, the intensity … I still remember that UCLA game one Saturday afternoon (when) we were down 15 at half and won by 15 (85-70 over Bruins on Dec. 2, 1995). The crowd when Jacque (Vaughn) made that spinning layup to take the lead … I get goosebumps thinking about it."
An East Meadow, New York native, Doherty was a sophomore starter on North Carolina's 1982 NCAA title team. He noted that during his four-year playing career at UNC, he felt Carmichael Arena and N.C. State's Reynolds Coliseum were "the two loudest places we played." He never played a game in Allen Fieldhouse.
Since his coaching career ended after the 2011-12 season at SMU (where he went 80-109 in six seasons), Doherty has worked as a color analyst for ESPNU, an NBA scout and associate commissioner of the Atlantic 10 Conference.
The man who has been a motivational speaker for over a year now (he can be contacted for engagements at the Website coachmattdoherty.com) is close to finishing a book in which he'll "discuss lessons learned through the ups and downs of being a college basketball coach."
He said, "it's not a tell-all, just about the mistakes I made and how I learned from them and hopefully other people can learn from them, too."
An example of lessons learned? He was fired after three seasons at North Carolina after compiling a 53-43 record and missing the NCAA Tournament his final two seasons after a stellar season at Notre Dame.
"Looking back, you have to be reflective. Coach Williams used to say, 'If you are pointing a finger, there are three pointing back at you,"' Doherty said.
"In running a program for the first time, you can, as I call it, 'step on landmines.' I didn't step on a lot of landmines at Notre Dame. There weren't as many out there. But at North Carolina I did. There were a lot more landmines. At Notre Dame they were embracing change. At North Carolina they did not embrace change."
He knows deep down that he's finished coaching. He's committed to corporate speaking and running leadership seminars.
"I am kind of in a sweet spot. I had an opportunity (within the past year) to coach a team in a new league that was starting up (he did not name the league). I said, 'No.'
"When I turned it down, I said, 'OK maybe this is the last time I really get a chance to coach again,"' Doherty said.
"That is not the only thing I can do. I don't have to coach. I think there is some peace in that," he added, noting, "I am fulfilled on a lot of fronts. For the rest of my life I don't want to be in a position where somebody can fire me. I am now in control basically and have multiple revenue streams. I can pivot a lot quicker now."
He and wife Kelly, who live just outside of Charlotte, N.C., have two children in college: Tucker plays lacrosse at Bellarmine University and Hattie rows at UNC.
Until the COVID-19 coronavirus pandemic hit, Doherty was doing speaking engagements for various businesses "four or five times a month."
"I call it the 'Doherty leadership practice.' It's my fix of teaching and coaching," Doherty said, noting, "I'll go anywhere in the country (during normal times)."
He's also available for video presentations.
An example of Doherty's work was revealed in an article in the Fort Wayne Journal-Gazette. The newspaper reported on his address to the Fort Wayne Mad Ants' corporate partners and staff members for the NBA G League team.
"I remember we (Tar Heels) lost an Elite Eight game in 1983 to Georgia," Doherty told his Mad Ants audience, as quoted by the paper. "We landed on a Sunday in Chapel Hill. On Monday, Michael (Jordan) is in the gym playing pickup basketball. You hear these legendary stories about Michael Jordan when he's playing the Knicks in the playoffs and going to Atlantic City until 4 in the morning, then dropping 50 points on the Knicks the next day.
"His energy was at an all-time high level," added Doherty who said it's key for businesses to hire employees who have boundless "energy."
"A friend of mine, Kevin Stallings, who used to coach at Vanderbilt — he and I were assistants at Kansas — and he said there are two types of players: energy givers and energy suckers," Doherty said during the Mad Ants seminar. "You don't want energy suckers on the team. You don't want moody players on your team. That's where the total, the sum, is bigger than the individual parts. … When people suck the life out of your organization, that's not good to have."
Mad Ants president Tim Bawmann was quoted as saying: "Matt provided the WOW factor to our partners, season ticket-holders and community leaders. His message of leading during times of crisis rang home to everyone given our current pandemic situation. Our guests left with pages of takeaways."
Doherty said he hopes "to continue to grow the business. I would like to be someone who could go around the country with my public speaking and executive coaching."
Speaking comes naturally to Doherty.
"I always tried as a coach to do a good job when speaking to alumni groups," he said. "I always enjoyed doing it. You speak, you watch the film, you have other people look at it, have others critique you. You say, 'How can I do a better job?"'
Doherty said he has studied fellow speakers such as Tony Robbins, Jon Gordon and John Maxwell. He was asked to offer Star readers "one important message" they might ponder during the pandemic.
"Your life is nothing but a series of decisions and dealing with the consequences. The better decisions you make the better your life will be," Doherty said.
"I've told players that for their whole lives. I believe it. My decision to go to North Carolina at 17 years old … your decision to drink. Your decision to get in a car after you drink. Your decision to get in a car with someone who is drinking.
"Your decision to study or not study. Your decision to break curfew. Life is a series of decisions. You've got to deal with consequences."
Some things in life are out of one's own control, such as the premature ending of the 2019-20 college basketball season because of the pandemic.
KU, which entered the postseason 28-3, did not have a chance to win an NCAA crown.
"I think they had as good a chance as anybody to win it," Doherty said of the Jayhawks. "You feel sorry for everybody who didn't get their last home game, didn't get a chance to win a national championship.
"As a coach, you could say (to players), 'We are hurting. We are disappointed, but think of the people who are out of work, who are struggling in everyday life right now. It is disappointing but it could be worse."
———
©2020 The Kansas City Star (Kansas City, Mo.)