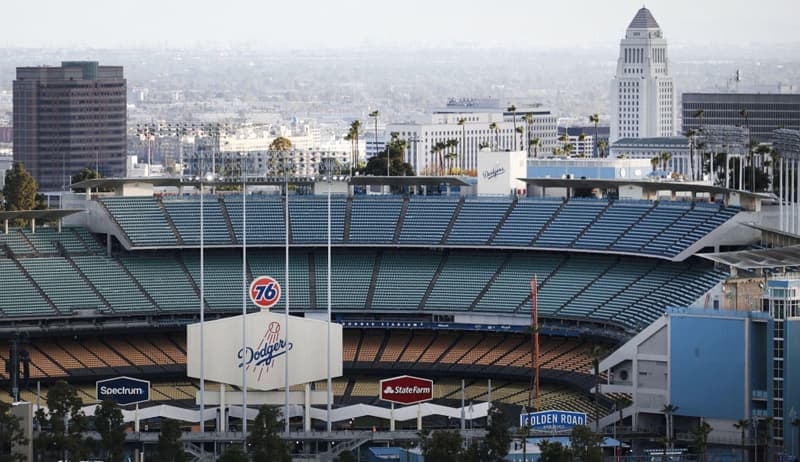 PHILADELPHIA — At some point, the conversations turn to money. Talks about restarting sports may start with public health, and maybe finish there. In the middle, somewhere in all these conversations, somebody is in charge of talking about the economics of the coronavirus crisis.
These are not short conversations.
All over the landscape, the professional sports and big-time college sports, the dollar figures on the line are into the billions. Not just overall, most separate sectors. The NFL has billions of dollars on the line. So does Major League Baseball. Even the Power 5 college leagues — billions. Combine it all, you get deep into the tens of billions.
As the NBA looks to resume play in late July at Disney's ESPN Wide World of Sports Complex in Florida, the dollar figures involved could depend on whether the league includes some regular-season play or cuts straight to the playoffs. Either way, the losses in revenues still could run into the many millions.
If Major League Baseball games aren't played this year, team owners stand to lose nearly $4 billion, according to commissioner Rob Manfred. The players union, ever distrustful of ownership, has asked the league to produce evidence to support that claim.
Never mind the exact numbers. The disruption of the 2020 season, however long it persists, almost certainly will cause unprecedented economic damage from which MLB might need years to recover.
"Under the best of circumstances, the 2021 revenue that MLB generates is not going to be $10.5 billion like it was last year," said Andrew Zimbalist, author and professor of economics at Smith College. "This year, obviously, it's not going to be that. But even if they play a full season next year, it's not going to be $10.5 billion. There's going to be a lot of questions and uncertainty going forward about what's going to happen, not only in 2021 but in subsequent seasons."
According to published reports, NHL teams lose about $1.3 million for each regular-season home game not played — and more for playoff games that aren't held.
The NHL seems intent on resuming the season with a 24-team format (without fans) that would have play-in games and would eventually have 16 teams in the Stanley Cup playoffs. That would help the league recoup some of its losses. The NHL stands to make as much as $500 million in TV revenue if the playoffs are held.
In other words, the NHL stands to lose as much as $500 million in TV revenue if the playoffs are not held.
College sports as an entity has just as much on the line. ESPN calculates as much as a $4 billion loss if the 2020 football season is canceled.
Many of these calculations need to be set up in various categories. What about games with no fans? What about shortened seasons with no fans? What about socially distanced fans in some states, no fans in others? All those questions come with price tags.
Should the NFL salary cap drop by roughly 30% next year? Marc Ganis, president of Sportscorp, Ltd., a prominent sports consulting firm, thinks that is one possible scenario, should the league have to play the 2020 season with no fans in the stands.
Observers have theorized that of the four major professional sports leagues, the NFL might suffer the least financial damage from playing a season without fans, given that most of the league's money comes from national TV deals, and teams play only eight regular-season home games a year.
That doesn't mean the loss of stadium revenues wouldn't be a big deal for the league and for the Eagles, though. Forbes magazine, working off 2018 figures, recently estimated that the league would lose around $5.5 billion with no stadium revenues in 2020 — including tickets, concessions, sponsors, parking and team stores.
Ganis, who has worked with teams on such things as stadium projects, feels that $5.5 billion figure for loss of all stadium revenues this year might be "a little high." He said local revenues tend to account for 25 to 27% of a team's annual take, probably a little less than $4.5 billion a year.
So Ganis also feels Forbes' estimate that the Eagles would be in line to lose $204 million is also a bit high. Still, even a little less than that is a lot, especially when you consider that Forbes pegged the Eagles' operating revenue — their profit after expenses — at $150 million. Forbes has estimated the Eagles' franchise value at $3.05 billion, but until Jeffrey Lurie sells the team, that number is largely theoretical; Lurie doesn't have a vault with $3.05 billion in it that he can swim around in, a la Scrooge McDuck.
———