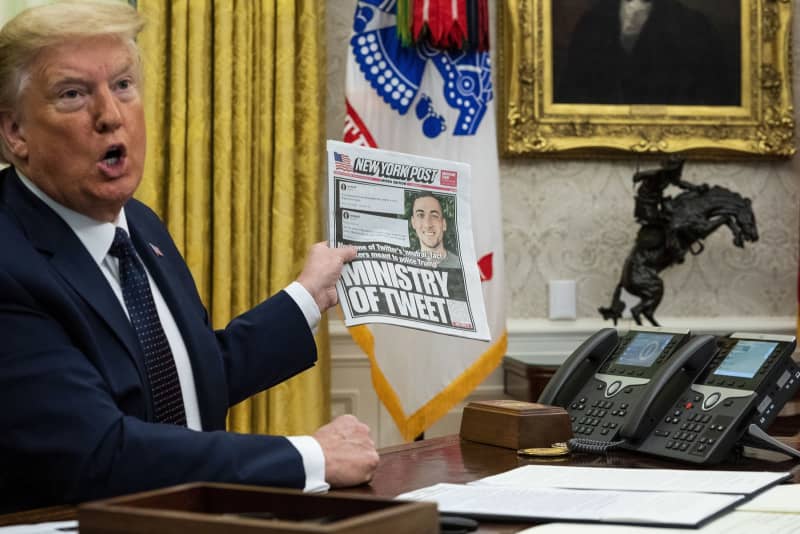 All right, that's enough. President Donald Trump has said MSNBC host Joe Scarborough, persistently critical of him, may have been involved in murdering a woman almost 19 years ago. There is no evidence of any such thing, and it was little short of horrendous to say so.
Scarborough himself is hardly Mr. Rodgers singing "Won't You Be My Neighbor," and MSNBC makes Fox News look bipartisan. It doesn't matter. To have the president of the United States spew this kind of noise degrades the White House, the federal government and America. Kneeling during "The Star-Spangled Banner"? It is nothing compared to this representative of our great country seeking revenge through a hateful tweet released to one and all.
It's hardly the first time Trump has engaged in vile accusations, and he will sometimes tweet insults a dozen times a day as if trying to prove how good he is at being shameful. Even though there are those who rip his quips out of context, exaggerate them and indulge in similar inanities, here is a president acting like a lowlife at a time when we have 100,000 people dead from a pandemic, an America uncertain of what the future might bring, as well as something else.
That would be a hefty, leftist political movement aiming to diminish our heroic, enlightened past, rip away our liberty, cripple the miracle of capitalism, demolish crucial norms and energize an ever more powerful government in ruining us with unintended consequences.
Trump is part liberal, part conservative and mostly populist, which is to say he encourages everyday folks in fearing elites. Add it all together and, despite regrettable error, it has included many steps forward. He helped awaken the economy as it made many of the most vulnerable around us better off. He helped reform federal prisons. He got us out of an Iran deal that threatened to nuclearize an enemy. He destroyed ISIS. He got us out of the Paris Agreement that lets do-nothing nations pretend they are doing something about climate change just by being signatories.
Of course, Trump did say global warming was a hoax, but don't forget that those who spout the word "deniers" also deny science sometimes, such as not getting it that, if things are as bad as they say, one of the most important solutions is nuclear power. The overreaching New Green Deal could do to the economy something comparable as what the coronavirus has done.
And now we have gaffe-prone Joe Biden making you wonder how long he will cling to moderation. He has already made concessions to the socialistically ambitious on a couple of policies and his circular ramblings make you wonder if linear thought is still a possibility with him. Remember the 350 health professionals who sent a letter to Congress saying Trump's mind was collapsing? Will they do the same to Biden, the likely Democratic nominee for president?
No, but, for more castigation of Trump, note that Scarborough once also said he was mentally ill, that House Speaker Nancy Pelosi said he belonged in prison and that a deluge of misleading polemics made millions believe he had colluded with the Russians to win the 2016 election.
That's a conspiracy theory almost up there with the birther theory, and the fraudulent Mueller probe added up to more than two years of governmental disruption. The worry is that Biden wins the presidency, the Democrats take the Senate as well as the House and they fail to rebuild our economy as they further shrink our dearest principles, all in the name of justice and equality.
I don't like the idea of Twitter fact-checking Trump because it will be political-checking. But what if his comrades persuaded him that his tweets and loosely managed tongue should dwell in decency? What he should do for reasons of character and politics is contemplate honor.
———
ABOUT THE WRITER
Jay Ambrose is an op-ed columnist for Tribune News Service. Readers may email him at speaktojay@aol.com.
———
©2020 Tribune Content Agency, LLC