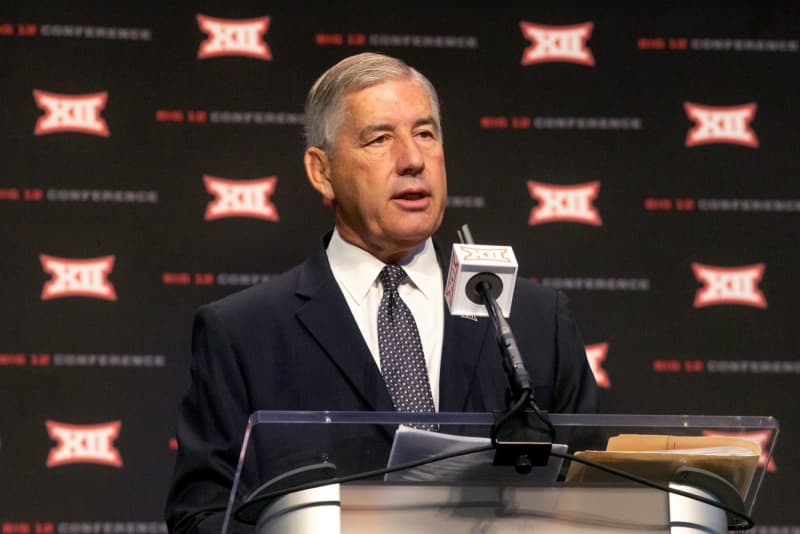 FORT WORTH, Texas — Big 12 Commissioner Bob Bowlsby provided a sense of optimism for college football to start on time during a videoconference with reporters on Friday afternoon.
The league is allowing football players to return to campuses starting June 15 for voluntary workouts. That would give programs more than 11 weeks to prepare for Week 1 of the season Sept. 3-5.
"You talk about optimism, I am optimistic that we'll start the season somewhere around Labor Day and I think we'll get a crack at it," Bowlsby said. "I'm bullish about our opportunity and more so than I was 30 days ago. I hope I'm even more so 30 days henceforth."
Bowlsby does anticipate interruptions throughout the fall as the sports world returns to action amid the coronavirus pandemic. There could be outbreaks in different parts of the country or schools.
However, Bowlsby said, there is more testing available and there is more knowledge about the virus now than two months ago. And he hopes that trend continues next month.
TCU chancellor Victor Boschini, who is on the Big 12's board of directors, echoed similar thoughts when asked about football starting on time.
"I'm very optimistic about it," Boschini said. "I think it's going to happen."
While every school within the conference faces different circumstances, Boschini said TCU is positioned well when it comes to COVID-19 testing. With every school putting student-athletes' health as the top priority, testing is necessary before going forward with a season.
TCU and the University of North Texas Health Science Center (UNTHSC) have a joint medical school and Boschini said they recently purchased two machines that can process coronavirus tests within 15 minutes.
Boschini said how the school specifically goes about testing players and staff isn't finalized yet.
"In general, we're planning on over-testing versus under-testing," Boschini said. "We're in a good position geographically and have a medical school and good relations with many hospitals in our area, so we don't feel we'll have any issues getting tests."
Other takeaways from the virtual news conference:
— The Big 12 distributed an average of $37.7 million to each school for this fiscal year, Bowlsby said. That is down about $1.1 million from last year, largely due to the cancellation of March Madness and spring sport championships.
— Bowlsby said the conference will provide input and guidance to schools as far as how to go about possible limited capacity venues, but those decisions ultimately fall to the athletic directors.
— Bowlsby shot down the notion that colleges should "regionalize" more when it comes to scheduling and non-conference opponents. "We want to compete nationally," he said. "Our universities are national organizations of higher education. There are those advocating for regionalization. We're not among them."
— A recent report on CBS Sports suggested the Power Five conferences could break away from the NCAA. Said Bowlsby: "I'm about as dyed-in-the-wool as anyone you can name (supporting the NCAA). It's not without its critics, that is for sure, but I think any suggestions that anything like that is in the offing are not accurate at this point."
— Bowlsby praised TCU football coach Gary Patterson for his work as president of the American Football Coaches Association amid the crisis. Said Bowlsby: "He's carrying a lot of water on behalf of college football and on behalf of the Big 12. I just want to give Gary a little bit of a shoutout. With all the duties that a head coach has and all the craziness we're dealing with right now, I'm sure his plate has been full. Gary's in a leadership position among his peers and is doing a really good job with it."
———
©2020 Fort Worth Star-Telegram