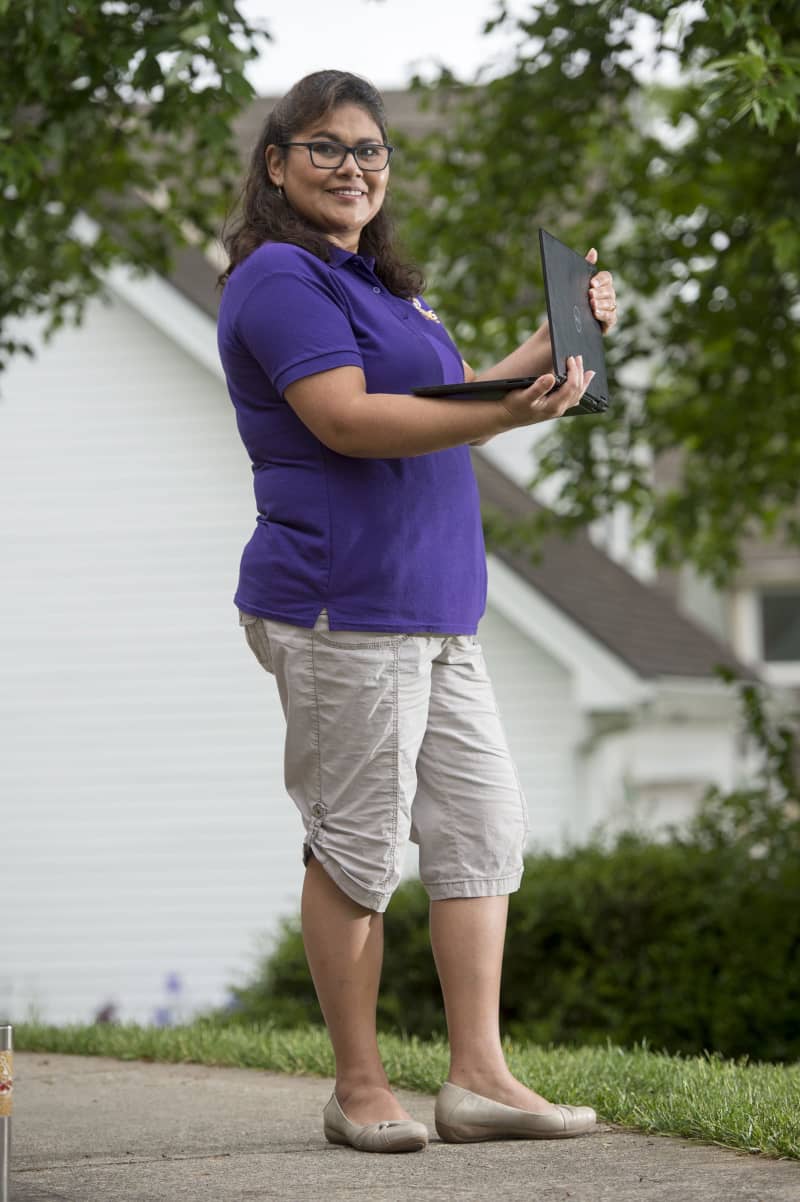 KANSAS CITY, Mo. — The Kansas City school district offered free Wi-Fi hot spots when classes moved online in the COVID-19 shutdown. Families just had to pick them up curbside at school.
That was a problem, teacher Ana Gresty quickly learned.
The calls poured in from her Northeast Middle School math students.
Panicked, one explained she couldn't make it to school because her mother had just given birth and was still in the hospital. Others said their parents were working and didn't have transportation.
And then there was the girl who was going to walk four miles, alone.
"At first I thought, maybe I could get them Uber rides. But then I thought, you know what, I'm just going to dress myself, put on my mask and gloves, and drive them," Gresty said. "A lot of them don't have friends or family to give them a ride, so if I'm here, I need to help."
When Gresty got the call from the student who was walking, she immediately told her she was on her way. But Gresty warned that the girl's father would need to sign for the equipment.
"She said he can't do that because he's working and can't leave," Gresty said. "So I asked the dad if I could come at his lunchtime and drive him to the school, have him sign the form, then drop him off at work again. So that's what we did. I did it for a couple of parents that didn't have transportation or anyone to ask for a ride."
When Gresty got home that night, she went straight to the garage, threw her clothes in the washing machine and jumped in the shower. If she's not helping English-language learners work through math problems, Gresty is taking care of her own four children or spending time with her husband — whom she worries is at a higher risk of contracting serious coronavirus symptoms.
Her students and fellow teachers agree Gresty has gone above and beyond for her students. But, she simply said, "Some things just have to be done."
'Way more than just teaching'
Teachers, she said, have worked nonstop to offer students an escape from the chaos of the coronavirus pandemic. They checked in with kids whose parents lost their jobs. They home-schooled their own children, while teaching dozens of students online.
They've used Zoom and posted YouTube videos for the first time, hoping to offer some entertainment and learning opportunities while kids are stuck at home. They've delivered meals to families who can't afford groceries. And they've tried to provide some sort of structure for students who feel like the ground has disappeared from under their feet.
"It's way more than just teaching math, science, social studies — our teachers also are trying to maintain emotional support and give our families whatever they need," said Brett Schriewer, principal at Northeast Middle School. "It's incredible, the patience and professionalism that teachers have exhibited to help our students be successful. They have been rock stars."
At his school, Schriewer said about 60% of students have learned English as a second language. Some have only been living in the United States for this past school year.
So for teachers like Gresty, the task of keeping students engaged and logged on comes with a seemingly endless list of other challenges.
"Some of these kids have been here for less than six months and are just now learning English. So a lot of the terms we use for technology, they don't know yet. It's even simple things like helping them understand how to hit the 'shift' key," Schriewer said.
Gresty has a passion for teaching students who are new to the country, largely because she was once in their shoes. Originally from Bolivia, Gresty started working as a paraprofessional, and then a math teacher, in Kansas City about six years ago.
"I learned English when I came to this country, so I've been through what they're going through," she said. "They need a lot of one-on-one time. But that's very hard in these times, in the pandemic. With them not being able to go to school, we worry about them being depressed, their parents losing jobs, them not being able to work with the computer at the pace we want."
Many of her students are babysitting their younger siblings, she said. Some are working odd jobs to help pay the bills. A handful don't have a table to sit at or a quiet place to do school work.
"When I had to explain to them that we aren't going back to school, some of them cried," she said. "Some of them feel very alone."
'We love what we do'
Even before the pandemic, Gresty's job has never been limited to just teaching math or translating the word "percentage" for Spanish and Arabic speakers. But this school year, just as the "shock of being in a new country" started to wane for her students, all feelings of normalcy were ripped away once again.
"They're very worried. They worry about their parents. They worry about their families they left in their countries. They worry about the pandemic," she said. "For me, I think we kind of need to distract them with the school work to help them get through. But it's not the same as being in school. They lost that environment where they know they're safe."
Through late-night phone calls, email chains and video chats, Gresty tried to recreate that safe space. She has sacrificed her time off to call parents when they clock out of second-shift jobs. She has spent countless hours on Google Translate, helping students complete homework.
She has taken the time to answer questions about the pandemic and what this time in history means. And she has been there, assuring students that everything will be OK when they've felt the most alone.
But for Gresty, that's just the job of being a teacher.
"I think I just do it all because I know the kids need it," Gresty said. "All teachers are working very hard in a lot of different ways. But we do it because we love what we do. We are passionate about teaching. And we really just want the best for our kids."
———
©2020 The Kansas City Star (Kansas City, Mo.)