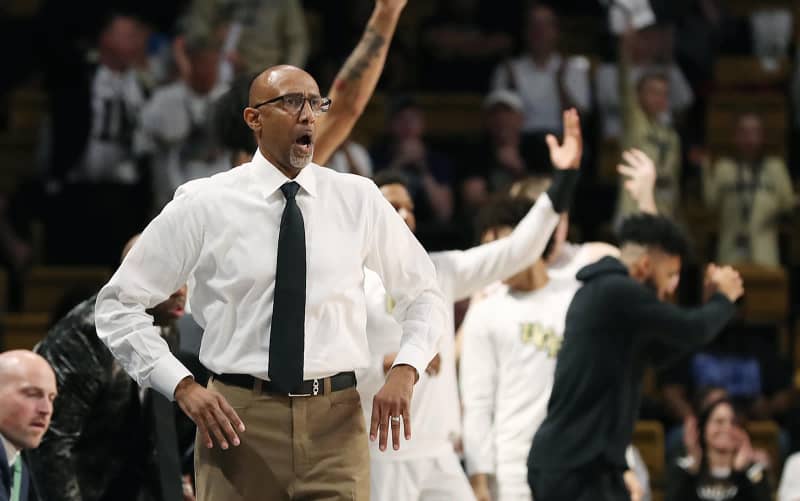 Protesting and riots across the country, fueled by George Floyd's death in Minnesota last week, have seen various sports figures speak publicly.
In college basketball, UCF men's basketball coach Johnny Dawkins released a statement Monday on Twitter regarding that and two other incidents that saw African-Americans die recently.
"I am a black man, I have black children," Dawkins statement reads. "I am a black coach, I have black players. And honestly, I am angry. George Floyd's murder comes on the heels of the vicious and senseless murders of Ahmaud Arbery and Breonna Taylor after years of increased exposure of police violence against the black community."
"George Floyd, Breonna Taylor, Ahmaud Arbery — these are tragedies, if you are human, you should be outraged! For those without a personal connection please know that our anger is righteous, now is the time to listen to us, listen to our pain. Only then can we create a better and safer reality for our community. We R One … God bless and stay safe."
———
Video footage of Floyd's death went viral. He was shown being restrained with handcuffs face down on pavement by Minneapolis police officer Derek Chauvin, who held him down with his knee across the back of Floyd's neck for more than eight minutes.
Passersby stopped to plead with Chauvin and other officers about Floyd's treatment, according to the video. Chauvin and three other officers on the scene were fired, while Chauvin was arrested and charged with murder.
According to the Minneapolis Star Tribune, Chauvin's wife has filed for divorce, while the other three fired officers, Tou Thao, J Alexander Kueng and Thomas K. Lane, have either left Minnesota or are "believed to be staying with family."
In March, Taylor, a medical worker, was killed in her Louisville, Kentucky, home by police, according to the Louisville Courier Journal.
Arbery's death happened in February while jogging in Georgia, and caused outrage when cell phone video footage went public in early May. Three men have been charged in his death, according to ABC News.
———
©2020 Miami Herald