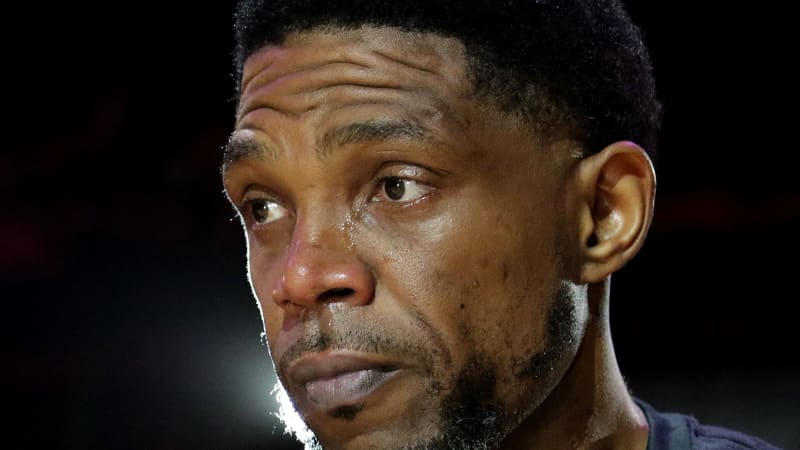 This, Udonis Haslem said, is a case where there are benefits of being stuck in the middle.
Not that he would know. Nor, for that matter, would the Miami Heat's youngest players.
With the NBA in the midst of what appears to be a four-month layoff, Haslem said he expects the most difficult adjustments to come for the league's oldest and youngest players.
Turning 40 in just over a week, Haslem stands at the top of that spectrum, followed in terms of age on the Heat roster by 36-year-old Andre Iguodala and 34-year-old Goran Dragic.
At the other end of the spectrum are 20-year-old Tyler Herro, 21-year-old KZ Okpala and 22-year-old Bam Adebayo.
"I tell people all the time, people that are probably the most affected through this pandemic and everything that was going on when it comes to sports are the guys that are at the beginning of their careers and the guys at the end," Haslem said, with the NBA on hold since March 11 due to the coronavirus outbreak.
With the working plan of a July 31 restart, health conditions permitting, it effectively will have the league idle for as long as a typical offseason. The difference is players routinely are far more active in that four-month break than what has been allowed during this unique moment in time.
"I'm not saying that everybody isn't affected," Haslem said, "but when you're at the beginning, you're trying to figure out what the hell is going on. And when you're at the end, you feel like you've planted all the seeds to exit the way you would like to and write your own ticket — and now it's like you don't have that option. And, here, once again, you're, 'What the heck is going on?'"
For the older players, the Heat captain said the natural inclination is also to be thinking about what is next. Both Haslem and Dragic will be impending free agents whenever the season ends, with Iguodala heading into the final guaranteed year on his contract.
For younger players, it likeliest is the longest they have gone without competitive play or structure, with the Heat limited for most of the shutdown to Zoom video workout sessions with strength coach Eric Foran, before beginning voluntary individual workouts three weeks ago at AmericanAirlines Arena.
"So the beginning and the end are probably the toughest right now," Haslem said.
It is why, Haslem said, he has made a point of bonding with the team's youth for what will follow, with training camps likely not to begin until July, with further guidance expected after Thursday's NBA Board of Governors meeting. It is expected that Commissioner Adam Silver will announce a more definitive timetable after that session.
That leaves Haslem torn on possibly retiring.
"I was with Bam (Thursday)," Haslem said. "I spend a lot of time with these guys behind the scenes, that people don't know. These guys still look to me for a lot of things. And I serve a huge purpose on this team. If I wasn't needed and if there wasn't a need for what I provide for this team, then this would be a way easier decision for me to make.
"But as I continue to see the need for what I provide for this team and this organization, I'm going to continue to fill that need until they don't need it anymore. And for as much time as I spend with these guys on and off the basketball court, there's still a need for me to help these guys get over the hump in a lot of different ways."
———
©2020 Sun Sentinel (Fort Lauderdale, Fla.)