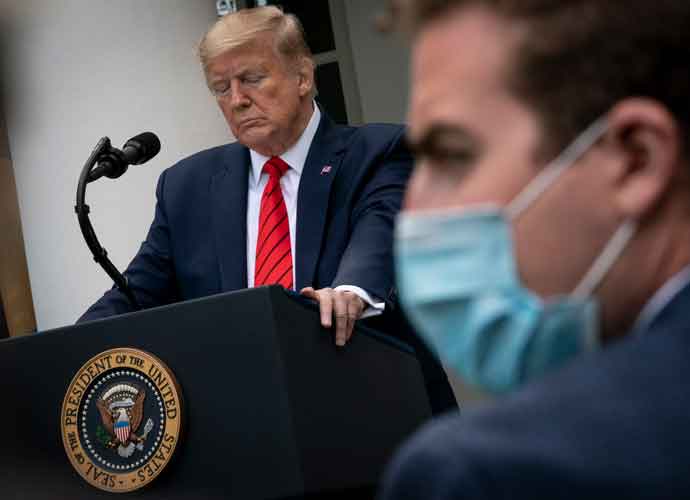 President Donald Trump announced Sunday that he plans on designating Antifa a terrorist organization, as he attempts to shift blame onto protestors nationwide demanding reforms for racial justice in the wake of the killing of George Floyd.
"The United States of America will be designating ANTFA as a Terrorist Organization," Trump tweeted Sunday.
In response to Trump's tweet, American Civil Liberties Union National Security Project Director Hina Shamsi said that there is "no legal authority for designating a domestic group" as a terrorist organization.
"As this tweet demonstrates, terrorism is an inherently political label, easily abused and misused," Shamsi said. "There is no legal authority for designating a domestic group. Any such designation would raise significant due process and First Amendment concerns."
While it is unclear if the designation is constitutional or even possible — given that there is no central leadership — Trump allies are already on board with the proposition.
"Now that we clearly see Antifa as terrorists, can we hunt them down like we do those in the Middle East?" Rep. Matt Gaetz (R-Florida) wrote on Monday.
Sen. Tom Cotton (R-Arkansas) joined Gaetz in attacking Antifa, tweeting that "we need to have zero tolerance for this destruction."
"If local law enforcement is overwhelmed and needs backup, let's see how tough these Antifa terrorists are when they're facing off with the 101st Airborne Division," Cotton wrote.
Antifa, short for anti-fascists, describes a group of left-wing activists whose beliefs do not conform to the Democratic Party platform.
Being anti-fascist is more so an identity than it is an organized group, so labeling it a terrorist organization could be problematic given that there is no national organization to it. Further, it is harder to label a domestic entity as a terrorist group, and the First Amendment protects ideological diversity.
Protestors demanding racial justice and systemic reform have taken to the streets across the nation, and chaos has erupted in some cities. Many protestors, however, have actively condemned looting and destruction of businesses, saying the looters were not part of the protest.
Trump, however, has continued to claim without evidence that the looting and vandalism is the work of Antifa.
He said Saturday that the recent "violence and vandalism" seen across the country "is being led by Antifa and other radical left-wing groups who are terrorizing the innocent, destroying jobs, hurting businesses and burning down buildings."