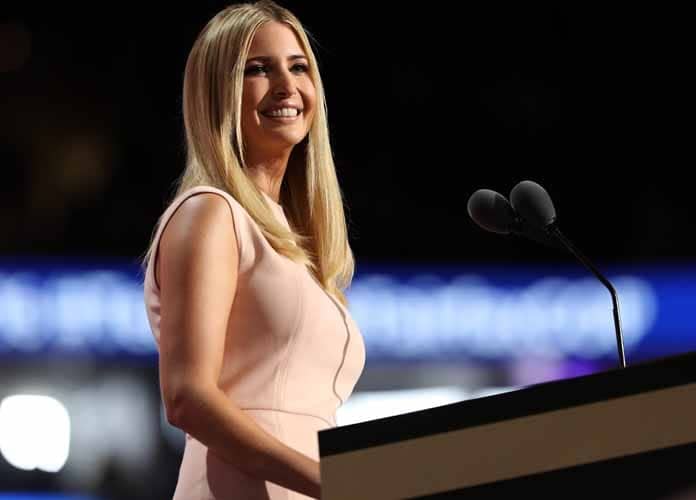 On Monday, President Donald Trump participated in a controversial photoshoot in front of St. John's, an iconic Episcopal church, in Washington D.C.'s Lafayette Square, holding a Bible. Before the president's march to the church took place, D.C. police and the National Guard forced peaceful protestors out of Lafayette Square.
Before the photo op, Trump went up to cameras. "I'm your president of law and order," but also "an ally of all peaceful protestors." The police and National Guard used tear gas and rubber bullets to clear the protestors. 
Trump's daughter and advisor Ivanka Trump helped with the photo-op carrying the Bible in her Max Mara handbag across from where the protestors once stood. The bag retails at $1,540. 
Bishop Mariann Edgar Budde of the Episcopal Diocese of Washington was not consulted about the event beforehand and said that she was "outraged" when she heard of the photos. Washington Mayor Muriel Bowser told The New York Times that the federal government had discussed the matter of taking over the city's police force to which she responded, "I don't think the military should be used in the streets of American cities against Americans, and I definitely don't think it should be done for a show."
Trump took to Twitter in the aftermath on Tuesday morning. "D.C. had no problems last night," he said. "Many arrests. Great job done by all. Overwhelming force. Domination. Likewise, Minneapolis was great (thank you President Trump!)."
Protests have been spurred by the death of George Floyd, a black man who was killed by a police officer kneeling on his neck in Minneapolis, Minnesota.
100 CELEBRITIES WHO DIED IN 2019 – TRIBUTE SLIDESHOW