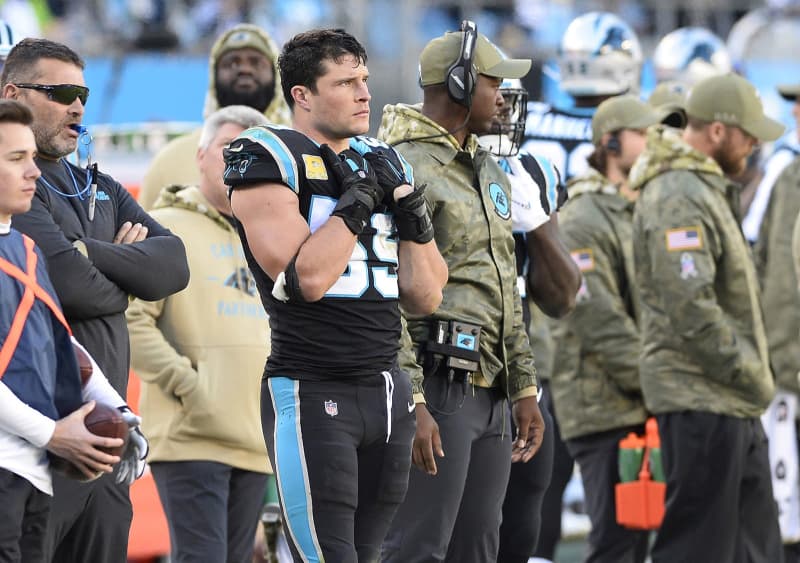 Luke Kuechly's time with the Carolina Panthers may not be over.
The team announced that the formerlinebacker is "considering" a role in the team's front office as a pro scout.
Kuechly, who announced his retirement in January, officially went on the league's reserved/retired list Tuesday, which allows the team to spread out his cap hit over the next two years.
Known for his dedication to film study, joining the team as a pro scout would make sense for Kuechly. Since announcing his retirement, Panthers head coach Matt Rhule said previously that he hoped Kuechly would join the team as a coach or scout and that Kuechly spent time watching film with the new coaching staff.
Kuechly spoke about what was next for him in an interview on NBC Sports Network in April.
"I love the game of football, I love everything about it, I love the studying aspect, I love the team aspect … I'm gonna miss the interaction, the guys, you know, every day," Kuechly said at the time . "I know when the season comes around I'm going to have that pit in my stomach knowing that, man, I wish I was still out there, but I think you look at it in the sense that you have a long life to live, what's the best thing for right now? You have to make hard decisions in your life, I think this is one of the harder ones I've had to make. Hopefully I can find a way to stay involved in football somehow."
During the past few months, Kuechly has been considering his next steps and has said he wanted to make the best choices for him.
"(Pro scouts) are helping us build the roster by finding other guys that fit what we do and they're also providing us advanced scouting each week. If there is someone that was built for that, it's probably Luke Kuechly with his preparation and work," Rhule said Wednesday during a virtual press conference. "I certainly hope it works out. I think Luke's a great, great, great person, forget about who he was as a player, he's a great person, and has a tremendous mind to the game based upon the way that he played, but he's got to figure out what's right for him."
He made the decision to retire at 28 years old, joining many other NFL players in leaving the league at a young age. Kuechly played in in the NFL for eight seasons, all with the Panthers after they selected him ninth overall in the 2012 draft out of Boston College. He was given a five-year contract extension in 2015 that went through the 2021 season and walked away from more than $21 million over the next two years.
Kuechly is a seven-time Pro Bowler, a franchise-record, ending his career having received the honor in seven consecutive seasons, and was named First-Team All-Pro five times. He totaled 1,092 tackles during his career, the most by any player over that stretch and had more than 100 tackles every year that he played.
———
©2020 The Charlotte Observer (Charlotte, N.C.)