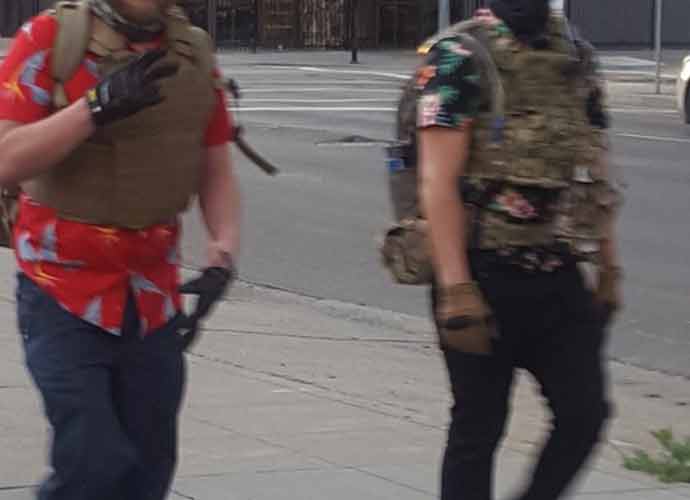 The word "boogaloos" may sound like a childish rhyme, but they're actually an ideologically diverse group responsible for some of the looting and property destruction that has been taking place at George Floyd protests.
Some Boogaloo members identify as anarchists, while others reject formal labels. Some have supported white supremacy, while others condemn it. But all of them enjoy flaunting their Second Amendment rights and calling out "boogaloo," which is reportedly code for meaning another civil war.
It "is now growing on mainstream platforms, and in this moment of protest it is starting to move offline," Megan Squire, a computer science professor at Elon University told CNN. "It resembles the militia movement that came before it, which has been well documented as a force for promoting violence."
Boogaloo protesters often attend rallies heavily armed and clad in Hawaiian shirts. Armed Boogaloos have made appearances at George Floyd protests in Minneapolis, Salt Lake City, Dallas, Atlanta and elsewhere.
The Hawaiian shirt trademark is likely a reference to the collapse of civilization, or what Boogaloos call "the big Luau."
Three Boogaloo members were charged this week in Nevada with possessing a "Molotov cocktail" explosive and conspiring to "cause destruction during protests in Las Vegas," according to a press release.
Despite this, there is little evidence so far to suggest that property destruction is being organized by one ideological group.
Antifa Sacramento tweeted an image of Boogaloo members leaving a protest in Sacramento. Antifa, short for anti-fascists, have been blamed by the White House for most of the destruction occurring.
President Donald Trump has gone as far as attempting to designate Antifa a terrorist organization.
The group appears to be gaining traction this year, with the Tech Transparency Project reporting that more than 60% of the 125 identifiable Boogaloo groups on Facebook have been created since January.
The group appears to have begun on the conspiracy site, 4chan, and moved later to mainstream social media sites. Facebook, however, is trying to prevent Boogaloo activity from gaining traction on their site.
A Facebook spokesperson told Reuters that its algorithm would "no longer recommend such groups to members of similar associations."
One Boogaloo protester, who traveled to Minneapolis, said they are there "to protect them," noting an instance where he and others blocked off a local business from being looted.
"We are very careful to make sure that people realize that we are on their side. We are here to defend them," Benjamin Teeter told CNN. "Once people realize that we are on their side and we are here to protect them, everybody has been — almost everybody — has been very happy to have us here."