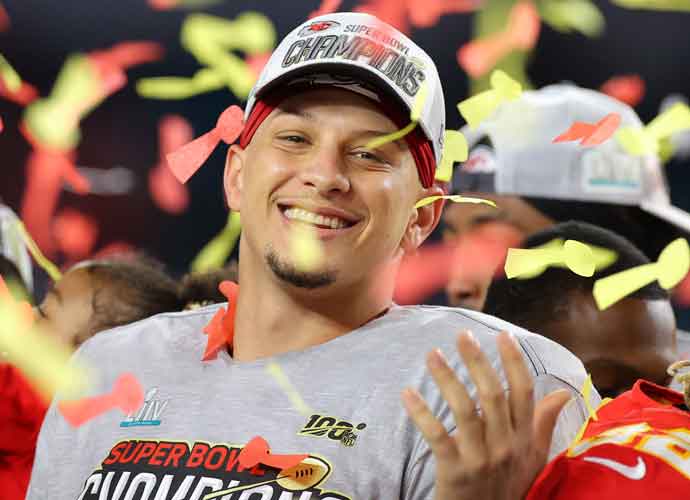 The NFL schedule has been released and with that, it means that fans can start buying tickets for the 2020 season. Over the course of the next few weeks, we here at uSports will be dissecting the regular season schedules of each of the NFL teams, and tell you what games you are going to want to attend.
GET KANSAS CITY CHIEFS TICKETS HERE!
I mean what is there to say about the Kansas City Chiefs and their 2019 season. The Chiefs went 12-4 in the regular season, and went on to win Super Bowl LIV over the San Francisco 49ers, and are one of the favorites to win Super Bowl LV. Everything with the Chiefs starts and ends with star quarterback Patrick Mahomes. The guy is the face of the NFL and is changing how the game is played from the quarterback position given his ability to make any throw necessary. It helps that Mahomes has some brilliant options to throw to with players like Tyreek Hill, Travis Kelcee, Mecole Hardman and Sammy Watkins. Not to mention, the Chiefs have an interesting backfield with Damien Williams now having to compete with first-round pick Clyde Edwards-Helaire. Despite the offense being one of the best in all of football, the defense might struggle. There are some nice pieces in Chris Jones, Frank Clark and Tyrann Mathieu, but after that, they might struggle. Head coach Andy Reid, despite having a magnificent offensive mind, will have to rely heavily on defensive coordinator Steve Spagnolo to get this defense game ready week in and week out to make sure the Chiefs defense is up to snuff so they can possibly repeat as Super Bowl champions.
Full Kansas City Chiefs Schedule:
Week 1: vs. Houston Texans
Week 2: at Los Angeles Chargers
Week 3: at Baltimore Ravens
Week 4: vs. New England Patriots
Week 5: vs. Las Vegas Raiders
Week 6: at Buffalo Bills
Week 7: at Denver Broncos
Week 8: vs. New York Jets
Week 9: vs. Carolina Panthers
Week 10: BYE
Week 11: at Las Vegas Raiders
Week 12: at Tampa Bay Buccaneers 
Week 13: vs. Denver Broncos
Week 14: at Miami Dolphins
Week 15: at New Orleans Saints
Week 16: vs. Atlanta Falcons
Week 17: vs. Los Angeles Chargers
You would think that the Chiefs would have a tough road to repeat as Super Bowl champions, but looking at the schedule, that simply is not the case. Prior to their Week 10 bye, the Chiefs really only have two games that can be viewed as challenges, Week 3 against the Ravens in Baltimore, and Week 6 against the Bills in Buffalo. The only reason why these games can be viewed as challenges, is because both the Ravens and Bills have top-notch defenses, and if there are fans present, those are two really tough environments to play in. Regardless, however, I don't see the Chiefs losing both of those games, so if they can enter their bye either undefeated, or with one loss, they would be sitting in a great position to be the top seed in the AFC playoffs and have home-field advantage. After their bye week, there are some tough games, at Tampa Bay in Week 12, and at New Orleans in Week 15, but unlike those Ravens and Bills games prior to their bye, the Buccaneers and Saints do not have defenses nearly as good as the Ravens or the Bills. The Chiefs' success in 2020 hinges on the health of Mahomes. Last season, Mahomes missed two games because of a dislocated knee cap, and although they went 1-1, they lost Mahomes first game back and who knows how they would have fared if Mahomes had missed significant time. 
Obviously, the Chiefs are a team that you will want to see play in person, this season and for as long as Mahomes plays at the level he has his first two years as a starter. Here are the five games I think you should attend in 2020:
Week 1: Texans at Chiefs
Week 3: Chiefs at Ravens
Week 12: Chiefs at Buccaneers
Week 15: Chiefs at Saints
Week 17: Chargers at Chiefs
I feel that it is rather self explanatory why I think some of these games are worth attending in 2020. Week 1 against Houston is slated to be the first game of the season, the Chiefs will unveil their Super Bowl banner, it is a rematch of last year's AFC Divisional playoff, and a battle between two great young quarterbacks in Mahomes and Deshaun Watson, need I say more. Week 3 will see the game that everyone thought would be the AFC Championship last year. These two prolific offenses with Mahomes and Lamar Jackson. What is great is that the Chiefs get it done in the air, while the Ravens get it done primarily on the ground. Matchup between the last two NFL MVPs, and as I mentioned, the Ravens defense could be a challenge for the Chiefs offense. Week 12 and Week 15 are very similar, you have Tom Brady for the Buccaneers and Drew Brees for the Saints and their elite offenses taking on that of the Chiefs. In those two games the amount of star power that will be on the field with Mahomes, Hill, Kelcee, Brady, Rob Gronkowski, Mike Evans, Chris Godwin, Brees, Michael Thomas and Alvin Kamara. This is Roger Goodell's dream as all eyes will be on these two games and ratings will be through the roof. Finally Week 17, this game is interesting because let's say the Chiefs have not clinched home-field advantage or a first-round bye, this game will be crucial and the Chargers, at least on paper, are no joke, especially their defense and this could be one of those games, like the Dolphins against the Patriots last season, that the Chiefs could lose and throw off all of their momentum from the season. 
GET CHIEFS TICKETS HERE!