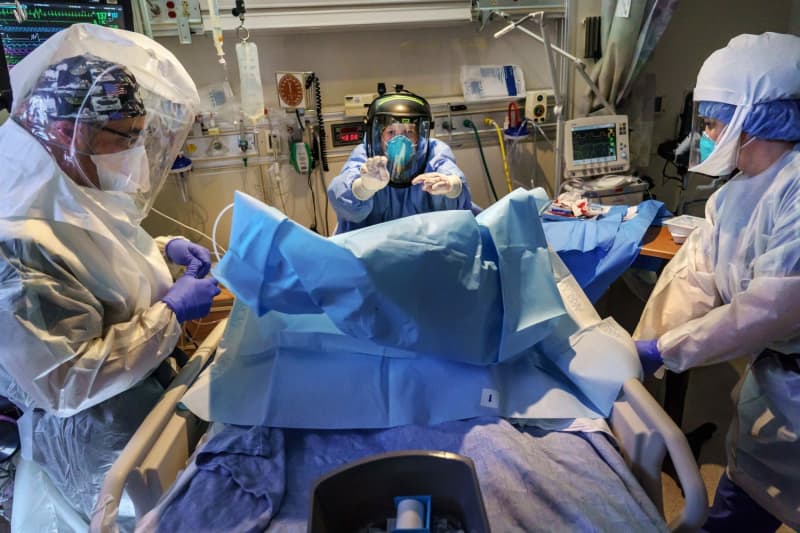 SACRAMENTO, Calif. — What happens if there isn't enough medical equipment available to treat every person who gets sick with COVID-19? Who gets an ICU bed? Who gets a ventilator?
The California Department of Public Health has a new plan for that worst-case scenario.
This week, the CDPH released new pandemic crisis care guidelines, after more than 60 community and advocacy organizations representing millions of Californians objected to the first set of guidelines the department released in April.
Few issues are more politically explosive than the idea of the medical system having to ration health care in a crisis — deciding in some cases who lives and who dies. State officials have been scrambling to stockpile medical equipment over the past three months to make sure that scenario never occurs.
The new guidelines are meant to help health care providers decide which patients would get a bed in an intensive care unit, get a ventilator, or receive other lifesaving treatments in the event that there are more patients than necessary resources.
The June revision makes it clear that health care providers are not allowed to prioritize patients differently on the basis of age, disability or certain preexisting conditions — three categories that were used to triage patients in the original guidelines.
"When we read the first version of the guidelines — which endorsed discrimination on the basis of age and disability — we were upset and angry," said Claudia Center, the legal director for the Disability Rights Education and Defense Fund.
The original CDPH guidelines gave higher priority to younger people in cases where resources are scarce, using the "life-cycle principle" as a tiebreaker between patients in the same priority group. The reason, the recommendations say, is that it gives younger patients a chance to pass through the stages of life.
"The justification for this principle does not rely on considerations of one's intrinsic worth or social utility. Rather, younger individuals receive priority because they have had the least opportunity to live through life's stages," the original guidelines say.
The new guidelines are focused on the principle of "saving the most lives." They explicitly reject "life years," "life cycles," and "quality of life" as considerations when triaging patients, factors that advocates for older people and people with disabilities say discriminate against vulnerable communities.
In situations where a tiebreaker is necessary, the guidelines tell clinicians to assess patients based on a short list of life-limiting conditions, such as metastatic cancer which could kill a patient within the next six months. Scarce resources would be allocated to patients without life-limiting conditions.
If there are still ties after an assessment of life-limiting conditions, the guidelines say a lottery should be used to decide on allocation.
"We are pleased that California rejected ageist, ableist and racist approaches for triaging care that have emerged from other states during this crisis," said Kevin Prindiville, executive director of Justice in Aging. "Instead, California has taken an approach that values the lives and rights of older adults and people with disabilities from diverse backgrounds."
According to Center, of the Disability Rights Education and Defense Fund, the original guidelines not only gave lower priority to older people and people with disabilities, but also penalized people with medical conditions far more prevalent in people of higher weight and in communities of color. Public health data shows that communities of color are already disproportionately impacted by COVID-19 across the country.
The new guidelines include instructions to prevent the need to ration supplies in the first place, including obtaining more equipment, coordinating with other hospital systems in the area and exploring splitting ventilators between patients.
No health care providers in the United States have denied ventilators to COVID-19 patients due to rationing yet, according to a summary of the new guidelines put together by advocacy organizations.
The original guidelines directed health care providers to assign COVID-19 patients to priority groups based on a points system. Patients received points based on their score on the Sequential Organ Failure Assessment, a six-variable system that measures how major body systems are functioning and on "major comorbidities" including Alzheimer's disease, chronic lung disease and coronary artery disease. Higher scores meant a lower priority.
Alzheimer's, chronic lung disease and coronary artery disease all disproportionately impact communities of color, according to public health data.
The revised CDPH guidelines address these disparities.
"It should be noted that due to widespread racial and ethnic health disparities, these conditions often have a higher prevalence among communities of color," the CDPH guidelines state. "Given the pervasiveness of implicit bias, it is critical that objective criteria be used to define the severity of a given comorbidity."
In the new guidelines, comorbid conditions — underlying health conditions that a patient had before they contracted COVID-19 — no longer count toward a patient's "points." Instead, the revised guidelines rely more heavily on the Sequential Organ Failure Assessment. The new guidelines also state that comorbid medical conditions should only be used when resolving "ties" if they impact a patient's short-term survival.
Clinicians are directed to adjust patients' scores on the SOFA as needed to ensure that people with disabilities are not unfairly assigned to a triage group on the basis of their disability.
Along with modifications to ensure equal treatment during triage, the new guidelines also include instructions to ensure that older people and people with disabilities can communicate effectively with health care providers and modifications to COVID-19 visitor limitations that allow patients bring a helper along.
———
©2020 The Sacramento Bee (Sacramento, Calif.)