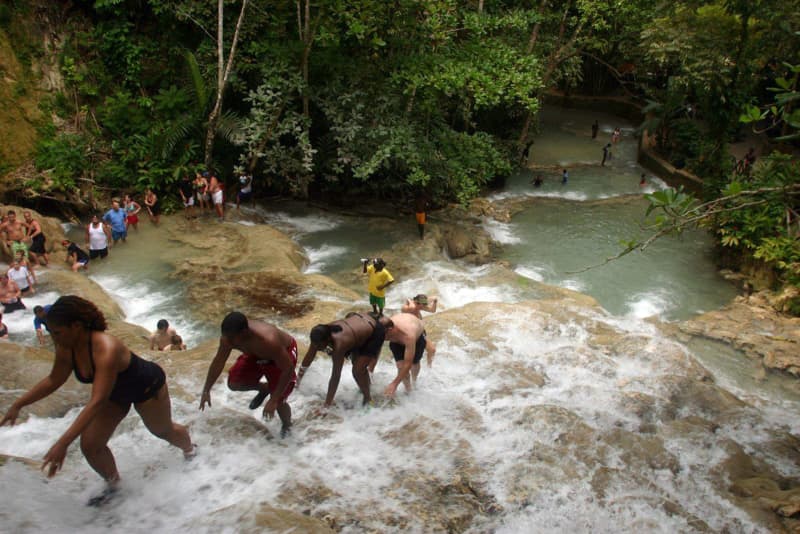 After 12 long weeks of closed borders due to the COVID-19 pandemic, Jamaica began welcoming back tourists — and hundreds of its nationals — Monday as the country reopened both of its international airports. Cruise ports remain closed for now.
"The feeling at the airport was so festive as the prospect of over 5,000 workers getting back to work became clear," Tourism Minister Edmund Bartlett told the Miami Herald just as an American Airlines flight with an all Jamaican-crew arrived at Kingston's Norman Manley International Airport.
The reopening of Jamaica's tourism industry coincided with a phased reopening of the Bahamas, which on Monday started allowing international boaters and yachters to once again cruise its waters, and private charters to land. Bahamian citizens, legal residents, homeowners qualifying for economic permanent residency and their immediate family members were also allowed to return on commercial flights ahead of a July 1 official reopening for all international tourists.
For now, the Bahamas is still requiring travelers to present a negative COVID-19 real-time reverse transcription polymerase chain-reaction test, taken within 10 days of travel. The testing requirement does not apply to citizens returning from a Caribbean Community country, children under the age of 2 or private pilots who do not deplane.
All travelers, however, are required to complete an electronic health declaration form at travel.gov.bs prior to departure and for any interisland travel within the archipelago.
As of July 1, no tests or quarantine period will be required of travelers to the Bahamas as along as they have not been exposed to the virus or show any symptoms. But everyone will have to undergo temperature checks at the airport, the tourism ministry said.
Dr. Duane Sands, who resigned last month as health minister, told Parliament last week that the Bahamas needs to think about doing more COVID-19 testing, not less. Otherwise, the country risks a disaster.
"Data suggests that many are hoping for a sun, sand and sea vacation after the dreary lockdowns. But they also want to be safe. Is the housekeeper, maître d', taxi driver or hair braider COVID safe? We cannot leave this up to chance," Sands said.
"As we open up Eleuthera, Exuma and the other islands, let us be mindful that we are doing so blindly. Surveillance must be undergirded with testing," he said. "Many carriers of COVID-19 are asymptomatic or have atypical symptoms."
The latest Caribbean nations to reopen their airports — St. Lucia and Antigua and Barbuda opened on June 4, and the U.S. Virgin Islands began welcoming back tourists on June 1 — both the Bahamas and Jamaica continue to show active transmissions of COVID-19, the disease caused by the novel coronavirus.
The Bahamas Ministry of Health's latest dashboard shows that 25 of the country's 104 registered cases remain active. In Jamaica, the number of active cases is almost eight times more. Jamaica has recorded 617 COVID-19 infections since registering its first case on March 10 with a traveler from the United Kingdom. Today, 187 infections are active.
Bartlett said Jamaica, which was among the last Caribbean countries with COVID-19 to close its air and sea borders, cannot afford to keep its tourism industry shut down. The country's already fragile economy stands to lose $10.3 billion, including $762.8 million in the tourism sector if it doesn't restart.
Last year, the country's tourism sector brought in $3.7 billion, he previously told the Herald.
"The reopening of the tourism industry is required for the Jamaican economy, and especially the Jamaican workers," Bartlett said.
Tourism employs 350,000 workers who need to work and who need income, Bartlett told Parliament earlier this month. He said a recent survey of 8,000 workers showed that 93% "want or need to return to work."
Jamaica is the largest of the Caribbean's tourism economies to reopen since COVID-19 was first reported in the region on March 1, so its reopening is expected to be closely watched.
Other Caribbean nations that are as equally dependent on tourism but with lower or no active COVID-19 transmissions have chosen to move more cautiously. (The Dominican Republic, which continues to lead the region in infections, with more than 22,000, has said it will reopen to commercial flights on July 1).
Both Bartlett and Prime Minister Andrew Holness, who on Sunday announced that a 14-day state of public emergency is in effect for Kingston Central and Kingston Western Police Divisions following a spike in crime, insist that the relaunch of Jamaica's tourism brand is being done in a controlled manner to allow for a quick reaction should the country see a surge.
Travelers have been separated into three categories: nonnationals visiting as tourists; nonnationals visiting on business for less than 14 days, and residents, which includes both citizens and noncitizens. All will need travel authorization to get into the country.
Holness said the government has already granted permission to 8,418 Jamaicans stuck overseas to return home under the controlled re-entry program based on their application to the Jamcovid system, which was put in place to control repatriation requests.
"These persons are now free to make their bookings on any available flight," Holness said during a virtual press conference held at the Office of the Prime Minister.
These individuals, along with all other travelers to Jamaica, will be subjected to some kind of quarantine and risk-based testing at the airport or a designated government facility based on the countries they are traveling from, exposure to COVID-19 and other risk factors. Once tested, travelers will have to wait their test results, which should take no more than 72 hours, at their hotels or resorts. Anyone testing positive will be isolated either at their hotel or in a government quarantine facility.
All tourists visiting Jamaica will be limited in their movement, however. The government has designated a "COVID-19 Resilient Corridor," from Negril to Port Antonio, allowing only businesses and hotels and resorts in that corridor to reopen once they have been inspected to ensure sanitary measures have been put in place.
"The corridor is designed to keep the workers and our country safe by only opening an area in which we have the capacity to train, oversee and manage," Bartlett said. "Every effort is being made to ensure that this is what we call a managed space, so that we can track and trace and also that we will be able to have ready access to whatever security or other measures are needed … and to ensure control."
———
©2020 Miami Herald