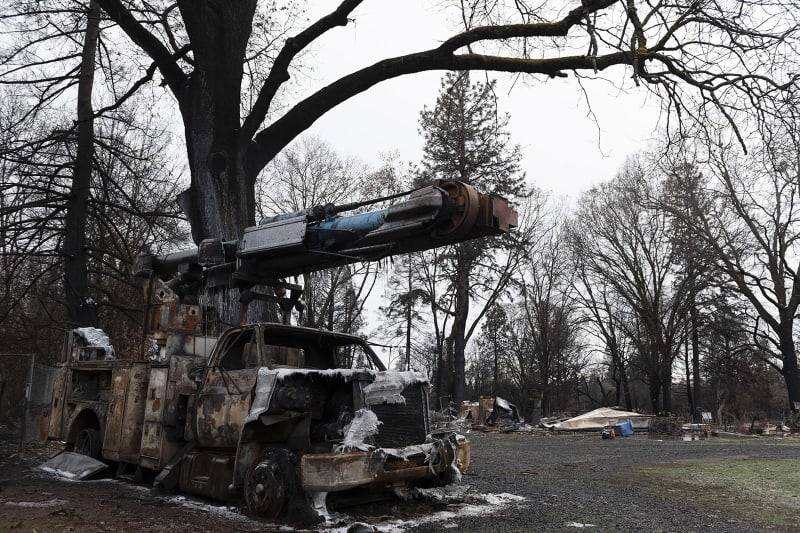 SACRAMENTO, Calif. — PG&E Corp. is nearing the exit doors on its bankruptcy — and now faces the enormous task of delivering on its promise to prevent major wildfires in California.
The battered utility, driven into bankruptcy after its power equipment was blamed for a string of deadly mega-fires, is expected to receive the blessing for its Chapter 11 reorganization plan this week from U.S. Bankruptcy Judge Dennis Montali.
The green light will arrive two weeks before a deadline imposed by the Legislature — and represents a landmark achievement for a company that just a few months ago was being threatened with a state takeover by Gov. Gavin Newsom.
The dawning of a new fire season, following a dry winter, means PG&E will be under scrutiny almost immediately to prove that it has overhauled its corporate culture to put a greater emphasis on safety. On Tuesday, in a painful reminder of its troubled safety record, it pleaded guilty to manslaughter charges in connection with the 2018 Camp Fire.
"I feel a sense of real apprehension, a nervousness, about the situation PG&E faces, moving into this year's fire season," said Michael Wara, an energy and climate expert at Stanford University who's advised the Legislature on wildfire issues. "There's not really any margin for error."
PG&E was able to survive bankruptcy by convincing Newsom and the Public Utilities Commission that it was serious about reinventing itself.
The utility has overhauled its board of directors, removing the Wall Street financiers and bringing on several safety experts, including the former head of FEMA. It's spending $1.3 billion this year on an "enhanced vegetation management" program that goes beyond state requirements for clearing dangerous tree limbs away from high-voltage power lines.
It's ramping up an inspection program that had been criticized as lackluster by the Public Utilities Commission and the district attorney who prosecuted PG&E for allowing its equipment to start the Camp Fire. PG&E is also installing equipment so it can do a more surgical job of imposing deliberate blackouts during windstorms that can topple power lines and spark fires.
But it still has a lot of work left.
Pruning all the hazardous trees in PG&E's service territory "will take years to finish," lawyers for the company said in a recent court filing with the judge who oversees PG&E's criminal probation from the deadly 2010 pipeline disaster in San Bruno. "There are tens of millions of trees adjacent to (PG&E's) overhead power lines."
PG&E has installed 116 weather stations — out of 400 it plans to install this year. It's placed 50 high-definition remote cameras in potential hot spots — out of 200 it has budgeted for the year.
The company has installed 216 "sectionalizing" devices that will allow it to carve up its grid and reduce the size of its wildfire safety blackouts — the source of much of Newsom's anger last fall. That's barely one-third of the devices it plans to install.
In the longer-term, Wara said the company is years away from completing the task of "hardening the grid" by covering or burying exposed power lines. These are actions designed to permanently reduce risk as climate change threatens to make wildfire seasons increasingly dangerous.
"We're by no means done with revamping that infrastructure," he said.
The National Interagency Fire Center, a federal agency, said Northern California is facing "above normal significant fire potential" over the next three months. Despite some late spring rainfall, the dry winter "led to a weak snowpack" that will leave the region with "warmer and drier than average conditions."
Newsom, recognizing the potential severity of this year's fire season, is increasing the budgets for Cal Fire and the Office of Emergency Services despite a massive deficit.
Although the fire season generally doesn't begin in earnest until fall, California has already lost 15,000 acres to wildfires this year, compared to about 10,000 this time last year. This year's damage includes more than 5,000 acres in the Grant Fire last week in southeast Sacramento County. Some of the worst fires in California history have occurred as early as July, including the Carr Fire and Mendocino Complex Fire in 2018.
So far, no significant 2020 fires have been linked to PG&E's equipment.
The Camp Fire, and the wine country fires of October 2017, drove PG&E into bankruptcy in January 2019. The ensuing 18 months have been difficult for the company, and it hasn't always been clear who would be in control when it ended.
The utility successfully stiff-armed a hostile takeover attempt by a group of Wall Street lenders. Newsom talked about a state takeover, or arranging for a billionaire like Warren Buffett to buy the company.
Yet after months of often difficult negotiations, PG&E was finally able to satisfy Newsom's demands for an overhaul of the company's leadership and approach to safety. It sold thousands of embittered wildfire victims on a $13.5 billion fund to compensate them for damages not covered by insurance.
All told, it's been a remarkably quick bankruptcy for a case of this size and complexity. PG&E needed court approval for its plan by June 30 — or forfeit the right to participate in an insurance pool created by the Legislature to shield California's big utilities from the liabilities of future wildfires. The pool is funded by ratepayers and shareholders.
It wasn't until a week ago that PG&E cleared away the last big hurdle for getting its plan approved.
Although victims had voted in favor of the $13.5 billion payout, their lawyers were still wrestling with PG&E over a sticking point.
Half of the payout money will come in the form of newly minted shares of PG&E stock, placed in a trust account, giving the fire victims control of about 22% of the company. And for months, PG&E and the fire victims have been arguing over "lockup" provisions that would have forced the victims' trust to hold onto its shares of stock for up to six years, said victims' lawyer Robert Julian.
That would have delayed full payments to victims and subjected them to greater financial risk as the stock price fluctuates. Those fears intensified when PG&E's stock took a nosedive, along with the rest of the stock market, in the early days of the coronavirus pandemic shutdown.
After months of bickering, the two sides reached a deal last week. The trust has been given "wide discretion" to begin selling shares after an initial 90-day wait, Julian said in an interview.
Victims will likely get at least some of their money before year's end, he said.
There's no shortage of reminders of the pressure PG&E faces to get through fire season successfully. On Tuesday the company's chief executive, Bill Johnson, stood solemnly in a Chico courtroom and pleaded guilty on the company's behalf to 85 felony charges resulting from the 2018 Camp Fire — the deadliest in California history.
"Guilty, your honor," Johnson said as the judge read off the charges connected to each fatality from the Camp Fire. The process took a half-hour, and when it was over Johnson promised that PG&E would do better.
"The lessons PG&E learned from the Camp Fire are being taken to heart and are driving comprehensive changes currently underway at PG&E," he said. The fire destroyed an estimated 18,000 homes and buildings, destroying much of the town of Paradise.
A couple of hours later, Butte County District Attorney Mike Ramsey unleashed an investigative report that blasted PG&E for its failure to detect the warning signs that could have prevented the Camp Fire. The fire started when a nearly century-old clamp failed on a transmission tower, allowing a live wire to brush against the tower and shower the ground below with molten metal.
Ramsey said the company trimmed inspection budgets over the years and relied on untrained crews to maintain its power equipment. PG&E was far more focused on serving customers on its Bay Area home turf than fixing "the towers that served the hinterlands," Ramsey said.
As for PG&E's future behavior, Ramsey told a press conference that "the excuses are gone. … We have pointed out to them where they have gone wrong, where they have to make change."
Another pressure point on PG&E: the use of "public safety power shutoffs," deliberate blackouts imposed when fierce, dry windstorms raise the wildfire risk. The utility engineered a series of massive blackouts last fall, cutting power to hundreds of thousands of homes across a wide swath of Northern California.
Even so, it was unable to prevent the Kincade Fire in Sonoma County, which forced the evacuation of tens of thousands of residents. The fire was reportedly ignited by a faulty transmission line even though the area had been blacked out. PG&E has been reluctant to cut power to transmission lines, which carry electricity in bulk to vast territories, although it has said it is rethinking that policy.
The blackouts enraged Newsom, particularly when Johnson said it could take a decade to harden the grid to the point that such blackouts would no longer be necessary. In addition to Newsom's suggestion that Buffett or perhaps the state itself take over the company, a group of mayors led by San Jose's Sam Liccardo also talked about buying the utility. San Francisco tried to buy PG&E's electric operations serving the city.
PG&E has vowed to make the blackouts less burdensome through sectionalizing devices and an increased helicopter fleet that can accelerate the inspections and repairs needed to restart the power after a blackout.
Even so, Wara said PG&E will face a delicate balancing act this year. Deliberate blackouts infuriate elected officials and regulators. But so do wildfires.
"We need some stability, some uneventful boring times," the Stanford expert said.
———
©2020 The Sacramento Bee (Sacramento, Calif.)