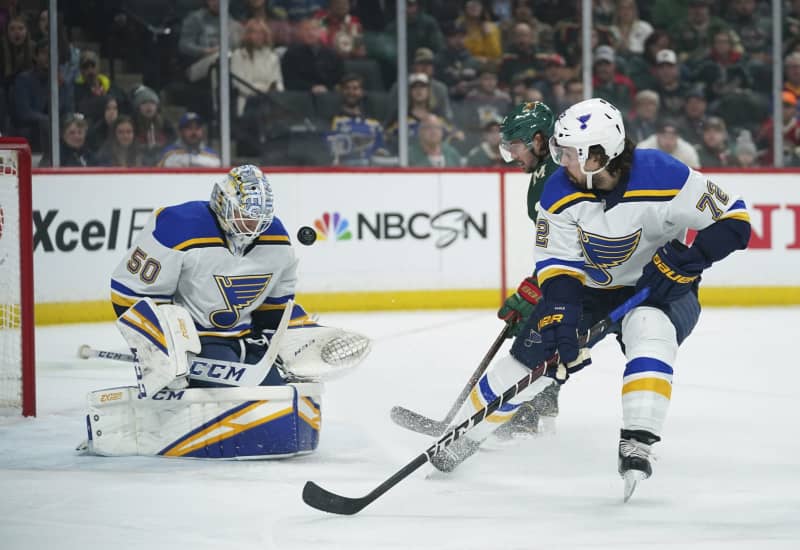 ST. LOUIS — For the first time in more than three months, St. Louis Blues players will be on the ice at Centene Community Ice Center as the team formally begins Phase 2 of the NHL's return-to-play plan Monday. Phase 2 consists of small-group individual workouts, and in the case of the Blues — the emphasis is on the "small."
General manager Doug Armstrong said only three players are scheduled to skate at Centene this week. Since the Phase 2 program is voluntary, Armstrong declined to mention their names.
As for the rest of the squad, Armstrong said: "Most of our guys are skating with bigger groups and are happy with what they have."
Some of those groups of other players are skating elsewhere in the St. Louis area, and some continue to train out of town. Armstrong has maintained all along that if players were comfortable with their current training set up, they were welcome to stay with it if they so desired. And that appears to be the case for the most part.
The dynamic changes in less than three weeks, with training camps scheduled to start July 10. (Which, obviously, is not voluntary.) The NHL and NHL Players' Association still must sign off on the official start of training camp (Phase 3), as well as the resumption of the 2019-20 season with a 24-team postseason format (Phase 4) expected to begin in early August.
A decision could come as early as this coming week on going forward with Phase 3 and Phase 4, as well as the selection of the two hub cities that will be postseason hosts. So the low player turnout this week at Centene may be a matter of practicality, with players simply waiting on formal approval by the league and the players' union that there will indeed be hockey to conclude this season.
There was sobering news on the coronavirus front over the weekend, with the Tampa Bay Lightning closing down their practice facility after the team confirmed that "three players and additional staff members" had tested positive for COVID-19. Teams could begin the Phase 2 small-group workouts, with no more than six players allowed on the ice at once, as early as June 8. The Lightning began June 9.
Friday also brought word that Toronto Maple Leafs forward Auston Matthews, one of the game's top stars, had tested positive for the coronavirus while training in his home state of Arizona. (This according to the Toronto Sun.) On Friday evening, the league announced that 11 of "in excess of 200 players" that have undergone COVID-19 testing since the start of Phase 2 have tested positive. That's about 5%. The league statement did not provide information on which players had tested positive or even which teams had players test positive. All 11 players have self-isolated and are following CDC and Health Canada protocols.
The league set health and safety protocols for Phase 2 workouts in late May, in a 22-page memo that included seven pages alone of cleaning and disinfectant guidelines.
— Only one athletic trainer and one conditioning coach will be allowed in the building for these workouts. (There are a few other exceptions, including having one equipment manager.)
— Fans, members of the media, player agents, massage therapists and friends and relatives of players are not allowed in the facility.
— Players will be tested for COVID-19 two days before beginning Phase 2, and then will be tested twice weekly thereafter. Additionally, they will undergo daily temperature checks and be checked daily for COVID-19 symptoms.
— Social distancing of 6 feet must be maintained while in the Centene facility. Masks must be worn entering and leaving the building as well as in high-traffic areas of the building if social distancing is not possible.
— No contact is allowed on the ice. A spotter is not allowed in the weight room. Players are encouraged to shower at home instead of at the facility.
Those are just some of the Phase 2 guidelines.
"I think they're really going above and beyond with the safety of the players and everybody that's gonna be involved," coach Craig Berube told the Post-Dispatch. "I think they've done a good job."
———
©2020 St. Louis Post-Dispatch