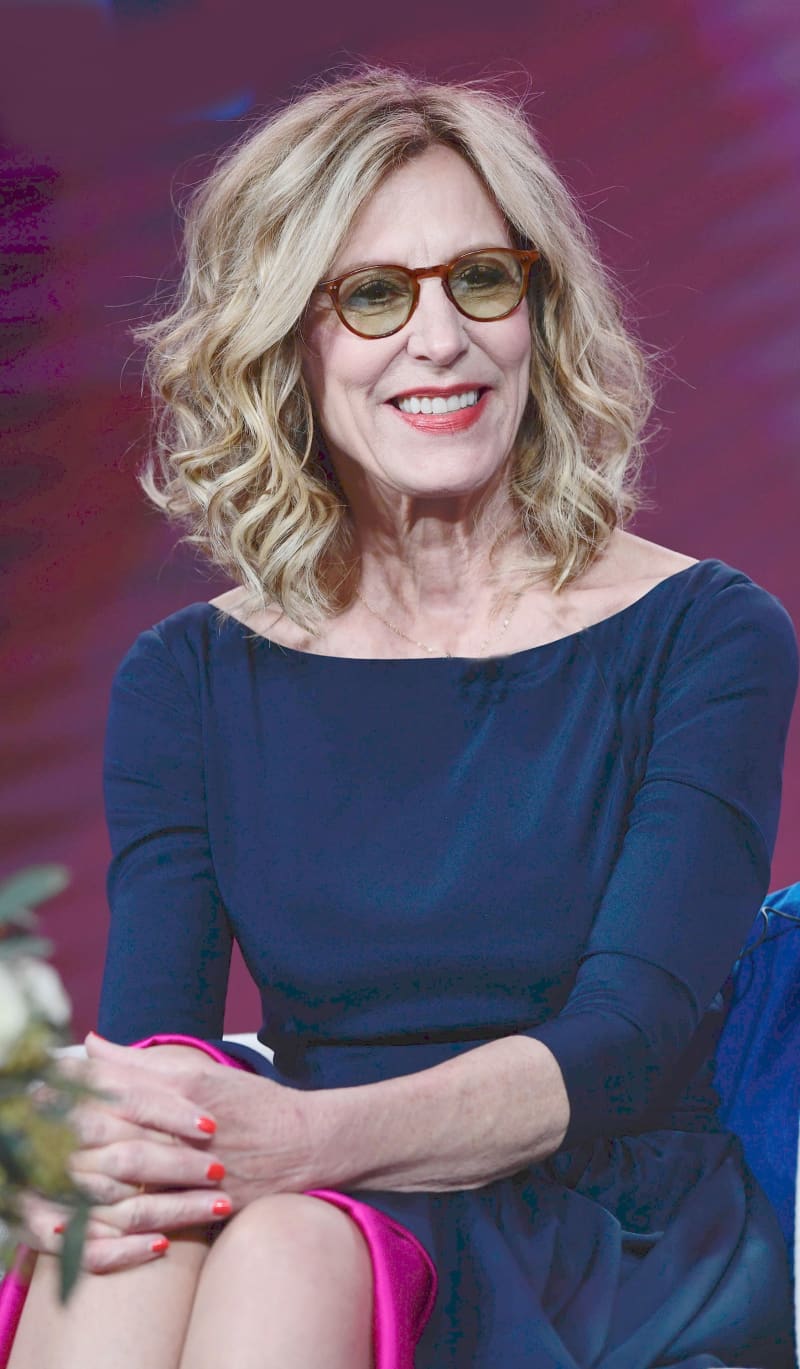 PASADENA, Calif. — Ever since she was a little kid, actress Christine Lahti knew she wanted something big. She wasn't quite sure what that was until she portrayed a tree in the sixth grade play and graduated to the Virgin Mary in the Christmas pageant.
"And that felt really good," she grins. "And I thought, 'This is ALL good.' I put on all the plays in our neighborhood where we did the karaoke and I'd put a sheet up in the basement and charge people 10 cents to come see us do karaoke of 'South Pacific.' I was always a performer," she says.
The third of six kids, Lahti says she developed a fierce aspiration to become an actress, which eventually led to an Academy Award nomination for "Swing Shift," an Emmy for "Chicago Hope" and scores of memorable performances.
She'll be adding to those on PBS Friday when she portrays her good friend and women's rights activist Gloria Steinem, in the "Great Performances" presentation of "Gloria: A Life."
Although Lahti's parents were conservative — her father a surgeon and her mother a housewife — they didn't discourage her from her dream, she says.
"My parents never even pressured me to get a teaching certificate or a back-up plan. They said from the beginning, even though they were very conventional, they both said to me: 'If you work hard enough you can achieve anything.' And that really sunk in.
"Even though I was a woman and a girl and wasn't supposed to have big dreams, I had HUGE dreams. I had massive ambition, and I knew I had to work my a — off, but I wanted it so badly that it didn't feel like work."
While the performing didn't feel like work, getting there did. When she first moved to New York to pursue her plan, she worked as a waitress. And while many fledgling actors make ends meet by filming commercials, she was having none of it.
"I was such a snob about it," she says. "I felt it would be really selling out. And I wanted to be a PURE artist. And then reality hit, and I thought, 'I can't waitress anymore. I've got to get a commercial.' So I did.
Her first national pitch was for Joy dishwashing liquid. "I could justify that because I played the little league coach to my son — not just a housewife — so at least I got to wear sweats and a baseball cap," says Lahti.
When she planned to move in with her boyfriend, her parents boycotted that idea. "They cut me off financially," she says.
"I was still waitressing, but they were helping out with classes and things in New York at the beginning. My dad said, 'If you choose to live with a man and not marry him, you will not get any more help from us.'
"I said, 'OK, bye.' And it was the best thing that could happen to me. Thank God I didn't marry this guy. We lived together for a few months, but I had to take on two waitressing jobs, but I figured it out," she says.
"I just remember peanut butter was a big, big part of it. I remember if I could buy wine, it would be the big Gallo gallon jugs that would last for months. I remember the day I could buy an electric fan and I was so excited because I had no air conditioning. And I would get dressed in front of the refrigerator for auditioning. So I bought a fan and I remember carrying it home feeling like, 'I'm so independent! Such an adult.' And it felt so good."
At first Lahti didn't want to perform on television either, feeling it would compromise her "art." "I would NOT go up for the audition for 'Cheers,'" she recalls. "My agents thought I was crazy.
"They said, 'They're really interested in you. You want to reconsider?' I said, 'No. I'm not going to do a sitcom!' And then I finally did one — because I was desperate and needed money. It was 'The Harvey Korman Show.' And I remember the night before I had to sign the contract, I had, like, a nervous breakdown. 'What am I doing? I could be stuck in this for seven years.' And was hoping it would not get picked up. And it didn't."
When Lahti finally capitulated, she went on to earn an enviable reputation as a TV actress on shows like "Law & Order: SVU," "Blacklist," "Hawaii Five-O" and "Evil."
She's been married for 36 years to producer-director Thomas Schlamme, with whom she has three children.
An avowed feminist, Lahti says, "I never thought I would find a man because every time I did have a boyfriend, they were threatened by my ambition. My ambition was too big. My dream was too big. They had to squelch it. They were jealous, all those things. So I just thought there just aren't any men who want to be with a real, equal partner. Then I met Tommy and he really did. And at first I didn't trust it. But I only felt supported."
WHAT'S IN YOUR FRIDGE?
At last, a cooking show for real people! Television seems to think you have to stock your larder with lobster and 50-year-old cheese to be a good cook. Yet, most folk stuck at home and wondering what to serve for dinner aren't uncorking a bottle of Dom Perignon or defrosting a filet mignon.
The CW has just signed a new cooking competition show based on the variety of odds and ends you may find in your own refrigerator. Slipping over the border from Canada, "Fridge Wars" pits two well-known chefs against each other. Their challenge is to make the acquaintance of ingredients found in the refrigerators of ordinary families and conjure something wonderful out of them.
Hostess Emma Hunter makes a surprise raid on a family and pilfers everything from its fridge, from the wilting lettuce to the out-of-date frozen french fries. The chefs have 45 minutes to make something delectable. And the family gets to sample the results and determine which chef really deserves the cordon bleu.
The series, which premieres on Aug. 2, continues with another family's victuals until the final showdown.
APPLE+ AIMS AT KIDS
With the kids home from school, Apple+ is getting to the core of the problem with several prize-winning shows for children. "Helpsters," streaming now, teaches preschoolers lessons about confidence, cooperation and communication and boasts a marquee of big-name guest stars like Rachel Dratch, Alan Cumming, Amber Tamblyn, Norah Jones and Kal Penn.
Tamblyn, who starred on "House" and "The Unusuals," says she's tickled to perform in all kinds of media. "I'm always open to everything … I'm also an author. I write poetry and some short-story stuff. So, that's the thing I know. Everything else, I always leave all my doors open. I never shut them and go, 'Well, that was a bad experience. I'll never do that medium again.' I just leave it open. If an idea pops in my head, I'll try to develop it, or something will come to me. But I love them all equally. They're all my children."
For the older kiddies ages 6-11, Apple+ offers "Ghostwriter," a series based on classic and new literature where youngsters try to solve a mystery when a ghost haunts their local library. This malcontent ghost starts releasing fictional characters on the world, and four kids team up to deal with it. This show hopes to help with reading comprehension, vocabulary and maybe planting the love of literature in young minds.
DEBRA MESSING RATIFIES SITCOM
Starz has grabbed Debra Messing for a new half-hour sitcom that she will executive produce and star in. The show, "East Wing," is being written by sometime comedienne Ali Wentworth, who will costar as Messing's pal.
The comedy is based on Wentworth's mom, who was social secretary to President Ronald Reagan. And Messing will assume that guise as the hostess with the mostess coping with a troubling hubby, recalcitrant kids and high anxiety.
Viewers probably can expect a little politics in the mix too as Wentworth is married to political adviser and news anchor George Stephanopoulos.
As for Messing, she says she's willing to push the envelope. "I'm really curious about what drives people, their behavior," she says.
"On my down time I watch truTV, reality TV and courtroom dramas. Since the seventh grade I said if I'm not going to be an actress, I want to be a lawyer. I feel like the courtroom is a live drama unfolding. It's like a play. And inevitably I'm just astounded by nothing that I see come out of somebody's mouth as an excuse for something or hearing the circumstances behind something. I sit there and think, 'If this were in a play or a movie, people would say, 'Awwww, that would never happen, it's so outrageous.'"
———
(Luaine Lee is a California-based correspondent who covers entertainment for Tribune News Service.)
———
©2020 Luaine Lee