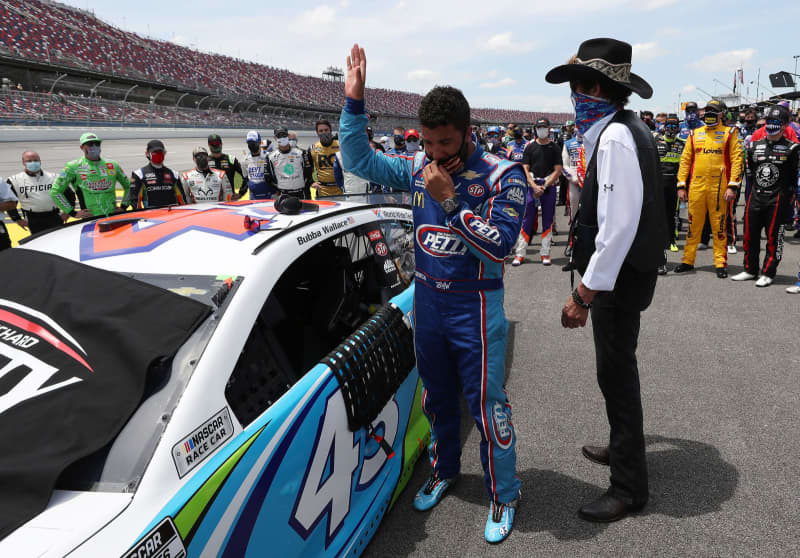 ATLANTA — Nooses hung from trees, a hate symbol linked to lynchings in the Jim Crow era and used today to intimidate Black people, have been anonymously placed in at least nine cities around the country in recent weeks, according to an unofficial tally by The Atlanta Journal-Constitution.
Six separate incidents that were initially thought to be racist displays have turned out to be false alarms, Tuesday's count of the incidents revealed. One of those false alarms now includes the Sunday incident at Talladega Superspeedway in Alabama, where a knotted rope was found inside the garage of NASCAR's only Black driver, Bubba Wallace.
By late Tuesday afternoon, the FBI released a statement calling the incident a misunderstanding and concluded that no crime had been committed.
The sudden spate of noose sightings were punctuated by the news out of Talladega Sunday, and by reports of a makeshift noose found hanging from a tree behind an old administrative office Saturday at the Sonoma Raceway in California, according to reports. Officials are continuing to investigate there.
Another two nooses depicted digitally have recently caused major ripples on social media.
The remaining noose sightings are getting increased attention as five people of color have been found hanging from trees in three U.S. cities since May 31, heightening fear and suspicions amid festering racial tensions in the wake of George Floyd's death.
Officials so far have ruled each of those deaths a suicide, but family members in at least two of the cases said they were not convinced and are calling for independent investigations.
Meanwhile, one of the racially charged nooses found last week in Oakland, California, remains under investigation by federal authorities as a potential hate crime.
In that case last Thursday, a "fake body hanging from a noose" was found at the city's popular Lake Merritt, according to KTLA 5 News in Oakland. On Monday, the day after the NASCAR uproar, someone called police to report a hangman's noose hanging from a tree in Pennypack Park in northeast Philadelphia, according to a reporter with KYW Newsradio.
In Oregon over the weekend, the Douglas County Sheriff's Office investigated a noose found at Whistler's Bend Park, northeast of Roseburg, KEZI News 9 reported.
On Friday, which was Juneteenth, a noose was discovered hanging from a telephone line in Deer Isle, Maine, reportedly next to a "White Lives Matter" sign, according to Forbes.
Within the last week, a noose was found on the chair of a Black employee at the Oriental Trading Company in La Vista, Nebraska, according to KETV NewsWatch 7, citing the Sarpy County Sheriff's Office.
On June 10 in Fort Worth, Texas, a man checking out social media rumors found a noose hanging outside a home owned by a former civilian employee of the Fort Worth Police Department, according to the Fort Worth Star-Telegram, which could not confirm if she still lived there with her husband.
The Star-Telegram reported that Michael Wilkinson went on Facebook to declare he was not a racist, and that the noose had been put up "to deter crime." A family member reportedly removed the noose the next day.
Florida has had at least two noose incidents reported within the last week.
Motorists traveling along Interstate 95 through Jacksonville on Saturday morning reported seeing a mannequin dressed in a New York City police uniform and dangling by rope from an overpass, The Associated Press reported. Jacksonville Sheriff Mike Williams later called the incident "extremely disturbing."
In another Florida incident, International Paper said it is investigating a noose found on its property in Escambia County, according to news outlet WKRG.
Sandy Springs-based UPS also continues to respond to social media questions about one of its former employees in Carnation, Washington, who recently posted a photo of himself on Facebook holding a crudely made dummy strung up by a noose.
The man's Facebook profile says he works for the company, and Twitter sleuths have been tagging the company for weeks, including one person Monday who asked "@UPS is this your employee?"
"Thank you for bringing this to our attention," the company acknowledged. "This person has not been employed by the company since 2019, and he does not represent UPS' values and standards. UPS does not condone nor tolerate any kind of harassment or discrimination.
Last month, an executive with a Chattanooga-based software company was fired after he allegedly posted a racist meme of Barack Obama that went viral on social media.
Not all the noose incidents appear to be nefarious, the reporting revealed. In New York, there were two apparent false alarms. On June 13, what witnesses thought was a noose strung to a tree at a park in Harlem turned out to be a rope that construction workers were using to hoist building materials up a scaffold.
The rope looked so much like a noose that it prompted New York Gov. Andrew Cuomo to announce an investigation into the incident. "I am disgusted by the recent discovery of a noose — the epitome of hatred and an evil icon of our nation's racist past — in Harlem's Marcus Garvey Park," the governor said on Twitter last Thursday. "I am directing the State Police Hate Crimes Task Force to investigate this immoral and illegal act."
Since then, two Bronx residents called police to report multiple nooses in a nearby park, but New York police officers declined to investigate, according to reports.
Five ropes found hanging from trees in an Oakland city park were determined to be merely exercise equipment that a Black resident put up months ago, the San Jose Mercury News reported, citing an announcement by the city's mayor.
A similar mixup happened last Monday in Birmingham, Alabama, when an investigation concluded that multiple nooses found hanging in Kelly Ingram Park turned out to be an art display in observance of Juneteenth, according to reports.
Earlier this month, a children's swing set in the yard of an Oklahoma City couple also caused ripples with social media users, who said the ropes looked like a noose without the swing, according to KOKH Fox 25 News. The grandfather who lives at the home told the station he would likely take down the ropes to avoid further confusion.
———
©2020 The Atlanta Journal-Constitution (Atlanta, Ga.)