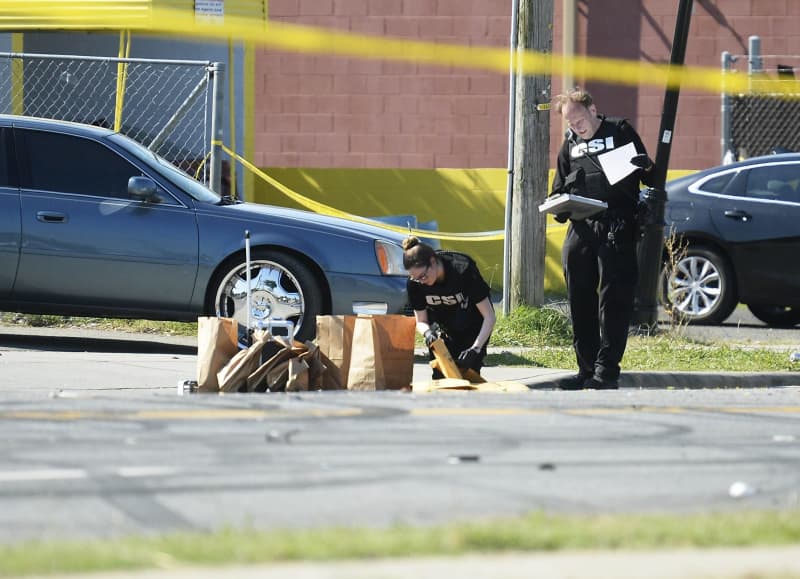 CHARLOTTE, N.C. — A fourth person has died at a local hospital as a result of the mass shooting that occurred at a multi-day block party on Beatties Ford Road in Charlotte.
Nearly 200 shots were fired into a crowd of more than 400 people early Monday, according to Charlotte-Mecklenburg Police.
The latest victim was identified Wednesday morning as Dairyon Dejean, 31, who died of a gunshot wound, CMPD said.
The other victims were identified as Kelly Miller, 29, Christopher Antonio Gleaton, 28, and Jamaa Keon Cassell, 39. One of the three died of injuries suffered from being hit by a car at the scene, police said.
CMPD Deputy Chief Gerald Smith says a fifth person injured at the scene remains in the hospital in critical but stable condition.
Dejean was one of nine people hit by bullets when shooting erupted in the 1800 block of Beatties Ford Road about 12:30 a.m. Monday, CMPD said.
Five other people were hit by cars as they scrambled across streets away from the shooting, police said.
There have been no arrests, no suspects and no indication of a motive for the killings yet, officials say.
At a news conference Wednesday, Smith said the department has counted 181 shell casings from both hand guns and rifles, and some have been linked to other crimes.
Smith says witnesses are starting to come forward to help, after a plea made by the department earlier in the week for people to help. "I'll say about 20 calls have come into CrimeStoppers," Smith said. "Not enough."
Investigators said that as many as 400 people were attending the celebration, which had begun Friday as an extension of a Juneteenth celebration. Smith said officers were nearby making plans to close part of the road, in an effort to keep cars away from the crowd. Police and first responders got word of a person hit by a car on Lasalle Street, Smith said. As they responded to the injured person in the hit-and-run, he said, shots rang out.
Soon after, police said, they found a woman with a gunshot wound lying on Beatties Ford Road. She was pronounced dead at the scene, CMPD said.
No CMPD officers fired their weapons, officials have said.
Investigators say there is evidence that "several different caliber weapons" were used simultaneously, indicating more than one person was shooting. It was not clear who they were targeting or why, officials said.
CMPD described the outdoor event as a multi-day "impromptu block party" for Juneteenth that had been running off-and-on since Friday.
The official Juneteenth celebration included a march through the neighborhood Friday but continued in several unofficial celebrations throughout the weekend. Organizers of a daytime drive-through Juneteenth celebration have said their event ended hours before the shooting and has no affiliation.
Juneteenth celebrates the events of June 19, 1865, when the last of the nation's enslaved people learned they had been set free by the Emancipation Proclamation.
———
©2020 The Charlotte Observer (Charlotte, N.C.)