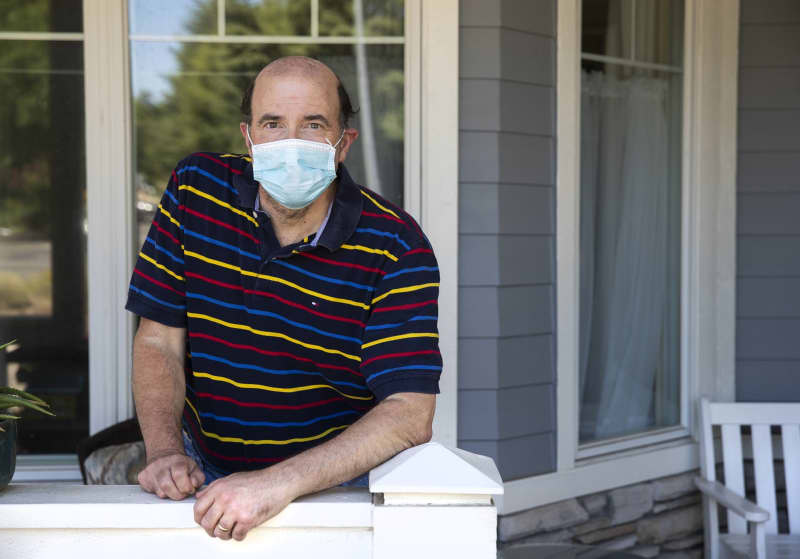 SACRAMENTO, Calif. — Latino residents of the Sacramento region and California — a population that experts say is more likely to be working on the front lines of "essential" professions outside the home — are falling ill to coronavirus at a higher rate than any other ethnic group.
The alarming trend in Sacramento, where more than half of recent cases are among Latino residents, combined with instances of COVID-19 spreading in homes among families has prompted county officials to say they need to refocus on reaching ethnic groups where they live. That includes mask distribution and public warnings on local health orders in multiple languages.
"We need to have adequate info in all languages," said Sacramento County health director Dr. Peter Beilenson. "In addition to that, we have to hammer home that family gatherings are not safe, at least at this stage. … Gatherings outdoors must be socially distanced and must be small."
More than 350 Latino residents in Sacramento County have been diagnosed with coronavirus since mid-May, according to data from the county's public health department.
That's about 99 new cases per 100,000 Latino residents during that time period, compared to 81 new cases per 100,000 Blacks, 30 new cases per 100,000 Asians and 28 new cases per 100,000 whites.
Across California, Latinos have been disproportionately affected by COVID-19 — more than 42,000 Latinos have been diagnosed with the coronavirus since mid-May, according to the state Department of Public Health. Latinos make up the majority of Californians, ages 18-64, who have died from the virus.
Public health officials and advocates say a variety of factors are contributing to the troubling surge in cases.
"The disparities that existed pre-COVID, gaps, have just gotten deeper," said Dr. Cesar Castaneda, mental health administrator at La Familia Counseling Center. "The needs of our families have been greater."
Dr. Seciah Aquino, deputy director at the Latino Collation for a Healthy California, said she isn't surprised to see the statewide spike in cases.
"Latinos are more likely to be working in occupations deemed as essential, working on the front lines — in farming, in meat packing, in retail, at grocery stories," Aquino said.
The ability to stay home and quarantine "is not a reality for many Latino households providing for others," she said. "And when they're coming back home from work, they're exposing their families as well."
"If workers have to make a decision between staying home and protecting themselves, and feeding their family, they're going to feed their families," said United Farm Workers Foundation spokeswoman Leydy Rangel.
Scientists and epidemiologists are still learning about the coronavirus, but experts agree that extended exposure to an infected individual in close quarters is one of the most common ways the virus is transmitted.
That means more people living under the same roof who cannot isolate from one another might be particularly vulnerable to catching and spreading the virus. About 40% of Latino households in the four-county Sacramento region have at least four people living in the home, compared with about 22% of other households, the latest census figures show.
In Placer County, which has also seen an increase in cases among the Latino community, transmission between family members has been a driving cause of infections. In the city of Lincoln, there have been as many as 10 family members all living in the same household who have ultimately tested positive.
Still, advocates worry that the number of Latinos affected by the coronavirus has been vastly undercounted. About one in three cases reported to the state don't include racial demographic information, and the ethnic identity of about 20% of cases in Sacramento are unknown.
Moreover, reports of Immigration and Customs Enforcement agents picking up individuals and growing anti-immigrant sentiment during the pandemic has led to a "chilling effect," Aquino said. Some Latinos are afraid to get tested for the virus or seek medical treatment, she said. Others just don't know where to get practical information on how to stay safe.
"Our clients are saying there is still a little bit of lack of information and too much misinformation," said Castaneda of La Familia Counseling Center. "Folks don't know what to do and what to follow."
A lack of information and answers has been particularly troubling for some communities hoping to stem the surge.
In the last 2 1/2 weeks, the city of Galt, where more than 43% of the population is Hispanic or Latino, has seen a dramatic increase in coronavirus cases — now at 71 total cases, with at least 35 reported infections in just the last week.
"We've tripled and quadrupled our overall numbers in terms of infections," said city manager Thomas Haglund.
But county health officials haven't given city-specific demographics of those infections. Haglund said the city has asked for detailed information about who is being affected by the virus to improve its education and targeted outreach.
In some ways, the increasing number of Latino positive tests is, ironically, a small win. It means more Latinos are getting access to tests now, and more are feeling comfortable taking those tests.
The downside is that it means infection numbers among that community may have been high from the beginning. In that sense, the increased testing is helping throw an overdue spotlight on what may have been a somewhat hidden corner of the pandemic: the spread in ethnic and lower-income communities.
Sacramento City Councilman Eric Guerra, an immigrant from Mexico, is upset about that. He tried to elevate this issue two months ago in talks with county hospitals and health officials. He fears that Latinos are treated as second-class when it comes to coronavirus safety messages.
"Communicating with the Latino community can't be an afterthought. Do an (coronavirus) order in English, then do the translation a couple days later. It has to be executed in multi-languages the same day, and not like a game of telephone."
Guerra joined this week with several community groups — including La Familia, the Urban League, the Vietnamese Chamber of Commerce and Asian Resources Inc. — to lobby the state and the city of Sacramento to supply masks that nonprofit agencies can distribute to lower-income families.
"This is a critical issue here. There is a serious question about equity that must be answered," he said. "We know many low-income families, disadvantaged families, having challenges in affording face coverings. We want to highlight how significant it is. We have to look at it through an equity lens."
Guerra said he also worries that some employees have not been given appropriate protective equipment such as masks at their jobs and that employers are not following safety protocols.
For farmworkers throughout the Sacramento area and Central Valley, a majority of whom are Latino, that's an especially pressing concern. Many commute or live in cramped situations and may struggle to physically distance during breaks, Rangel said.
"This is when harvesting season is in full peak (and) it's already difficult to have employers provide adequate shading."
———
©2020 The Sacramento Bee (Sacramento, Calif.)