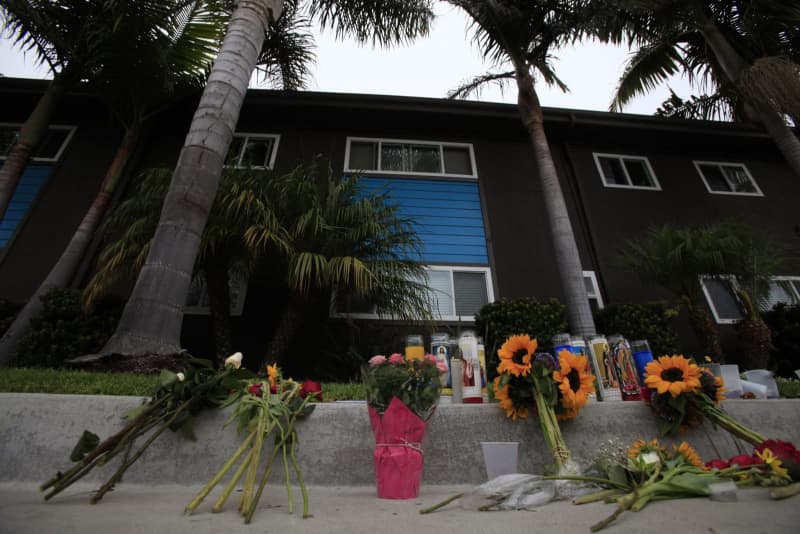 SACRAMENTO, Calif. — California passed a law in the aftermath of the 2014 Isla Vista mass shootings that allow judges to remove guns from the possession of people deemed at extreme risk of using them to harm themselves or others.
Now, after examining the initial four years of state data on these extreme risk protection orders, researchers at the University of California, Davis Health reported that California has been slower to utilize the measures compared with other states that have similar laws.
The UC Davis analysis offers a look at who's using these violence prevention tools, who's being asked to give up their weapons, and what types of patterns are emerging in their usage.
The Davis researchers said, from 2016 to 2019, California courts issued risk protection warrants for 1,076 individuals, 91.5% of whom were men. In nearly 31% of cases, judges ruled that respondents could not be in possession of a gun for a year. In the other cases, the orders prevented firearm possession for up to three weeks until a hearing.
As researchers drilled down into the demographics of those who were issued warrants, they discovered that whites made up 59.2% of recipients; Latinos, 20.5%; Blacks, 8.6%; Asians, 6.7%. In about 5% of the orders, the recipients' race or ethnicity was unknown or of another origin.
Most recipients were middle-aged, with roughly 380 of them ranging from ages 30 to 44 and 271 from ages 45-59. Young adults from 18-29 represented 241. Officials issued 154 warrants to people ages 60 and older and 21 to juveniles.
Rocco Pallin, the lead author on the research published last week in JAMA Network Open, noted that there were a number of limitations with the data they received. Among them:
—The database at the California Department of Justice logs only the last order filed against any individual, so researchers could not determine whether some individuals had been issued multiple orders. To compensate for this in future, UC Davis is more frequently downloading data.
—Although a third of the orders were not served, no reason was provided for why they were not physically delivered.
—The orders do not specifically state whether the petitioner suspected the recipients would harm themselves or someone else, but Pallin said that Davis researchers are working on capturing that information in other ways.
What is perhaps first noticeable about the data is just how slow the uptake in usage of these risk warrants has been in California: Seventy of the 1,076 orders were issued in the first year and 700 in the fourth year.
"That we've seen such an increase over time seems to mean something about growth in awareness," said Pallin. "I think, for now, it's useful for the public to know that this policy exists and it is being used. Having a baseline knowledge of its existence — and in what situations it may be appropriate—is useful in itself."
Extreme risk protection orders are really just for use in emergency situations, when someone has made a threat to harm themselves or to harm someone else, said Pallin, a public health researcher in the UC Davis Violence Prevention Program.
"Generally, how the process goes is someone like a law enforcement officer or a family member or a household member can fill out a petition and present evidence to a judge about why someone who has made serious threats of violence and has access to firearms is a threat," Pallin said, "and then the judge reviews the petition and decides whether to issue an order."
The overwhelming number of petitions during the four-year period — 96.5% — were filed by police agencies, UC Davis researchers found, Pallin said, and that could be because their knowledge of this tool is growing or because a local official is championing their use and funding staff to work on them.
In San Diego, for instance, City Attorney Mara Elliott has not only endorsed them but also has funded a team devoted to using the tool effectively, Pallin noted in the JAMA paper, and usage there soared to 267 in 2019 from five in the first year.
"San Diego has developed and begun implementing law enforcement training in other counties, which may to some extent account for the disproportionate use of GVROs in Southern California, compared with other areas of the state," Pallin wrote in the JAMA paper.
Although the extreme risk warrants generally passed as a result of mass killings, Pallin noted that evidence from other studies indicates they more likely are to be used to try and prevent people from committing suicide.
The team at UC Davis' Violence Prevention Program also saw some proof of this last year as they looked at court documentation on gun violence protection orders granted from 2016 to 2018. In an analysis published in the Annals of Internal Medicine, the researchers reported that law enforcement had acted in an effort to prevent a mass shooting in 21 of the initial 159 cases.
Pallin said there is not yet enough data on gun violence restraining orders to determine whether these measures are helping to prevent suicides but that in Connecticut and Indiana, where comparable measures have been in place for at least 15 years, officials report some success with reducing such incidents.
California's uptake in usage of the extreme risk protection orders has been slow by comparison with other states, Pallin said. Maryland, for instance, issued 445 orders in the first 11 months of implementing its policy, UC Davis researchers said, while Oregon, which has a tenth of California's population, reported issuing 42 within six months of implementation.
The differences in uptake could result from variations in policy, Pallin said. For instance, California allows only law enforcement and family to petition for gun violence restraining orders, but in Maryland, medical professionals also can seek them if they've examined the individual in question.
While extreme risk protection orders are there for emergencies, Pallin recommended that all individuals who have firearms in their households practice gun safety to lower the risk that this extraordinarily lethal weapon can be used by someone contemplating suicide.
Consider the mental well-being of those in your household. If someone who owns a gun is going through a rough patch, Pallin said, find a way to get them help and ask them to temporarily transfer ownership of their firearm to another person.
Gun owners should also lock the gun and ammunition separately, say gun safety experts. While many people believe they need a gun at the ready in case they confront a criminal, researchers have found that it is far more likely the weapon will be used to harm a member of their household than it will be to confront an intruder.
Researchers at UC Davis' Violence Protection Program worked with Stanford University on an exhaustive 12-year study of suicide risk for millions of California handgun owners, and they found that state residents who own guns are four times more likely to commit suicide than their neighbors who don't. Whether people survive a suicide attempt, researchers say, really depends on how lethal a method they have at their disposal.
"The policy in California has recently changed to allow for temporary transfers (of gun ownership) explicitly for prevention of suicide," Pallin said. "Those transfers can be made and are exempt to some of the strict transfer requirements in California for ordinary sales of firearms. If someone is going through a crisis, just get the firearms out of the home for the period in which they're at risk of harming themselves."
———
©2020 The Sacramento Bee (Sacramento, Calif.)