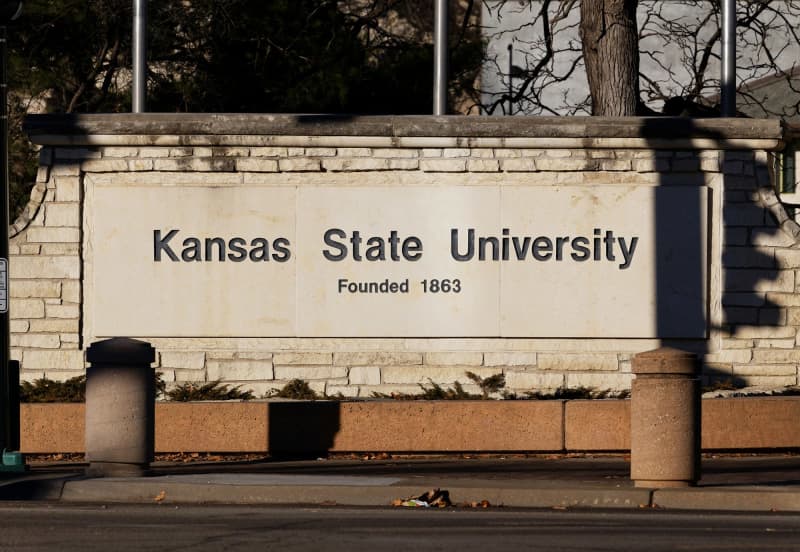 KANSAS CITY, Mo. — A Kansas State University student's insensitive tweets about George Floyd created a firestorm on social media Friday and were widely condemned. But not by everyone.
Jaden McNeil, head of K-State's America First Students chapter — a controversial group he formed earlier this year — posted the tweets on Thursday afternoon. The first one said, "Congratulations to George Floyd on being drug free for an entire month!"
The comments immediately began pouring in from across the country. Most denounced the tweets and many called for K-State to take immediate action.
But white nationalists defended McNeil and tried to downplay his tweets as a joke. Among them was Nick Fuentes, a leader of the America First Groyper movement, a loose network of white nationalists and far-right provocateurs.
"Kansas State student @McNeilJaden tweets a joke about saint George Floyd and within hours his university is launching a full review of all their 'options' to respond. This is insanity," Fuentes tweeted Friday morning.
"If Dave Chappelle tweeted this, no one would blink," she tweeted Friday. "Instead @KState officials, football players & virtue-signaling babies are in an uproar…and @McNeilJaden is getting death threats & expulsion threats across social media. OVER A JOKE. What a weak pathetic country we live in."
K-State officials strongly condemned McNeil's actions.
"The lack of basic decency and care for how this post would impact others, especially our Black students, faculty & staff already emotionally hurting from recent incidents of anti-Black violence is shameful and appalling," said Thomas Lane, vice president for student life and dean of students at K-State, in a tweet Friday morning.
"K-State condemns the post in the strongest of terms. It does not reflect who we are as confirmed by the outrage expressed by so many campus community members. Bigotry, prejudice & racism have no place here."
K-State spokesman Jeff Morris said the university cannot answer the question of whether McNeil can be kicked off campus for making racist statements on Twitter "until we've conducted the review to see what policies and conduct rules apply."
He said the university is in the process of looking into whether McNeil has violated any university policies or conduct rules. While McNeil is a K-State student, Morris said, his group is currently not registered on the campus because of lack of membership.
"Independent student organizations need to have at least five members and renew registration each year," Morris said.
McNeil made headlines in February when a national watchdog organization issued a report about the formation of America First Students at K-State. The Institute for Research and Education on Human Rights said the group was created as part of an effort by white nationalists to repackage their bigotry through a new mainstreaming strategy that focused on college campuses and Trump supporters.
The report said those leading that effort were Fuentes and another activist, both who promoted and participated in the Unite the Right rally in Charlottesville, Virginia, in 2017. The gathering ended with a white nationalist plowing his car into a group of counter-protesters, killing one.
When The Star wrote about the report, McNeil denied he was a white nationalist and through an attorney threatened to sue. But in late February, he attended a Groyper gathering outside Washington, D.C., posing in pictures with Fuentes and other white nationalists.
McNeil did not immediately respond to a Twitter request for comment Friday.
McNeil is former president of the K-State chapter of Turning Point USA, a conservative youth activist network. That organization was the subject of protests on campus last year by the KSU Young Democrats, which said Turning Point USA was associated with hateful rhetoric and called for the group to be removed from campus.
McNeil and other TPUSA officers resigned from the K-State chapter in October. McNeil said in an Oct. 31 tweet that he was parting ways with the organization because "TPUSA constantly cedes cultural ground to the Left."
McNeil has described America First Students as "a campus conservative organization defined by our support for closed borders, traditional families, the American worker, and Christian values."
Devin Burghart, president of the Institute for Research and Education on Human Rights, said McNeil's post about George Floyd was despicable.
"What Jaden McNeil posted yesterday clearly suggests that the denials he made about his racism and bigotry ring hollow," Burghart said. "These comments show the depth of his racism and should be roundly denounced by everyone.
"He of course has the right to say it. But speech has consequences. Words have meaning. It's not a joking matter. And the fact that he doesn't even get it is a bigger thing. "
K-State President Richard Myers issued a statement about the tweet on Friday.
"The insensitive comments posted by one K-State student hurts our entire community. These divisive statements do not represent the values of our university. We condemn racism and bigotry in all its forms. We are launching an immediate review of the university's options. Black Lives Matter at Kansas State University and we will continue to fight for social justice."
A petition was started three weeks ago at Change.org by a group called America Worst in an effort to ban America First Students from the K-State campus. More than 3,100 people had signed the petition as of Friday morning. The number of signatures began quickly climbing as Twitter exploded with K-State students calling for the university to kick McNeil off the campus.
Burghart said K-State needs to take a hard look at McNeil's actions.
"If the university wants to live up to the statements it's put out in relationship to Black Lives Matter, then it needs to take action to show that those words don't ring hollow," he said. "I imagine that they have procedures and regulations regarding conduct. This is so clearly over the top."
———
©2020 The Kansas City Star (Kansas City, Mo.)