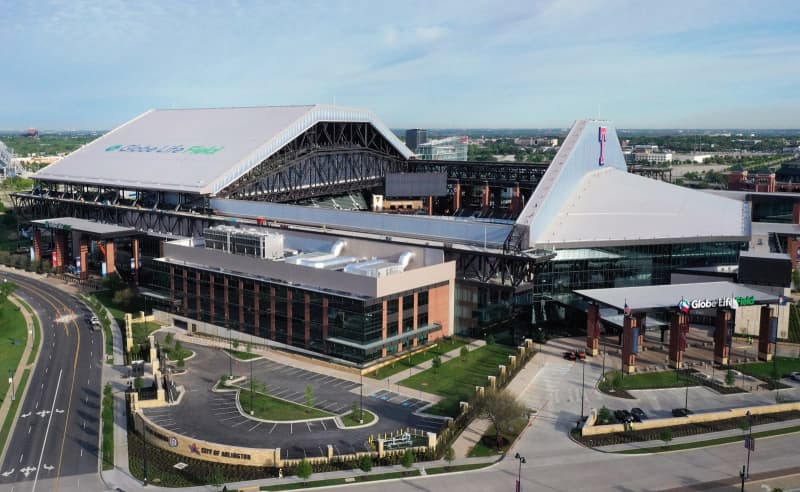 ST. LOUIS, Mo. — A weeks ago Monday, baseball owners imposed a 60-game season on the players to end the pandemic shutdown.
Last Tuesday, the Los Angeles Angels revealed plans for a 153-acre, mixed-use development adjacent to Angel Stadium.
It's no wonder the rift between players and owners is worsening.
As the business of baseball expanded in recent years, players felt left behind. So they weren't eager to grant concessions during the failed relaunch bargaining.
On one hand, baseball owners have cited immediate financial distress due to the shutdown. Angels owner Arte Moreno aggressively furloughed employees, including his area scouts ahead of the MLB draft.
On the other hand, owners have targeted long-term growth with stadium-related real estate projects. Moreno envisions restaurants, bars, shops, offices, homes, two hotels and perhaps a new ballpark in Anaheim.
"You don't privatize the gains and socialize the losses," player agent Scott Boras kept saying while advising players to hold the line.
As baseball recovers from the pandemic, players will deserve their cut of the revenue. The owners will need labor peace to keep commerce humming.
So baseball must find new leadership on both sides and forge a partnership.
The owners note their massive investments to build or renovate stadiums. They cite their financial commitment to their community through related developments.
The Cardinals built Ballpark Village and spruced up downtown St. Louis. The Chicago Cubs built a $250 million mixed-use development in Wrigleyville. The Atlanta Braves did something similar after moving to the suburbs and the Texas Rangers have big plans in Arlington.
Owners reinvest revenue into baseball operations too, which explains how Cardinals owner Bill DeWitt Jr. could claim baseball isn't all that profitable.
Cubs chairman Tom Ricketts debated Boras on this topic via ESPN:
Ricketts: "Most baseball owners don't take money out of their team. They raise all the revenue they can from tickets and media rights, and they take out their expenses, and they give all the money left to their GM to spend. The league itself does not make a lot of cash. I think there is a perception that we hoard cash and we take money out and it's all sitting in a pile we've collected over the years. Well, it isn't."
Boras: "Throughout this process, they will be able to claim that they never had any profits because those profits went to pay off their loans. However, the end result is that the Ricketts will own improved assets that significantly increases the value of the Cubs — value that is not shared with the players."
Ricketts: "We put about $750 million into the ballpark. And the dollars spent were to create the best place for players to play and the best place for the fans to watch the game … . As we have been investing in the ballpark, we've been spending more on the field. We've been one of the top spenders in the league while we were fixing up Wrigley Field. We don't take money out of the team. Most owners don't."
The Ricketts family bought the Cubs for $700 million in 2009. Forbes estimated the franchise's prepandemic value at $3.2 billion.
DeWitt's group bought the Cardinals for $150 million in 1996 and Forbes estimated its value at $2.2 billion before the coronavirus hit.
Boras argues that players should profit from those soaring values. He does his part through hard bargaining.
He negotiated contracts totaling more than $1 billion over the winter for Gerrit Cole, Stephen Strasburg, Anthony Rendon, Mike Moustakas, Nicholas Castellanos, Hyun-Jin Ryu, et al.
MLB commissioner Rob Manfred said such signings prove the current collective bargaining agreement works.
"Over time, it's important to step back and remember we have the freest free agency in professional sports: no rights of first refusal, no salary cap, no franchise tags, none of that," Manfred said. "The fact you have markets up and down over a short period of time I don't think is an indication that we need to throw out something that's worked for 30 years and make really fundamental changes to the system."
He's wrong. A few huge contracts don't indicate all is well.
The current CBA expires after the 2021 season. Manfred and MLB Players Association czar Tony Clark can't work together, so both sides are bracing for war.
The current system effectively features a soft salary cap, in the form of a luxury tax. But there's no salary floor, as other pro leagues have.
Owners are free to spend or not spend. No mechanism exists to guarantee players their fair share.
Teams are free to sell off veterans, deploy minimally-paid youngsters and claim they are rebuilding. This caused baseball's middle class to shrink.
The players must embrace revenue sharing and demand it — even if it means their top earners won't get paid quite as much.
"It's always been considered something the MLBPA doesn't want to go for because they see it as a salary cap," Ricketts said. "They're clear on that. I don't agree. If it's done right, it can give incentives for the players and the owners to grow the game."
Let's hope they finally figure this out.
———
©2020 St. Louis Post-Dispatch