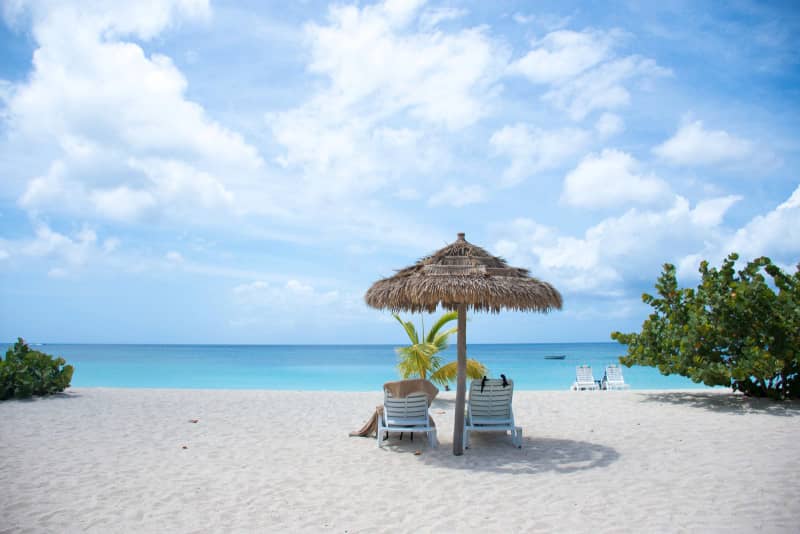 MIAMI — The island nation of Antigua and Barbuda was barely three weeks into its early June tourism reopening amid the coronavirus pandemic when 39 visitors tested positive for COVID-19 upon arrival and American tourists started flouting the rules.
After health officials informed infected tourists they needed to be placed under a 14-day mandatory quarantine, the visitors threatened to sue and some immediately booked return flights back to the United States.
Prime Minister Gaston Browne, relaying the story over the weekend as he discussed the challenges posed by the new tourism health protocol requiring everyone to be tested upon arrival for the novel coronavirus, said Antigua would be switching course — again.
Rather than having a 6-inch swab inserted into their noses upon arrival at V.C. Bird International Airport, tourists will now be required to be tested within 48 hours before their arrival at the eastern Caribbean twin island.
"Pretesting should now be a prerequisite for travel, now that COVID tests are more readily available," Browne told the Miami Herald. "It also averts problems of individuals who are infected getting stuck abroad, and the challenge arising therefrom."
Antigua's reversal on testing for COVID-19, along with that of the Bahamas and Haiti, highlights the challenges facing Caribbean nations as they continue to slowly welcome visitors again and try to balance livelihoods with lives.
Grenada, another eastern Caribbean island showing no active cases after registering 23 infections and no deaths, postponed a planned Tuesday reopening, its prime minister saying in a national address that commercial airlines will not agree to pretesting, which is required under the country's protocol.
"Commercial airlines have thus far not agreed to make it mandatory for passengers to test prior to travel and this is contrary to Grenada's protocols," Prime Minister Keith Mitchell said.
Markus Ruediger, a spokesman for the International Air Transport Association, said the airline trade organization is unaware of any airlines refusing pre-travel testing compliance and have recommended to nations that testing be done before departure to avoid a situation like what happened in Antigua.
"Governments need to correctly advise what the requirements are, how these need to be documented, so then the airlines can ensure that passengers comply with all the required entry regulations," he said, adding that governments also need to advise the association of the requirements so it can update its database, which airlines check.
Ruediger said that with countries around the globe beginning to reopen closed borders, the group is doing about 200 updates a day just on COVID-19 entry requirements.
"Today the European Union has announced they will allow citizens of up to 15 countries back into the European Union. That means an update for all of the 27 EU member states that need to be put in," he said.
Meanwhile, after more than three months of lockdowns and closed borders, more Caribbean countries are following in the steps of Jamaica and opening their borders this week.
On Tuesday, Haiti reopened both of its international airports and porous land border with the Dominican Republic, despite reporting 5,933 cases of COVID-19 and 105 deaths.
On Wednesday, the Dominican Republic, which leads the region with 31,816 infections, will join the Bahamas, Bermuda and St. Maarten/St. Martin in resuming international flights. But while the Dutch island of St. Maarten will welcome American tourists, Aruba, Bonaire and Curaçao won't be doing so right away when they too resume commercial operations Wednesday.
Both Bonaire and Curaçao have announced they will allow flights from select European countries, but have yet to set a date on when U.S. or South American travelers will be allowed in. Curaçao, which opened its seaport on May 3 to allow for the repatriation of stranded cruise ship workers, said it plans to welcome no more than 10,000 passengers to the island "so that there will be minimal pressure on the local health system." Meanwhile, Aruba is allowing visitors from Canada, Europe and the Caribbean, with the exception of the Dominican Republic and Haiti. U.S. travelers won't be allowed until July 10.
Testing and travel requirements vary by country, but the message to visitors is the same: If you test positive for COVID-19, be prepared to stay at least 14 days in quarantine at your own expense.
"There is learning going on," said Vincent Vanderpool-Wallace, a former tourism minister in the Bahamas who has been advising the region on reviving tourism amid the global pandemic. "I can tell you right now there are a couple of conference calls going on in countries using information gleaned from those two destinations that opened up saying, 'We're going to test you on arrival' and now appear to be reversing themselves."
Vanderpool-Wallace said when conversations on reopening the Caribbean began eight weeks ago, no one said it should all be done all at once and everyone presumed that by now there would be a widely available, mildly invasive, low cost and dependable rapid test that governments could administer to provide both tourists and locals peace of mind.
But there isn't, and the World Health Organization and Pan American Health Organization continue to warn against "immunity passports" — certifications that a traveler is virus-free — while calling for early detection of cases, strong contact tracing, laboratory testing, quarantine and safety protocols to limit spikes and a collapse of health systems.
"Reopening is not merely suspending travel restrictions and stay-at-home orders. It requires implementing a set of public health measures to track new cases and build sufficient capacity to detect and control new outbreaks," said Dr. Carissa Etienne, the director of PAHO. "Several Caribbean countries and territories have been able to curb transmissions and have not reported new cases for several weeks. … As suspected, their economies have been severely affected and they are planning to reopen their activities. But they need to remain vigilant for months to come, as positive cases among repatriated nationals as well as visitors are being observed."
The islands, she added, will need timely and reliable data to help them identify new outbreaks early and to adapt responses. Etienne also warned that resuming nonessential travel by air and sea will require additional measures by operators of conveyances, at points of entry and in the healthcare industry.
"Arrangements must be based on scientific evidence, on global, regional and national epidemiological situations and most importantly on the capacity of their national health systems," she said.
In recent weeks, a variety of health protocols have emerged in the Caribbean. They run the gamut: Bermuda and the Turks and Caicos, which reopen on July 22, require not just a negative COVID-19 test with results administered within 72 hours before arrival, but also proof of medical insurance; Haiti no longer requires a pre-arrival COVID-free test result — the first Caribbean country to do so — and instead is choosing to rely solely on temperature checks and masks at its airports.
The co-director of Haiti's COVID-19 presidential panel, Dr. Jean William "Bill" Pape, told local Port-au-Prince radio Magik 9 that Haiti just doesn't have the means to test everyone.
"If you do it with a country, the first thing a country is going to do is ask you for reciprocity; that means all of your citizens before they depart they will need to be tested. We don't have that capacity," Pape said.
Meanwhile Belize, which plans to reopen Philip Goldson International Airport on Aug. 15, is not only "highly suggesting" that visitors get tested before arrival but they must upload the negative test result and their hotel information into a new health app before their arrival so that officials can "manage" their movements.
"Contrary to what a lot of people see, 99% of the protocols you look at within a country are very much aligned," Vanderpool-Wallace said, adding, "This has been the most successful collaboration across the Caribbean ever."
In the meantime, despite Tuesday's and Wednesday's airports reopening, no one should expect airlines to start flying to those destinations right away.
American Airlines, the leading carrier in the Caribbean, said it will resume travel on July 7 to Haiti, with one daily flight between Miami and Port-au-Prince, as well as to the Dominican Republic, St. Maarten and the Bahamas.
"Later in July we will also resume our operations to St. Lucia, Aruba, St. Vincent and Providenciales," said American Airlines spokeswoman Laura Masvidal.
JetBlue and Spirit Airlines, which fly to several Caribbean destinations, said they will resume flights to Port-au-Prince's Toussaint Louverture International Airport on Wednesday. Spirit has direct flights out of Fort Lauderdale, and JetBlue flies out of Fort Lauderdale and New York.
Although St. Lucia opened its airport on June 4, airlines aren't expected to start flying until July. Masvidal had previously cited the country's testing requirement for American Airlines' delayed return to the country and said this week that "prior to arriving at UVF, passengers need to complete a health form, and PCR test is done upon arrival."
St. Lucia, however, is still requiring visitors to arrive with a COVID-19 negative test administered no more than 48 hours before arrival.
"As of today, there are no updates to the new protocols for arrival. They are posted on the www.stlucia.org/covid-19 page," Jennifer Maguire, a spokeswoman for the tourism ministry, told the Herald.
The confusion over testing may have stemmed from the desire by some Caribbean nations to have the airlines administer testing before boarding, which Antigua initially announced publicly before opening its border and then backed down.
Browne, the Antigua leader, believes that given the increased "availability of these COVID tests, the increased in the prevalence of COVID in Miami, the airlines should not have a problem with the pretesting policy" that his country plans to enforce.
One concern on the minds of Caribbean tourism ministers is the rapid rise in COVID-19 infections in the United States, Florida in particular.
After announcing that the Bahamas would drop its testing requirements once its borders reopened to international travelers on Wednesday, Bahamas Tourism Minister Dionisio D'Aguila, citing the growing U.S. infections, said tests will now be required.
On Tuesday, Florida's Department of Health confirmed an additional 6,093 cases of COVID-19, bringing the state's confirmed cases to 152,434 after a fivefold increase in infections in two weeks.
Amid Florida's rising caseload, Puerto Rico announced Tuesday it will also be requiring all incoming passengers to have a negative molecular COVID-19 test that has been "performed in the 72 hours prior to your arrival." For anyone who has not been tested before their trip, they will be required to get tested in Puerto Rico and self-quarantine until they receive negative results.
All incoming passengers, many of whom are considered "visiting friends and family" of local residents, are also required to fill out a form upon their arrival to San Juan as part of the government's screening measures.
A random sample of passengers will be tracked by Puerto Rico's Department of Health through a monitoring application called Sara Alert, officials said. They will be asked about their symptoms on a daily basis and are required to respond.
The new executive order signed by Gov. Wanda Vázquez will go into effect on July 15 when the island welcomes back visitors.
The executive director of the island's tourism department, Carla Campos, said an average of 4,000 people have been arriving at the San Juan International Airport, which continues to be the only airport receiving commercial flights. Officials expect that number to reach up to 9,000 in the next several months, Campos said.
Eventually, smaller local airports in Aguadilla and Ponce will be opened and the coronavirus screening measures will also be extended there. No ports on the island — or any Caribbean island — are currently receiving cruise ship passengers.
Another country that also changed its entry requirement recently was Jamaica, which opened on June 15 and allowed passengers to test either before departure or arrival in the country.
Tourism Minister Edmund Bartlett said Jamaica has since changed that for passengers coming from New York, Arizona and Texas, who are now required to get tested before traveling to Jamaica.
Other island-nations, including those in the eastern Caribbean where the virus has been largely contained, have yet to announce reopening dates.
"The Caribbean countries took (COVID-19) seriously; moved quickly, closed borders. … They are now beginning to open up and now they are opening up at a time when the U.S. is having a second surge and they are going to have to monitor that carefully," said Richard Bernal, pro-vice chancellor at the University of the West Indies in Jamaica. "They will have to either slow down their opening or take additional measures."
This is exactly the discussion taking place in the Turks and Caicos, where after announcing the reopening of the Providenciales Airport, the island's premier announced over the weekend that the cabinet was deciding whether to go ahead.
Like Antigua, before its cases jumped from 25 to 69 with the tourists who tested positive, the Turks and Caicos had until recently gone through a long period without any new cases. That, however, changed a few days ago. Premier Sharlene Cartwright-Robinson said the British dependent territory had "confirmed 12 new positive cases of COVID-19. Eleven of those attended the same group activity while the additional case is unrelated."
As of Tuesday, the country went from recording 12 cases with one death, one departure and 10 recoveries to a total of 41 cases, 29 of which were active.
"Over the past week we have doubled the number of cases … since the start of the pandemic," Cartwright-Robinson said.
Describing the dilemma facing governments throughout the region, she said: "Because this is a once-in-a-100-year pandemic, there is no best-practice manual to which anyone can refer."
———
(Miami Herald staff writer Bianca Padró Ocasio contributed to this report.)
———
©2020 Miami Herald