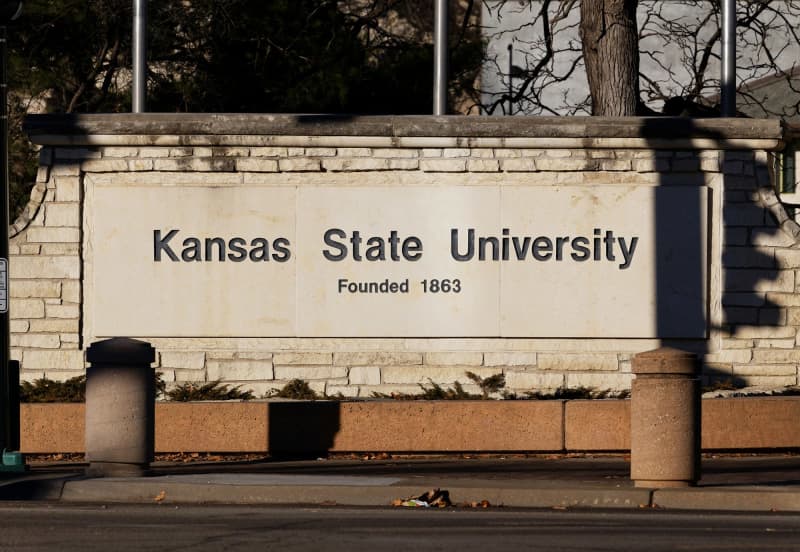 KANSAS CITY, Mo. — Kansas State University will not expel the student whose insensitive tweets about George Floyd prompted many to urge that he be kicked off campus.
"There have been many calls for us to expel a student who posted racist messages on social media, and while these messages are disrespectful and abhorrent, we cannot violate the law," K-State President Richard Myers said Wednesday in a statement to the campus community.
"What we can do is use these incidents as a catalyst to more crisply define the way we will work to stop hate at K-State and combat racism on our campuses."
K-State has been under a national spotlight in recent days since Jaden McNeil, a junior in political science and head of K-State's controversial America First Students chapter, tweeted about Floyd.
The death of Floyd, a 46-year-old Black man killed under the knee of a white police officer on a Minneapolis street in May, sparked protests for Black lives and against police brutality and led to a national reckoning on systemic racism.
McNeil's tweet — "Congratulations to George Floyd on being drug free for an entire month!" — drew a flood of responses from across the country. Many supported his right to free speech. Most denounced the tweet. K-State students called for him to be expelled. And some K-State athletes said they refused to be involved in any athletic activities on campus until McNeil was gone.
But legal experts have said that it's a free speech issue and that a public university might not have the right to expel McNeil.
Myers' statement included a list of action steps the university would take instead, including improving the process for receiving complaints of discrimination, developing a policy on social media usage for students, training for staff, and scholarships for minority students.
The K-State athletic department also announced Wednesday that it would create a more diverse atmosphere and help its athletes combat racism.
That means the Wildcats will institute some new policies, including:
— The launching of a diversity and inclusion fund, which will allow K-Staters to directly support diversity initiatives.
— Mandatory diversity and inclusion training for student athletes, coaches and staff.
— Promote the Black Lives Matter movement at all home games.
— Help all student athletes vote on Nov. 3 by providing transportation to and from voting locations and limiting team activities on that day.
— Julian Jones, who is the assistant athletic director for student-athlete development, will also take on the role of chief diversity officer for the athletics department.
"We will not stand for social injustice," K-State Athletic Director Gene Taylor said in a statement. "Now is the time for us to build upon the Diversity and Inclusion program that we launched two years ago and make bigger strides in the areas of racial injustice and racism. I am so proud of our student-athletes, coaches and staff for working together on these steps and know that our department and University will continue to evolve and grow tremendously."
Despite those efforts, some students believe that taking no action against McNeil "makes K-State a hostile environment," said Ayana Belk of Kansas City, who is studying architecture landscape at K-State. "While the First Amendment is important, so is the safety and comfort of black, brown and LGBTQ+ students at K-State. It is time for K-State to prioritize its students."
"I am disappointed, but not surprised," said Tori Swanson, a K-State student who organized a July 4 protest rally in Manhattan for Black lives. "K-State has a history of inaction when it comes to racism and racist remarks on campus."
"I feel as though K-State is waiting for something bad to happen in order for them to put in a policy that makes people like Jaden McNeil, like his tweets, like his organization and the things that it stands for punishable. We don't need to wait for a student of color to be either hurt or killed, or for a student to incite so much fear on campus that a race war happens, for them to do something."
McNeil has described America First Students as "a campus conservative organization defined by our support for closed borders, traditional families, the American worker, and Christian values." K-State officials said the group is not registered on campus because it does not have the minimum of five members.
McNeil posted Myers' statement on his Twitter page Wednesday morning. Twitter had locked his account on Sunday but re-enacted it after McNeil deleted the George Floyd tweets.
"Reminder: this is all a joke that wasn't even racial," he wrote at 10:18 a.m.
Reaction to McNeil's post was mixed. His supporters told him to sue the university for calling him a racist. Some said K-State wasn't taking seriously the threats he'd been receiving. And some praised him.
"Jaden wins again," one wrote. "Eat s--- student athletes." Said another: "Stand your ground and never back down to the outrage mob."
But others blasted him.
"Dude you're such a spineless little coward," one said. "You and your little Groypers hide behind your keyboards trying to bring your little racist 4chan fantasies to life. I see what you put on telegram daily, you're not this 'white knight' that you're trying to pose as."
McNeil has been involved in the Groyper movement, a loose network that includes white nationalists and far-right provocateurs. He made headlines in February when a national watchdog organization issued a report about the formation of America First Students at K-State. The Institute for Research and Education on Human Rights said the group was created as part of an effort by white nationalists to repackage their bigotry through a new mainstreaming strategy that focused on college campuses and Trump supporters.
When the Kansas City Star wrote about the report, McNeil denied he was a white nationalist. But in late February, he attended a gathering outside Washington, D.C., posing in pictures with well-known white nationalists.
On Monday, the Foundation for Individual Rights in Education sent a letter to the university praising its strong free speech policy and warning that McNeil's tweets are protected free speech.
"While McNeil's tweets may be deeply offensive to many, they do not fall into a category of speech unprotected by the First Amendment, which strictly limits public universities like KSU from punishing protected expression," the foundation said.
Mark Tushnet, a Harvard Law School professor, expressed a similar opinion to The Star earlier this week.
"A student at a public university making an extremely offensive statement on social media is almost quintessentially the kind of thing that should be protected against sanctioning by public authorities," he said. "And sanctioning would include expulsion from a public university. On the face of it, it seems to me that taking action directly against the student would be a violation of the First Amendment."
———
©2020 The Kansas City Star (Kansas City, Mo.)