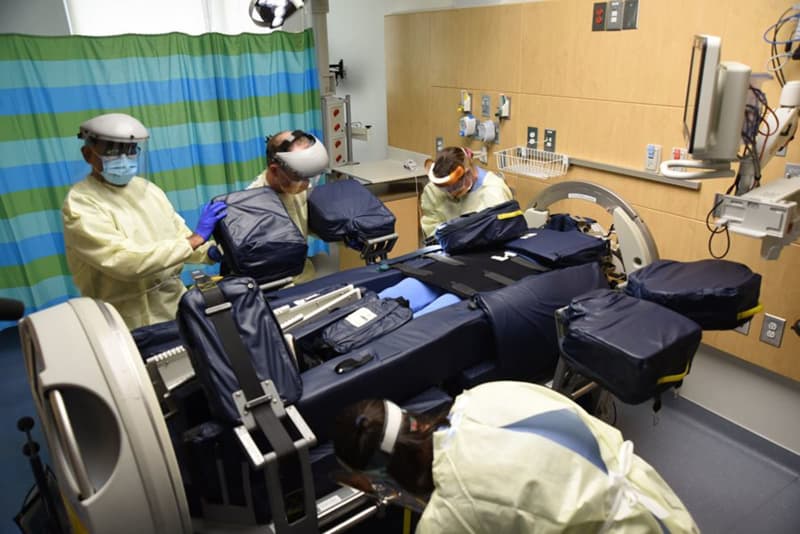 MIAMI — Two teenagers died from COVID-19-related complications in Florida last month and more than 7,000 other children under 18 have tested positive for the disease since the pandemic began in March, according to Florida's Department of Health.
The numbers are a stark reminder that kids and young adults are not immune to the disease.
Of the kids who tested positive, 2,865 were in South Florida.
"Just because they look well, doesn't necessarily mean they don't have the disease," said Dr. Marcos Mestre, the senior medical director of pediatric services at Nicklaus Children's Hospital near South Miami.
Children are not at higher risk for COVID-19 than adults, but they can still fall ill with the disease and require hospitalization if the condition worsens, according to the Centers for Disease Control and Prevention.
One of the main concerns of doctors is that kids and teens might be less strict about following social distancing guidelines when they go out and when they gather with friends during the summer.
Kids and teens infected with the disease will likely be asymptomatic or only have mild symptoms, Mestre said, but it doesn't mean they can't spread the disease to their family members or others in the community who might be at higher risk for more serious complications.
Doctors also worry that kids and teenagers may also be at risk of falling ill with multi-system inflammatory syndrome, a rare inflammatory disorder believed to be linked to COVID-19.
Florida has tested 42,287 children from ages 1 to 17 for the novel coronavirus, according to the state's weekly COVID-19 pediatric report, which is updated every Friday. Of those tested, 7,197, or 17%, tested positive, the report states.
According to the report, 155 children were also hospitalized at some point during their illness. The report does not specify in which county the children were hospitalized.
Two of those children who were previously hospitalized — a 17-year-old boy in Pasco County and a 16-year-old girl in Lee County — later died from COVID-related complications, according to health records.
Mestre told the Miami Herald last week that Nicklaus Children's Hospital has treated 150 children with COVID-19, and only about 50 of those had to be hospitalized. Most were sent home and treated as outpatients, Mestre said.
Based on what doctors know so far, it appears that kids who are obese or have health conditions including asthma are at a higher risk for severe illness with the disease, he said. And in recent weeks, with more things opening up, cases have gone up, especially in older children.
"We have seen a little bit of uptick in the patients that are coming in with COVID," he said. "Thankfully … in general the patients have been doing very well and thankfully not having serious complications."
Which Florida county has the most confirmed COVID-19 cases in kids?
The three counties with the highest number of confirmed cases in children are in South Florida, according to the state's pediatric report.
Miami-Dade County has 1,242 known cases, Palm Beach County has 866 and Broward County has 747.
While Florida's overall statewide and county level COVID-19 data for the past several weeks has been concerning, it's difficult to interpret the state's pediatric report to determine how much the disease has spread among children for a variety of reasons, including testing limitations, said Mary Jo Trepka, an epidemiologist with Florida International University.
When COVID-19 testing first became available in March, testing was restricted to those who were experiencing symptoms and met a specific criteria, including having recently traveled to a high-risk COVID-19 area. Now, almost anyone can be tested for the disease regardless of symptoms, though some sites in South Florida still do not accept children younger than 12.
One of the key indicators experts rely on to determine whether the pandemic is worsening is the percentage of positive cases. Florida's pediatric positive test rate is 17%. The rate increases or decreases depending on the county. And South Florida does not have the highest pediatric% positive test rate despite having more confirmed cases.
Miami-Dade has a 21.3% pediatric positive rate, Broward is at 17.6% and Palm Beach County is at 24.9%. Each county has tested more than 3,000 kids. Monroe County, which has 10 confirmed cases out of 119 kids who were tested, is at 8.4%.
DeSoto County, which has reported 100 confirmed pediatric cases out of 218 tests, has the highest children% positive test rate in the state at 45.9%, according to the state's report. Martin County, which has reported 196 confirmed pediatric cases out of 435 tests, was second at 45.1%.
Other counties have lower pediatric positive test rates. Calhoun, Franklin and Liberty, which have tested about 10 children each, have not had any confirmed cases of the disease in kids.
Florida's pediatric testing data tells Trepka that not enough children have been tested for the disease. It also tells her that most of the pediatric COVID-19 cases statewide are school-age children, which could spell trouble for school reopening plans, she said.
And with camps and children's programs opening for the summer, Trepka says parents should make sure that the programs are following CDC guidelines to reduce the risk of transmission.
The overall high level of kids testing positive for the disease also indicates that there might be a lot of pediatric cases that have not been confirmed yet, whether because of testing limitations or because the kids are asymptomatic, she said.
If the rise of younger COVID-19 patients continues, Trepka and Mestre say this might indicate that more testing of Florida's younger population will be needed. Mestre says parents also need to help children and teenagers "realize we are not out of this yet and we have to follow the recommendations of the CDC."
How many cases of MIS-C does Florida have?
While kids and young adults are not at high-risk for severe symptoms of COVID-19, they still need to follow social distancing guidelines, wear masks if they are older than 2 and frequently wash their hands, Trepka and Mestre say.
That's because even if children are asymptomatic or have very mild symptoms, they can still transmit the disease to others.
Anyone younger than 21 is also at risk of falling ill with multi-system inflammatory syndrome, a rare but serious and sometimes deadly complication associated with COVID-19, according to the CDC.
"Even though it's rare, it's severe," Trepka said. "I think we shouldn't assume that it's OK for children to be exposed to COVID-19."
Multi-system inflammatory syndrome, or MIS-C, is described as a swelling that can affect "multiple body systems" including the heart, lungs, kidneys, brain, skin, eyes and gastrointestinal organs, the CDC says.
Many of the children diagnosed with the syndrome tested positive for COVID-19, were previously infected with the novel coronavirus (based on antibody tests) or had contact with someone who tested positive for COVID-19, according to the CDC.
Nicklaus Children's Hospital, which in May created a specialized four-room "MIS-C pod" as part of the hospital's 40-bed Pediatric Intensive Care Unit to better treat the condition, said symptoms of the syndrome vary and can appear up to a month after a child is infected with COVID-19, including in those who were asymptomatic.
There is no official treatment, with doctors using different immune-modulating therapies to treat it, depending on the child's symptoms. Most kids recover.
Florida's Department of Health confirmed to the Miami Herald in late May that there were at least seven children in the state diagnosed with MIS-C and that six of them were in South Florida.
Since then, the state has raised its official MIS-C tally to 12. As of Friday, the youngest case is a 1-year-old boy in Miami-Dade County. The oldest is a 17-year-old girl in Collier County.
Seven of the 12 children were diagnosed in South Florida. Five were in Miami-Dade, four boys ranging from 1 to 14 and a 9-year-old girl. There also was a 6-year-old girl in Broward County and a 2-year-old boy in Palm Beach County.
It's still unknown if the syndrome can also affect adults or if there are certain children who are at higher risk.
Many doctors and public health experts still don't know enough about COVID-19 and MIS-C, but one thing is clear, Mestre said: "This is going to last for a longer period of time and we just want people to not let their guard down."
———
©2020 Miami Herald