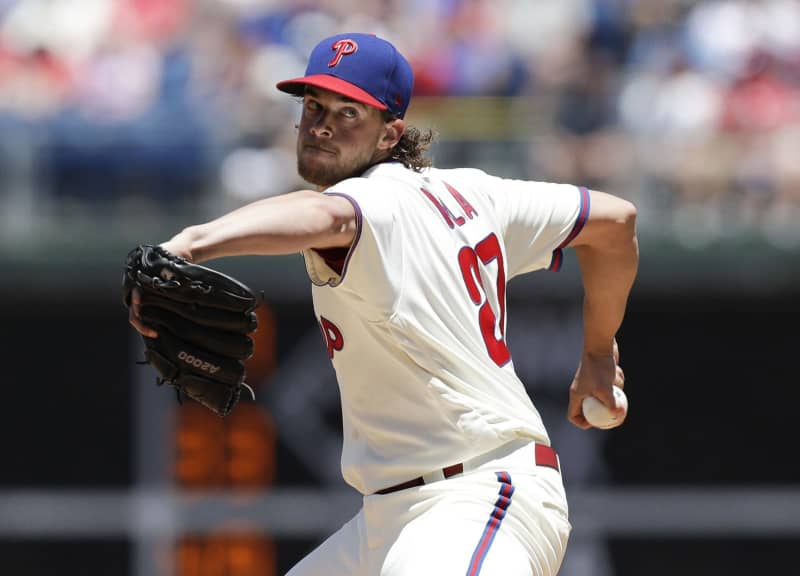 PHILADELPHIA — Aaron Nola's status for the start of the season is in question as the Phillies' No. 1 starter was placed this week on the COVID-19 Injured List, according to a source.
Joe Girardi said Saturday that Nola, center fielder Adam Haseley, and catcher Christian Bethancourt had yet to report to summer camp but declined to explain why. All three, a source said, have been placed on the COVID-19 list.
Nola, Bethancourt, and Haseley join Scott Kingery, Tommy Hunter, Hector Neris, and Ranger Suarez on the list, which is for players who test positive for coronavirus, show symptoms, or come in contact with an infected person.
"We're trying to work our way through that," Girardi said when asked to explain Nola's absence.
Girardi was just as coy Thursday when asked to explain why Kingery, Hunter, Neris, and Suarez were absent from camp. A source later said they had been placed on the COVID-19 injured list, and teams are not allowed to disclose when a player goes on the list.
"Due to a medical condition, we're trying to work through it and get him here," he said about Haseley and Bethancourt.
The Phillies had a coronavirus outbreak last month at their spring-training facility in Clearwater, Fla., and said seven players tested positive for the virus. Two weeks later, they have seven players missing from the start of summer camp.
When a player tests positive, he must quarantine for two weeks, show no symptoms, and test negative twice before returning. A positive test has been estimated to keep a player off the field for three to six weeks.
The 60-game regular season is scheduled to begin in less than three weeks, and the Phillies are without their No. 1 starter (Nola), closer (Neris), starting center fielder (Haseley), second baseman (Kingery), possible fifth starter (Suarez), and the lone free-agent (Hunter) to be added to their bullpen. And no one can offer any timetable for when these key pieces should return.
"We are still trying to iron that out," Girardi said.
———
©2020 The Philadelphia Inquirer