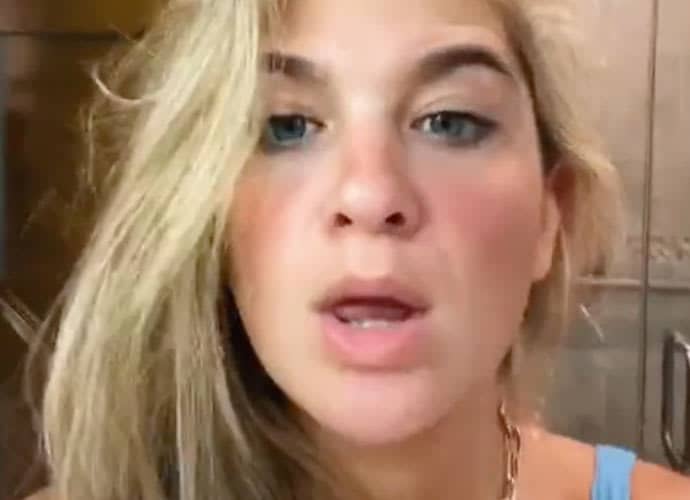 Counselor to President Donald Trump, Kellyanne Conway, and her daughter Claudia Conway were recorded getting in an argument over Claudia's phone on the evening of July 3 on a TikTok live video. 
Claudia was already recording herself on the platform's live video function when her mother stepped into the frame. The video started to buffer as Kellyanne started to reach for Claudia's phone. During the scuffle, she is heard saying, "mine." A second live video was then started and Kellyanne spoke to those watching Claudia's live video and exclaimed, "Hi there. This many people have nothing to do? That is amazing. It's so nice out," leaving Claudia with her mouth open in surprise. 
Claudia has recently gained a lot of traction on her TikTok account due to posts about her "100% leftist" views, as she told Insider. Over the past few days, Claudia has reached a total of 1.2 million followers on the video social media site. Her popularity grew as she posted anti-Trump videos and about her support of the Black Lives Matter movement. 
Claudia's TikTok account has since been made private, but her bio reads, "ARREST BREONNA'S MURDERERS," it was recently changed from, "It's a great day to arrest Brett Hankinson, John Mattingly and Myles Cosgrove," referencing the officers who shot and killed Breonna Taylor, an African American EMT who died in her own home during the execution of a no-knock warrant. 
Earlier in the day, before Claudia's live video, Claudia's father George Conway tweeted, "To journalists: @kellyannepolls and I do not consent to any communications between you and any of our minor children, including our daughter Claudia.  So desist."
George has also been known to speak out against Trump on social media. On July 1, George tweeted about the president, "Trump is a master of dissuasion.  No one does better at driving people away from his views."
100 CELEBRITIES WHO DIED IN 2019 – TRIBUTE SLIDESHOW