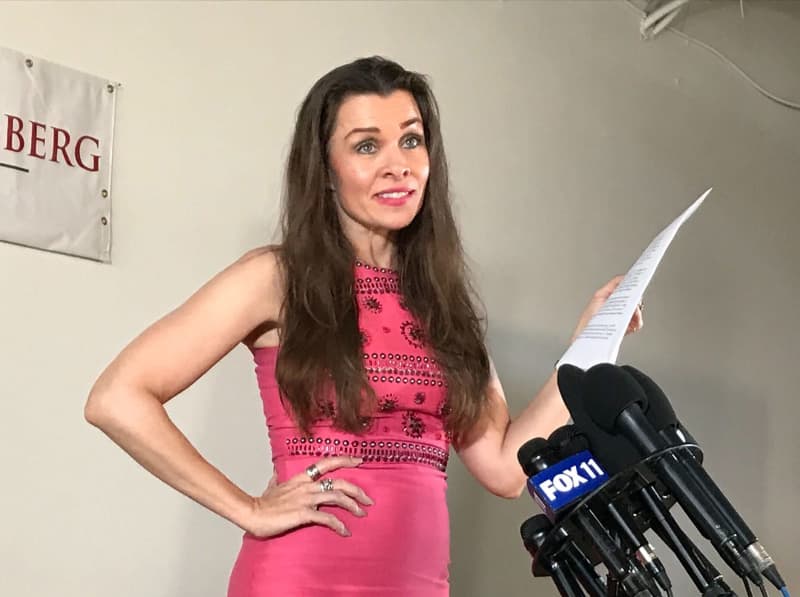 NEW YORK — An outraged Jeffrey Epstein accuser stepped forward Monday to say authorities "ignored" her in 1997 when she claimed the millionaire lured her to a fake Victoria's Secret audition and groped her.
Speaking through tears, Alicia Arden said she was "terrified" by the encounter with Epstein in her early 20s and tried to do the right thing by reporting it.
"I had always thought that when you reported something to the police, they would at least call you back," Arden said. "I feared that he could be making appointments in other places and abusing other women like he abused me. Despite my efforts nobody ever called me."
Visibly shaken, Arden described visiting Shutters hotel in Santa Monica on May 12, 1997 with the belief she was meeting Epstein for an interview to be cast in a Victoria's Secret lingerie catalog.
She said he greeted her barefoot and quickly asked to see her body "up close."
"He started touching my hips and buttocks and lifting up my shirt," she said. "I was in a skirt and he touched my bare skin. I started to feel scared and began to cry."
She said Epstein then told her, "Let me manhandle you," and said to someone who called during their meeting that he was with a "beautiful girl" who was "very upset."
"By that point my skirt was coming down and he was pulling my shirt over my head. I felt terrified," she said. "I pulled my clothes back on, grabbed my portfolio and prepared to leave the room."
She said Epstein tried to give her $100 as she tried to flee, and she told him, "Jeffrey, I'm not a prostitute. I want to be in the Victoria's Secret catalog."
Arden said she went to the Santa Monica police department hours later and got a cold reception.
"They said that I went up to the hotel room willingly, and that I intimidate men because of my appearance," she recalled Monday, saying the male officers didn't appear to take her complaint "seriously."
"I felt violated all over again. I continued to think about the visit with Epstein. I knew that what he did was wrong and worried for myself and other women," she said.
Arden said she returned a week later and "insisted" on giving a full statement for a formal, written report, which she shared Monday.
"Despite my efforts, nobody ever called me. There was never any follow-up. It seemed my complaint was ignored," she said.
"The failure of law enforcement to follow up on her report is inexcusable, and Alicia deserves answers," Arden's lawyer Gloria Allred said Monday, on the one-year anniversary of Epstein's arrest for sex trafficking last year.
The lawyer said she's sending a letter to the Los Angeles district attorney and Santa Monica City attorney "demanding an investigation."
"It took courage for Alicia to file the report, but then it appears that law enforcement failed to pursue it," Allred said. "Was there a failure to investigate Jeffrey Epstein because he was rich, powerful and well-connected?"
Allred said the arrest of British socialite Ghislaine Maxwell last week underscores Arden's claim Epstein was luring victims into his sexual abuse scheme in the 1990s.
Arden shook her head "no" Monday when asked if she ever met Maxwell, but Allred said a female assistant named "Kimberly" helped organize the meeting with Epstein by phone, and it's not clear who that woman was.
The lawyer said Monday she now represents 17 alleged Epstein victims.
Maxwell, 58, is facing charges she acted as Epstein's madam, finding, grooming and helping transport underage girls across state lines to engage in sex acts between 1994 and 1997.
The indictment mentions three minor victims, including one who was only 14 years old.
"Maxwell enticed minor girls, got them to trust her, and then delivered them into the trap that she and Jeffrey Epstein had set. She pretended to be a woman they could trust. All the while, she was setting them up to be abused sexually by Epstein and, in some cases, Maxwell herself," acting Manhattan U.S. Attorney Audrey Strauss said last week.
"Maxwell's presence as an adult woman helped put the victims at ease," she said.
Federal prosecutors are seeking Maxwell's detention pending trial, arguing that her ties abroad and estimated $20 million wealth make her a flight risk.
They say she possesses passports from France, the U.S. and United Kingdom.
The Bureau of Prisons confirmed Monday that Maxwell had been transferred to MDC Brooklyn, the sister institution to the Manhattan federal lockup where Epstein died last year.
Prosecutors have asked that her bail hearing be set for Friday in Manhattan.
Before his arrest last year, Epstein managed to sidestep federal sex trafficking charges in 2007 when he reached a widely criticized deal with federal prosecutors that involved him pleading guilty to a Florida state charge of soliciting sex from a minor.
Epstein got 13 months in county jail and was allowed to leave during the day under a work release program.
After his time was served, he hosted Prince Andrew at his Manhattan mansion and allegedly continued to traffic women, according to lawsuits filed after his Aug. 10 jail cell hanging death was ruled a suicide.
———
©2020 New York Daily News