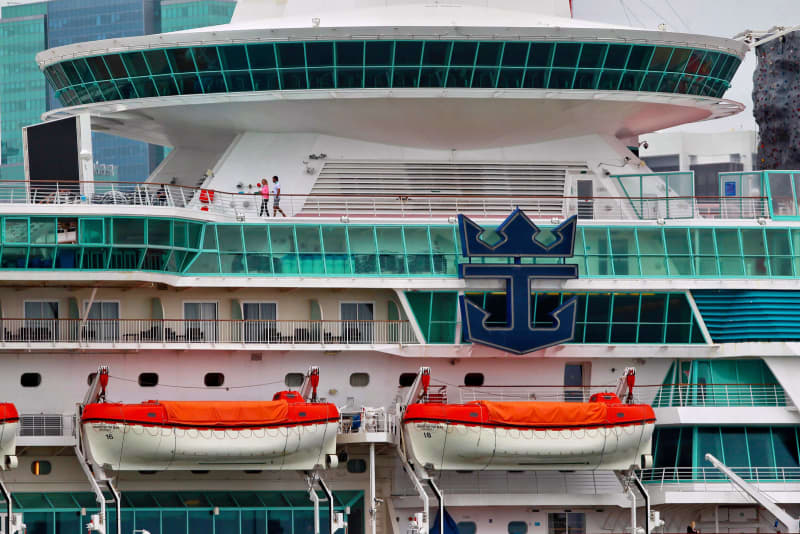 MIAMI — The second and third largest cruise companies in the world are teaming up to figure out how to safely resume operations.
Royal Caribbean Cruises Ltd. and Norwegian Cruise Line Holdings — both headquartered in South Florida — announced they have organized a panel of nine outside health experts and two advisors to draw up plans on preventing and treating COVID-19 at sea by the end of August.
Five of the eleven experts have experience working at or consulting with the U.S. Centers for Disease Control and Prevention, the agency in charge of the federal government's COVID-19 response. The CDC has banned cruises in U.S. waters through July 24.
The panel's final plan will be submitted to the CDC and made available to all cruise companies to see and adopt, the companies said.
Normally competitors, the two companies have decided to collaborate on this effort in the best interest of the industry, which has been paralyzed since March 13 when cruises stopped amid COVID-19 outbreaks on several ships. At least 72 ships — 28% of the global cruise fleet — have been affected by COVID-19, and at least 95 passengers and crew members have died of the disease, a Miami Herald investigation has found.
"We thought we could do better by combining forces," said Richard Fain, chairman of Royal Caribbean Cruises Ltd. "Our view is that we should continue to seek out the best advice. By putting together a panel of this caliber we are going to get the best advice."
"We compete for the vacationing consumer's business every day, but we never compete on health and safety standards," said Frank Del Rio, CEO of Norwegian Cruise Line Holdings, in a press release. "While the cruise industry has always had rigorous health standards, the unique challenges posed by COVID-19 provide an opportunity to raise the bar even higher."
Former Utah Gov. Mike Leavitt, who served as administrator of the Environmental Protection Agency and Secretary of the Department of Health and Human Services under President George W. Bush, and Scott Gottlieb, former commissioner of the Food and Drug Administration under President Donald Trump, will lead the panel as co-chairs.
Panelists with CDC experience include Helene Gayle, CEO of the Chicago Community Trust, and Julie Gerberding, chief patient officer at pharmaceutical company Merck.
Ongoing outbreaks
Since March 8, the CDC has warned that cruise ships present a heightened risk for COVID-19 infection.
On April 23, after the CDC extended its no-sail order through late July, seven cruise companies, including Royal Caribbean and Norwegian Cruise Line, submitted plans to the CDC outlining how they would limit the spread of COVID-19 among crew members still on their ships and treat infections on board. The plans finalized in collaboration with the CDC require crew members to wear masks, maintain social distancing and to be isolated in individual cabins if there are suspected cases of COVID-19.
The agency is requiring companies to hand over COVID-19 infection information weekly and is tracking outbreaks on its website using a stoplight color system: green for no confirmed cases of COVID-19 or COVID-like illness for 28 days, yellow for one or more COVID-like illness cases pending confirmation, red for one or more cases of confirmed COVID-19 or COVID-like illness within the past 28 days.
COVID-19 outbreaks continue to plague cruise ships as the companies work to repatriate thousands of crew members. Eleven of the 48 ships in or around U.S. waters are labeled red.
In late June, the cruise industry's lobbying group Cruise Lines International Association announced that all of its member lines would be canceling cruises in the U.S. through Sept. 14, past the CDC ban. The CDC supported the decision.
"The guest profile on typical cruise ship voyages matches those at greatest risk for severe illness which may require hospitalization and need for respiratory support," a CDC spokesperson said in an email. "Moreover, the population density on cruise ships tends to be higher than most urban settings, and even when populations are reduced, we still observe ongoing spread of COVID-19 illness due to the congregated setting and greater chance of closer physical contact. Sailings without guest passengers and with a markedly reduced crew size since April has continued to prove how difficult it is to control and eradicate COVID infections and outbreaks in the maritime environment."
Leavitt said the panel has notified the CDC about its efforts, which will be split into four categories: health screening, environmental operations, response and contingency planning, and destination and route planning.
Both companies have suffered financially as cruising remains canceled. Royal Caribbean Cruises reported a $1.4 billion loss, or $6.91 per share, in the first quarter of 2020, and Norwegian reported a loss of $1.88 billion, or $8.80 per share. Both companies have had layoffs and furloughs.
Existing enhancements
The Miami Herald interviewed five doctors, three of whom treated COVID-19 patients on cruise ships, about what cruise companies can do to keep passengers and crew safe if companies resume operations before a vaccine is available. They recommend cruises operate at 50% capacity and stay within 500 miles of land. They said cruise companies should test passengers for COVID-19 before boarding, provide flexible cancellation and refund policies, and arm ships with more medical staff and ventilators, among other things.
In June, Norwegian Cruise Line announced new health protocols, including having COVID-19 tests on-board, creating a new Public Health Officer position for each ship, taking passengers' temperatures before boarding and increasing the frequency of cleaning on board.
The newly formed panel did not develop those protocols, but will build off of them, said Leavitt.
"We found that both cruise lines have done a lot of good work to beginning to lay foundation on this," he said. "We'll start with what they have done. We feel confident we can improve it and we will."
Virgin Voyages, which has canceled cruises though mid-October, announced it is working on developing "a reliable, quick and simple test" for COVID-19 that it can use to test people before they board.
Spokesperson for Carnival Corporation Roger Frizzell said Grant Tarling, the company's chief medical officer, is taking the lead on determining what protocols will be implemented when cruises resume. Carnival Corp. and the World Travel & Tourism Council are holding a public meeting with health experts on July 23 to discuss best practices for the tourism industry amid the COVID-19 pandemic.
MSC Cruises has not yet announced its new protocols.
———
©2020 Miami Herald