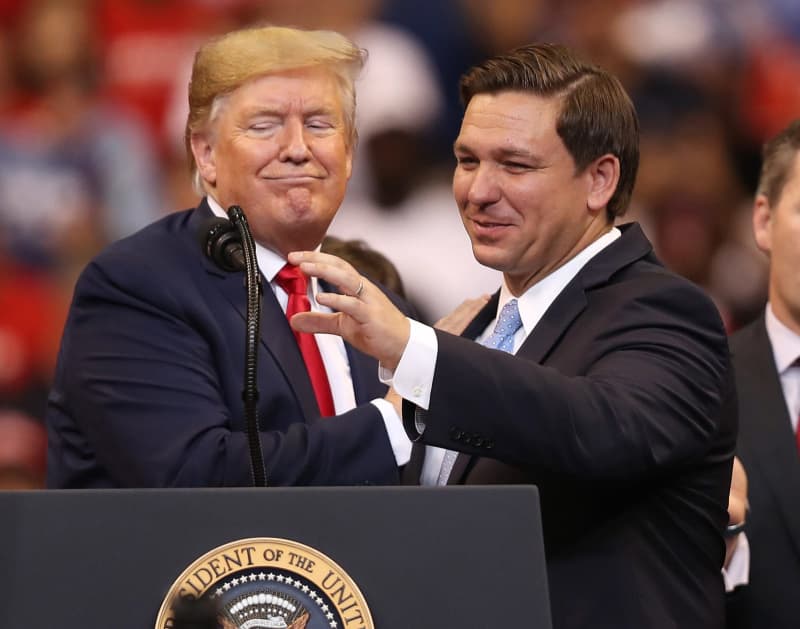 MIAMI — With his polling numbers slipping to new depths and South Florida COVID-19 cases spiking to record heights, President Donald Trump plans to return to Miami-Dade County this week on a visit that will mix Latin America policy and campaign politics in the coronavirus epicenter of the nation's biggest swing state.
Trump is headed to the U.S. Southern Command in Doral Friday for an advance look at a planned counternarcotics operation in the Caribbean, according to the White House. The visit — scheduled shortly before the president is expected to attend a top-dollar fundraiser in a tony island enclave in Broward County — places the president in the heart of Venezuela's exile community and about a block from his own golf resort, which only just reopened from a three-month closure.
It also places Trump in the core of Florida's coronavirus outbreak as Miami-Dade Mayor Carlos Gimenez — a Republican congressional candidate Trump has endorsed — is resurrecting previously lifted business restrictions amid a spike in confirmed cases of COVID-19.
Florida's Department of Health on Tuesday confirmed 7,347 additional cases of COVID-19, bringing the state's total to 213,794. Of those, 2,066 cases were reported in Miami-Dade alone, bringing the county's total to 51,058 known cases. Close to 4,000 people have died of COVID-19 in the state — roughly a quarter of them in Miami-Dade.
The visit could force Trump — who last week said 99% of coronavirus cases are "totally harmless" — to make good on his recent pledge to wear a mask if necessary. Gimenez said just last week — on Thursday —that the president should follow the county's new emergency rules requiring masks in most public places.
"If he comes to Miami-Dade, I would expect that he would wear a mask," Gimenez said.
The Miami-Dade County Attorney's Office said the county's emergency rules don't apply to U.S. Southern Command complex — a Department of Defense complex responsible for military operations and planning in the Caribbean and South America — or other federal facilities. And Gimenez's order exempts private vehicles. But that could still leave Trump facing a mask requirement for the walk down the steps of Air Force One at Miami International Airport, depending on how he arrives in Miami.
A Gimenez spokeswoman was not immediately available to respond to a question about the rules for county tarmacs.
Trump, who according to The Washington Post is scheduled to attend a $580,600-per-couple event at a private residence in Hillsboro Beach Friday evening, has seen his fundraising slip nationally and his polling numbers plummet in Florida since the coronavirus pandemic altered public life in March. Former vice president and presumptive Democratic nominee Joe Biden leads the president in Florida — likely a must-win for Trump — by an average of 5 points, according to RealCleaPolitics.com.
He has also experienced some bumps in his effort to court Hispanic voters in Florida recently.
Last month, he distanced himself from Venezuelan President Juan Guaidó and said he would meet with embattled Venezuelan ruler Nicolas Maduro to discuss a peaceful exit from power — an apparent divergence from his hard-line stance against the socialist Maduro regime.
Trump's Doral trip, according to the White House, aims to highlight "his administration's relentless, whole-of-government approach to curb the trafficking of drugs into our country." The counternarcotics operation Trump announced in April has resulted in significant seizures of narcotics totaling more than $1 billion, but the visit to Doral is also a nod to his Latin American policy, since the military operation was also announced as an attempt to cut the funds going to the Nicolás Maduro regime in Venezuela.
The White House and the Trump campaign did not say if there was a campaign event scheduled during his visit to Miami.
———
(Miami Herald reporter Erin Doherty and McClatchy Washington Bureau reporters Francesca Chambers and Michael Wilner contributed to this report.)
———
©2020 Miami Herald