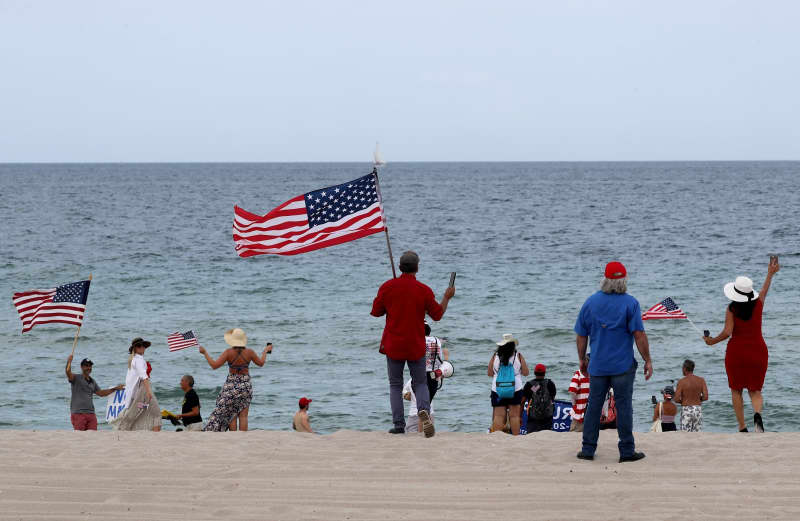 FORT LAUDERDALE, Fla. — From the earliest outlooks of 2020, experts have warned of a busy hurricane season. But after starting with a bang, the Atlantic went quiet.
Things are changing with the disappearance of a hurricane-suppressing layer of Saharan dust and hot, dry air that put parts of the tropics to sleep.
This week saw three systems form that caught the attention of hurricane watchers.
Tropical Storm Edouard, which became official Sunday before fizzling into a post-tropical cyclone on Monday. But before disappearing, it was already in the record books.
"It's active," said Dennis Feltgen, spokesman for the Miami-based National Hurricane Center. "When we had Edouard, that's the earliest we've ever had an 'E' storm in the satellite era, which started in 1966."
Also on Monday, a disturbance that emerged in the Gulf of Mexico over the weekend moved over Georgia and northern Florida. It could develop into a cyclone if and when it travels off the U.S. East Coast and into the Atlantic, where it was expected to head north along the coast of the Carolinas. On Tuesday morning, the hurricane center gave it a 40% chance of development.
And a tropical wave east of the eastern rim of the Caribbean was being watched by encountered unfavorable environmental conditions and all but fizzled out.
When hurricane season began June 1, two named storms, Arthur and Bertha, had already come and gone. The next day, Cristobal formed.
"So, we're way ahead of the pace," Feltgen said. "However, there have been no hurricanes yet, which is good."
What will the rest of July, and the remaining four months of hurricane season look like? Obviously nobody knows, but it's been a hectic start and we're still much closer to the start than the finish.
"We're only entering the second month of the six-month hurricane season," Feltgen said, "so we have a long way to go."
———
©2020 Sun Sentinel (Fort Lauderdale, Fla.)