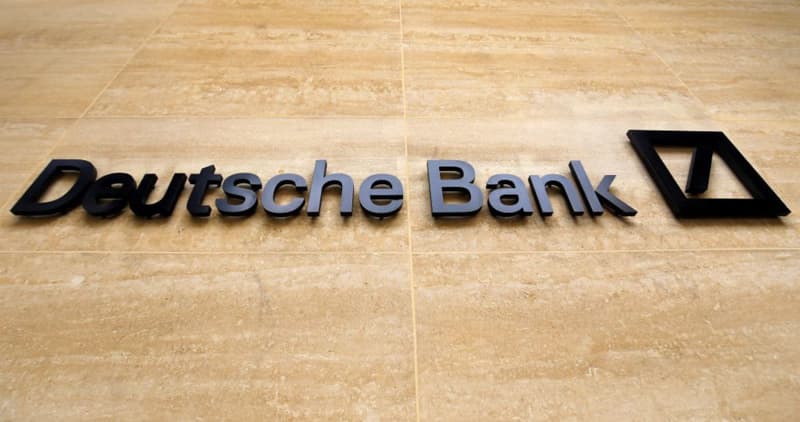 WASHINGTON — After decades of secrecy, Jeffrey Epstein's finances are coming into clearer view with the arrest of his onetime girlfriend and longtime associate, Ghislaine Maxwell, and Tuesday's announcement that Deutsche Bank will pay $150 million in penalties in part because of its relationship with the disgraced financier.
The New York Department of Financial Services announced Tuesday that it had entered into an agreement with Deutsche Bank, which acknowledged years of shoddy handling of Epstein's finances, ignoring his 2008 conviction and settlement of multiple lawsuits alleging sexual abuse of minors.
A lengthy consent agreement made public by the state agency, which also faulted the bank for its ties to two sanctioned financial institutions, details how Epstein was considered a so-called "honorary PEP" — politically exposed person — but was not subjected to the greater scrutiny that accompanies the designation.
"The Bank's fundamental failure was that, although the Bank properly classified Mr. Epstein as high-risk, the Bank failed to scrutinize the activity in the accounts for the kinds of activity that were obviously implicated by Mr. Epstein's past," said a damning section deep in the 38-page settlement. "The Bank was well aware not only that Mr. Epstein had pled guilty and served … time for engaging in sex with a minor but also that there were public allegations that his conduct was facilitated by several named co-conspirators."
That may be a reference to the named co-conspirators — although there are four of them — in the 2007 nonprosecution agreement that spared Epstein a federal prison sentence. Instead he served a short stint in the Palm Beach County jail in Florida.
He had been rearrested last year in connection with similar abuse and was facing a federal trial and potentially decades in prison when he was found dead by hanging in his Manhattan jail cell.
Despite long-publicized allegations that Epstein had abused underage girls, Deutsche Bank "did little or nothing to inquire into or block numerous payments to named co-conspirators, and to or on behalf of numerous young women, or to inquire how Mr. Epstein was using, on average, more than $200,000 per year in cash," the agency said.
The document also noted how Epstein's activities would not be scrutinized by other branches of the bank providing the activity was similar to how transactions were treated by the bank's wealth management division.
That's a potentially important signal, because the bank has another prominent client whose business operations are financed through the wealth management arm — President Donald J. Trump. Congressional Democrats have been trying to get access to the bank's records to determine if it has looked past similar money-laundering concerns at Trump properties in places such as Turkey and Azerbaijan.
The bank was faulted for failing to closely monitor Epstein from when it opened accounts for him in 2013 until December 2018, when it severed its ties to him after the Miami Herald's "Perversion of Justice" series that spotlighted how Epstein escaped serious punishment a decade earlier for sex crimes.
The consent agreement released Tuesday details how Epstein moved money around through multiple accounts, often via the Butterfly Trust — an instrument for holding financial assets — and offshore companies. It also noted that Epstein funded his charity Gratitude America through a brokerage account at the bank. A Wall Street Journal report last year showed how Epstein used the charity for tax gains and personal uses in the Virgin Islands. Supposed recipients of Gratitude America's largess said they knew nothing about the gifts.
Word of the settlement comes days after the surprise arrest last Thursday in New Hampshire of Maxwell, Epstein's longtime partner. She had vanished from public view after Epstein's death last August at Brooklyn's Metropolitan Detention Center. She is facing a bail hearing within a week on charges of enticing minors into illegal sex acts with Epstein and others.
Legal documents from both cases are now helping fill in blanks about how both Epstein and Maxwell mysteriously traveled the world and moved their finances.
The consent agreement with the New York Department of Financial Services is notable for what is not on it. The agency's general counsel, Richard Weber, did not sign the agreement. He recused himself from the matter because he was a managing director and headed anti-financial crime efforts for Deutsche Bank from 2017 to 2019, years covered by the settlement penalties. From 2012 until joining the bank, Weber headed the U.S. Treasury Department's criminal investigative arm.
In a news release, the New York financial agency faulted Deutsche Bank for failing to flag:
— Settlement payments totaling over $7 million, as well as dozens of payments to law firms totaling over $6 million for what appear to have been the legal expenses of Epstein and his co-conspirators.
— Payments to Russian models, payments for women's school tuition, hotel and rent expenses, and (consistent with public allegations of prior wrongdoing) payments directly to numerous women with Eastern European surnames.
— Periodic suspicious cash withdrawals — in total, more than $800,000 over a roughly four-year period.
"In the case of Jeffrey Epstein … despite knowing Mr. Epstein's terrible criminal history, the Bank inexcusably failed to detect or prevent millions of dollars of suspicious transactions," Linda A. Lacewell, New York's superintendent of financial services, said in a statement touting the first enforcement action by any regulator against a financial institution for ties to Epstein.
News of the Tuesday settlement was first reported by The New York Times, and the agreement detailed how an unidentified personal lawyer for Epstein withdrew $800,000 in cash on his behalf over four years. It alleges the lawyer engaged in what is known in anti-money laundering circles as structuring — using multiple withdrawals of cash under the $10,000 threshold for banks to report the transaction.
The agency did not reveal the name of the lawyer, but the answer is important. Epstein's longtime lawyers, Darren K. Indyke and Richard Kahn, are co-executors of his estate, which is being settled in probate court in the Virgin Islands, where Epstein maintained his main residence. They did not respond to requests for comment.
A veteran banking official who headed AML, or anti-money laundering, programs for a top U.S. bank said that Deutsche Bank's lax treatment of Epstein was shocking.
"The bottom line is the AML officers either had no juice because they weren't listened to, or they were incompetent," said the banker, who requested anonymity because of relationships with both global banks and regulators. "This is, in a bad way, the model for what not to do in terms of private bank due-diligence. This is the exact reason that law enforcement and regulators have characterized private banking as a high-risk product that warrants more oversight."
There's another wrinkle to the unidentified lawyer in the consent agreement. Indyke and Kahn are named as co-conspirators in a civil enforcement action being brought by the attorney general in the Virgin Islands, Denise George, who alleges the two lawyers and the estate are part of an ongoing criminal enterprise. Indyke and lawyers working for the estate did not return request for comment.
Despite the federal charges brought against Maxwell in the Southern District of New York, George has not cited Maxwell, Epstein's alleged madame and self-described longtime employee, as a co-conspirator in the Virgin Islands.
Asked if charges were coming against Maxwell or staffers in the Virgin Islands, the attorney general's office said in an email that George "cannot comment on the nature or direction of any investigations."
Epstein enjoyed a lucrative 10-year tax break in the Virgin Islands for his Southern Trust Co., where he ostensibly ran a data operation although there is no evidence that such an operation existed. The settlement records show that some of the money moving through the Deutsche Bank account was tied to Southern Trust and another Epstein firm in the Virgin Islands called Southern Financial.
The weeks ahead may show whether the Deutsche Bank accounts, opened in 2013, overlapped with Maxwell's finances. Having been out of the public eye since his Aug. 10 death, she filed a claim against the estate on March 18, not asking for a specific monetary amount but noting that Epstein had promised to pay her legal bills and security costs and was doing so up until the time of his death. The filing said she was an employee of NES LLC, whose comptroller was Kahn, the estate's co-executor.
"Maxwell receives regular threats to her life and safety, which have required her to hire personal security services and find safe accommodation," the filing said, hinting at last week's charging documents that allege she traveled on three passports to multiple countries in the past year while apparently in hiding. In her claim against the estate, Maxwell said she had no knowledge of or participation in Epstein's illicit sexual acts.
A filing by federal prosecutors last week arguing against granting Maxwell bail gave a clearer picture of her finances.
Prosecutors identified 15 bank accounts associated with Maxwell since 2016, with total balances ranging from a few hundred thousand dollars to more than $20 million. She made more than $14 million from a 2016 New York property sale. Prosecutors also noted that Epstein transferred more than $20 million between 2007 and 2011 from accounts he controlled to accounts Maxwell controlled, which Maxwell subsequently transferred back to Epstein.
More recently, Maxwell frequently transferred large sums between her bank accounts and held at least one foreign bank account containing more than $1 million as of 2019, making her finances "opaque and indeterminate" even to government investigators.
She holds passports for the United States, United Kingdom and France and took at least 15 international flights during the past three years, prosecutors wrote.
Since Epstein's federal indictment in July 2019, Maxwell went underground, moving at least twice, switching her phone number and email address and frequently using a fake name when ordering packages. In a separate court filing last December, Maxwell's lawyer wrote that her email server had been hacked when her email address was inadvertently revealed in unsealed court documents.
Maxwell would periodically surface in mysterious fashion over the past year. The New York Post published a photo of her last August at a Los Angeles location of In-N-Out Burger holding a book about the secret lives of CIA agents. Published reports last October had her fleeing a swank New England coastal town ahead of the arrival of authorities, other reports saying she was living in southern Brazil.
She was arrested on four counts of sex trafficking of a minor and two counts of perjury last Thursday on a 156-acre estate in New Hampshire that had been purchased in December 2019 through a New Hampshire shell company listing a Boston address.
People connected to the sale of the property said that Maxwell had used an alias when touring the home before the purchase and that her name didn't appear on any of the documents for the sale.
"Obviously whoever bought this property wanted privacy, and they got it," one of the people with knowledge of the sale said.
———
©2020 Miami Herald