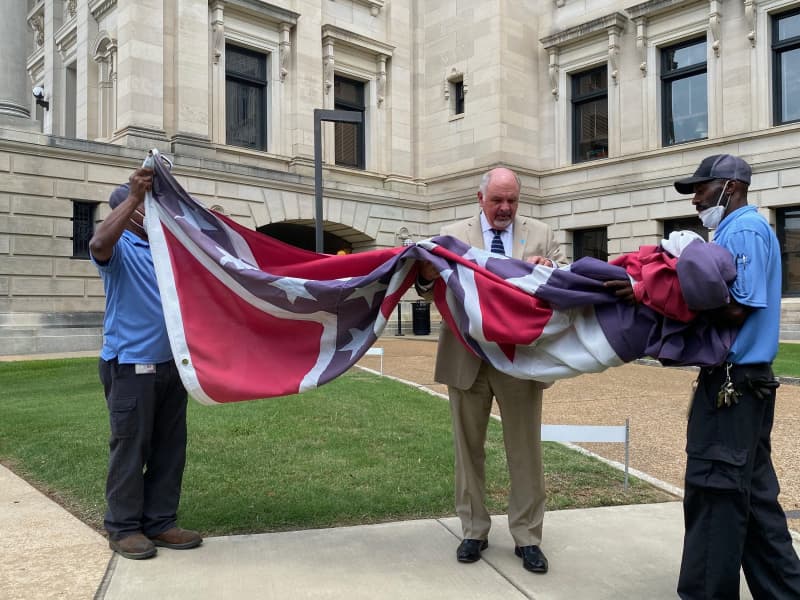 ATLANTA — A man was charged after taking a Confederate flag bandanna that was tied to a truck's antenna, attempting to light it on fire and trying to confront its owner inside an Oconee County store, authorities said.
The incident took place Thursday morning at a Lowe's, Oconee County sheriff's Chief Deputy Lee Weems said in a Facebook post.
A customer spotted the bandanna tied to the antenna of a truck in the store's parking lot and "was offended," the post said. The 49-year-old Athens man took it off the truck and went into the store in an effort to find the truck's owner.
While confronting customers, the man attempted to burn the bandanna, the post said. According to an incident report, the flag had burn marks on it.
Weems was the responding deputy to the incident. When he asked how the suspect got the flag, he responded: "I didn't steal it. I just took it," according to the report.
Weems charged the suspect with a misdemeanor, citing Georgia's theft by taking law. AJC.com is withholding the suspect's name since that is the only charge.
The suspect later bonded out of jail and "shook hands (with Weems) in the lobby as he was released," the post said.
Weems said the suspect told him that his emotions got the better of him but added that people have turned a blind eye for too long regarding the Confederate battle flag.
"While I can understand his feelings, I also recognize that such a confrontation could have gotten way out of hand extremely quickly," the post said. "Folks, being offended is not an excuse to take and damage someone else's property."
Amid weeks of protests over police brutality and racism, the country has been reckoning with the flag's imagery and use. That includes NASCAR's decision to ban the Confederate symbol from its races, Mississippi's pledge to change its state flag and Kennesaw's vote to remove the battle flag from its war memorial.
In light of those events, Weems seemed to anticipate controversy regarding the arrest. In the post, he provided his email and said, "any angst should be directed at me."
Within hours, the post amassed several hundred comments and shares and thousands of reactions. The majority of the comments seemed to respect the deputy's decision, regardless of personal opinions on the flag.
AJC.com has reached out to Weems for more information about the incident.
———
©2020 The Atlanta Journal-Constitution (Atlanta, Ga.)