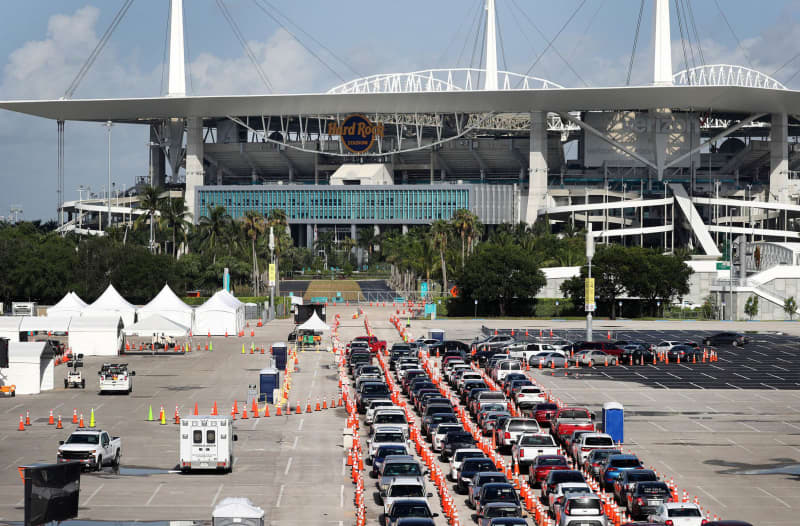 FORT LAUDERDALE, Fla. — After Florida notched another 92 people who died of COVID-19 on Friday, Gov. Ron DeSantis said deaths would likely be in the thousands had the state not made changes to long-term care centers. He also defended his decision to reopen the state in early May — which was criticized on Thursday by Dr. Anthony Fauci.
"I think there was really no justification to not move forward," DeSantis said.
He said that in the initial weeks after the state reopened, positive test results trended under 5%. Given the virus's incubation time of five to seven days, he said it doesn't make sense to blame the reopening on the large spikes in cases that began in mid-June. "It wouldn't take six weeks if that were the cause."
A total of 11,433 new cases of the coronavirus were reported in the state on Friday — just 25 cases shy of the one-day pandemic high reported on July 4.
Of the 92 newly reported deaths since Thursday, nearly half of them, or 45, were from South Florida, the Florida Department of Health said. It is Florida's second-highest one-day death toll; the state on Thursday reported a pandemic high of 120 new deaths.
The new coronavirus cases were reported alongside a robust increase in testing. Since Thursday, 64,356 new tests were reported by the state — a high for this week.
South Florida, which accounts for 29% of Florida's population, reported 4,560 new cases in the past day, or 40% of the total.
Broward County: Reported 1,603 new coronavirus cases Friday, bringing the total to 26,705. A total of 460 people have died, 11 more since the day before.
Palm Beach County: 577 new cases were reported, bringing the total to 19,233. A total of 600 people have died, eight more since Thursday.
Miami-Dade County: 2,380 new cases, bringing the total to 58,341. A total of 1,133 people have died, which is 26 more than Thursday. Miami-Dade has 13% of the state's population but 24% of the coronavirus cases and 27% of the deaths.
HOSPITALIZATIONS
On Friday, 437 more people were hospitalized, the most for a single day at a time when hospitals are running out of space. On Thursday, the state reported that 411 more people were hospitalized than Wednesday.
Since the pandemic began, 17,916 people in Florida have been hospitalized.
About half of those people have been hospitalized in South Florida, for a total of 8,901. Since Thursday, 144 more people have been hospitalized in the tri-county region.
Although many hospitals in South Florida have been hovering around 20% bed availability in recent weeks and even lower ICU rates, DeSantis said that isn't necessarily a bad thing. "That's how hospitals normally run."
Despite the recent uptick in deaths, he also said the use of antivirals like remdesivir will continue to help patients survive their hospital stays.
TESTING TRENDS
Since the pandemic began, 244,151 people have tested positive for the virus in Florida. That includes 3,441 non-residents.
The positive rate for the 24-hour period is roughly 18%. The positive test rate for the entire pandemic has now crossed the 10% threshold and stands at roughly 10.1% as of Friday's new reported numbers from the state.
In South Florida, the virus is spreading even faster.
The positive test rate between Thursday and Friday is 23% for South Florida. The positive test rate during the entire pandemic is 12.7%.
On Friday, DeSantis stressed that the majority of new cases have been contracted by people under 45 years of age and said their death rate is "incredibly low." According to state data, 118 Florida residents under 45 have died from the virus, or 2.8% of the total deaths.
Nonetheless, the governor said those new cases are concerning because many younger people contract the virus and bring it back to their homes, thereby infecting older and more at-risk family members.
DEATHS
Statewide: The official COVID-19 death total for Florida reported Friday is 4,203. That includes 101 non-residents.
Senior care: At least 2,055 of the state's coronavirus-related deaths (49%) have occurred in nursing homes and long-term care facilities. Broward accounted for 168 deaths or 8%. Dade accounted for 544 deaths, or 26%, and Palm Beach County had 249 deaths, or 12%.
GLOBAL VIEW
U.S.: The coronavirus death toll in the United States reached 133,420 on Friday at noon, according to the Coronavirus Resource Center at Johns Hopkins University.
The United States reported 3.13 million cases, the highest total in the world. Death tolls remained highest in New York state, with 32,283, and New Jersey, with 15,448.
Worldwide: The global total reached 12.3 million cases Friday, with at least 555,977 deaths, according to Johns Hopkins.
The U.S. has 4.3% of the world's population and 25% of the world's cases.
———
©2020 Sun Sentinel (Fort Lauderdale, Fla.)