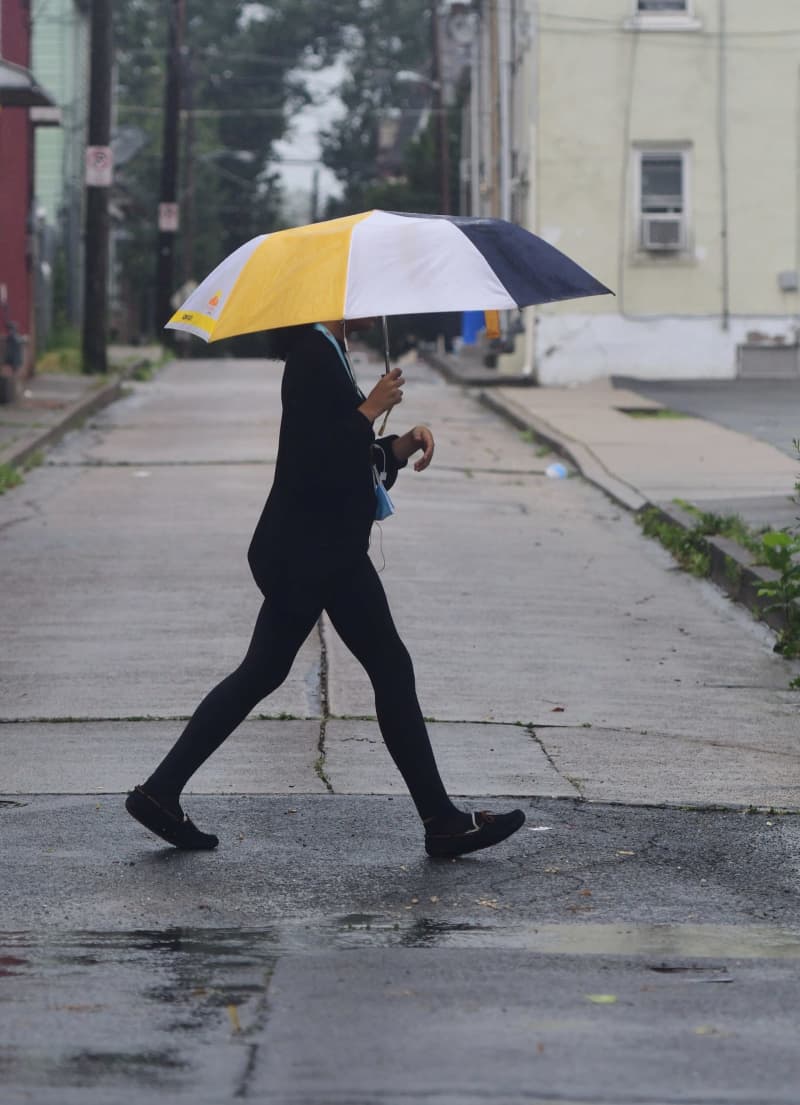 PHILADELPHIA — By the time Tropical Storm Fay made landfall near Brigantine, New Jersey — hauntingly close to where Hurricane Sandy had come ashore in 2012 — it had transformed Jersey Shore towns into versions of Venice by the sea, crushed a daily precipitation record in Philadelphia, and wrung out rainfalls of up to 5 inches or more.
Winds gusted close to 50 mph; roads had to shut down, including a piece of the Expressway; the Pennypack and Frankford Creeks spilled their banks; and gondoliers could have made a nice living in the streets of Sea Isle City, Stone Harbor, Ocean City, and other towns pestered by the day-spoiling downpours.
Flood watches and warnings remained in effect into Friday evening as rains continued, and by 6 p.m. officially just over 4 inches had been measured in Philadelphia, far and away a record for a July 10, besting the 2.99 inches of 1931.
Fay's heaviest rains had been forecast to fall closer to the Shore, but the hefty totals were widespread as quite-warm ocean waters evidently added juice to drive the moisture farther west, meteorologists said.
In the end, however, Fay was no Sandy.
Despite prodigious rain totals and gale-force gusts, no catastrophic flooding, mass power outages, deaths or injuries were reported. "I'll take two of these over one Sandy any day," said Patrick O'Hara, a meteorologist with the National Weather Service in Mount Holly.
In fact, in some areas, Monday's "ring of fire" thunderstorms were far more traumatic. "We haven't had any serious issues," said George Locke, borough manager of Jenkintown, which did have them on Monday when it was creamed by nearly a half-foot of rain.
Fay's rains likely will lead to a major outbreak of mowing, but they might have a benign aftermath: They could put a damper on extreme heat for the next several days, said Dave Dombek, a meteorologist with AccuWeather. The sun has to divert some of its energy to evaporating all that water before it can cook the ground.
The big difference between the Monday and Friday downpours was duration, meteorologists said. Monday's rains were random and convective, O'Hara pointed out: Thunderstorms doused selected areas in just one to two hours.
Fay's rains had staying power. They were spread out over 12 to 15 hours, starting around 4 a.m. in the region. That gave the flashier inland waterways a chance to digest between gulps. The major rivers stayed well below flood stage, as did most creeks and streams. Plus it helped that this time of the year the foliage tends to have an unquenchable thirst; heat will do that to you.
Fay made landfall just north of Atlantic City shortly before 5 p.m., the National Hurricane Center said, quite close to where Sandy arrived on land in 2012, the last time a named storm came ashore in the Garden State.
Most of Fay's rains preceded its arrival as it slung rain bands from the Atlantic coast to across the Delaware River. Along the way it generated heavy rains from the beaches to Philadelphia's western suburbs.
At Atlantic City, nearly 2.5 inches had fallen by lunchtime; street flooding was widespread along the Shore towns that have more complicated drainage issues.
But areas inland also got clocked. In Gloucester County, as much as 5.28 inches was reported. Offshore sea-surface temperatures near 80 over the open Atlantic helped give the storm extra energy to throw back heavy rain bands to the mainland, said Jim Eberwine, former weather service marine forecaster and now the Absecon emergency coordinator.
Plus the inland rains might have received a lift from subtle elevations away from the coast, said Dombek. Winds encountering a rise of 50 to 100 feet can make a difference by increasing the upward motion of air that cause rain.
Fay already had set a record by its very existence. The Atlantic Basin hurricane season is less than 6 weeks old, and with the birth of Fay it became the sixth named storm of a season that doesn't end until Nov. 30.
In the satellite-tracking era, which began in 1966, the earliest date for an "F" storm was July 22, in 2005, said hurricane center spokesperson Dennis Feltgen. Hurricane expert Philip Klotzbach, with Colorado State University, says not to worry: July is not indicator of what is to come.
No new storms are on the hurricane center radar, but, yes, the forecast does call for a chance of showers around here Saturday.
———
(Philadelphia Inquirer staff writer Amy S. Rosenberg contributed to this article.)
———
©2020 The Philadelphia Inquirer