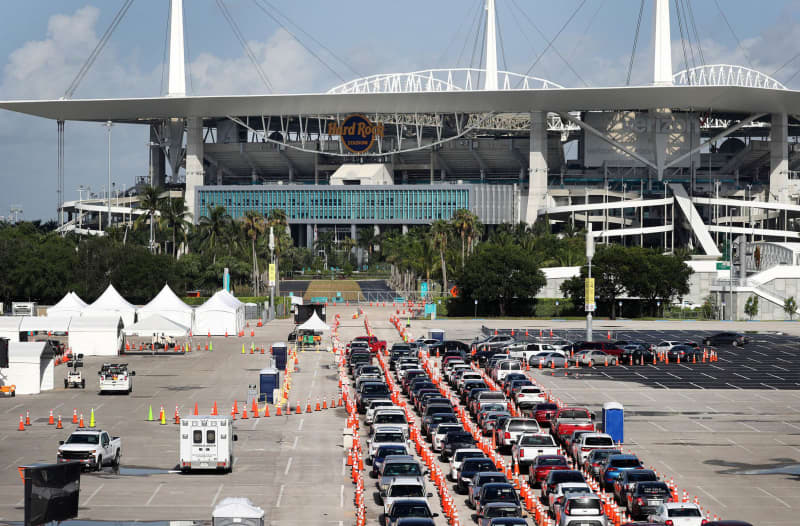 FORT LAUDERDALE, Fla. — Cases of COVID-19 in Florida pushed past a quarter million Saturday, as the state reported 10,383 additional people with the disease.
The state posted 95 additional deaths. A state summary released Saturday morning listed 188 additional deaths, but that appears to have been a miscalculation.
Neither total is a record, but both reflect the worsening trends of the past two weeks. The record for deaths was set Thursday, with 120.
Gov. Ron DeSantis, whose aggressive push to reopen Florida has proved controversial, called a news conference for Saturday afternoon in Bradenton to discuss COVID-19.
SOUTH FLORIDA
South Florida, which accounts for 29% of Florida's population, reported 4,716 new cases in the past day, or 46% of the total.
Broward County: 1,548 new coronavirus cases reported Saturday, bringing the total to 28,253. A total of 478 people have died, 18 more since Friday.
Palm Beach County: 614 new cases were reported, bringing the total to 19,847. A total of 608 people have died, eight more since Friday.
Miami-Dade County: 2,527 new cases, bringing the total to 60,868. A total of 1,147 people have died, which is 14 more than Thursday.
TESTING TRENDS
Since the pandemic began, 254,511 people have tested positive for the virus in Florida. That includes 3,527 non-residents. So far a total of 2,477,810 people have been tested.
The positivity rate for the 24-hour period is roughly 18%. The positive test rate for the entire pandemic has now crossed the 10% threshold and stands at roughly 10.3% as of Saturday's new reported numbers.
In South Florida, the virus is spreading even faster.
The daily positive test rate reported Saturday was 23% for Broward, Miami-Dade and Palm Beach counties.
HOSPITALIZATIONS
An additional 425 people were reported Saturday to be hospitalized, the second-highest single day count since the epidemic began.
Hospitalization numbers are another statistic that has been rising sharply, with Saturday's total more than double the daily counts of two weeks ago.
The state just began reporting the current number of people hospitalized for the disease, having previously reported only the total number since the epidemic began. The current number hospitalized for COVID-19 in Florida stands at 7,238.
The largest number is in Miami-Dade County with 1,580 hospitalized, followed by Broward with 1,004 and Palm Beach with 595.
DEATHS
Statewide: The official COVID-19 death total for Florida Saturday stood at 4,301. That figure includes 104 nonresidents.
Senior care: At least 2,082 of the state's deaths have occurred in nursing homes and long-term care facilities, a figure that represents 48% of the state's total for coronavirus deaths. Broward accounted for 169 deaths or 8%. Miami-Dade accounted for 547 deaths, or 26%, and Palm Beach County had 254 deaths, or 12%.
GLOBAL VIEW
U.S.: The coronavirus death toll in the United States reached 134,349 on Saturday at 1:30 p.m., according to the Coronavirus Resource Center at Johns Hopkins University.
The United States reported 3.2 million cases, the highest total in the world. Death tolls remained highest in New York State, with 32,342, and New Jersey, with 15,479.
Worldwide: The global total reached 12.6 million cases Friday, with at least 561,311 deaths, according to Johns Hopkins.
The U.S. has 4.3% of the world's population and 25% of the world's cases.
———
©2020 Sun Sentinel (Fort Lauderdale, Fla.)