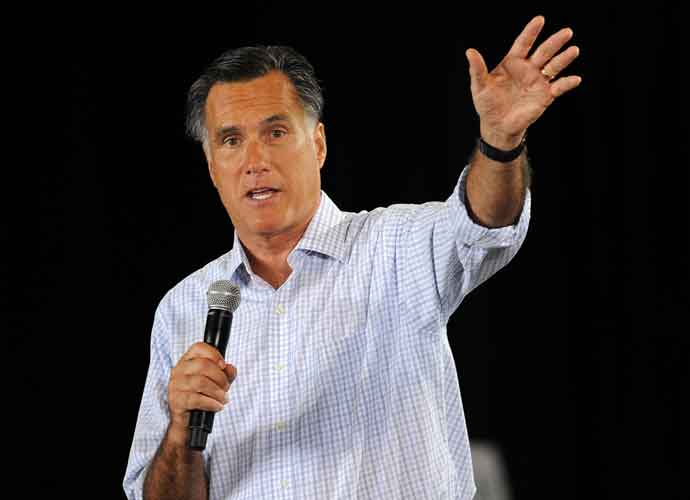 Sen. Mitt Romney (R-Utah) criticized President Donald Trump for commuting the jail sentence of his ally Roger Stone, who was charged in relation to the Russia probe.
"Unprecedented, historic corruption: an American president commutes the sentence of a person convicted by a jury of lying to shield that very president," Romney tweeted a day after Trump granted clemency to Stone.
On Friday night, Trump commuted Stone's 40-month prison sentence for lying to Congress, witness tampering and withholding information about Trump's connections with Russia and its alleged interference with the 2016 elections.
"Roger Stone is a victim of the Russia Hoax that the Left and its allies in the media perpetuated for years in an attempt to undermine the Trump Presidency," White House posted in a statement on the Stone commutation. "There was never any collusion between the Trump Campaign, or the Trump Administration, with Russia. Such collusion was never anything other than a fantasy of partisans unable to accept the result of the 2016 election."
Trump called Stone's case a "witch hunt," a term that he often refers to the Russia probe, and accused President Barack Obama's administration of spying on his campaign.
"Roger Stone was targeted by an illegal Witch Hunt that never should have taken place," Trump tweeted on Saturday. "It is the other side that are criminals, including Biden and Obama, who spied on my campaign — AND GOT CAUGHT!"
Special Counsel Robert Mueller, who investigated the Russian interference case, wrote an op-ed for The Washington Post, published on Saturday, where he condemned the decision and said Stone was granted commutation because "he stayed loyal to Trump."
"Stone was prosecuted and convicted because he committed federal crimes. He remains a convicted felon, and rightly so," Mueller wrote.
Romney became the only Republican who spoke against Trump. Sen. Lindsey Graham (R-South Carolina) and Rep. Jim Jordan (R-Ohio) tweeted in their support.
Democrats, however, slammed Trump's decision. House Speaker Nancy Pelosi on Saturday called it "an act of staggering corruption" and called in for a bill that would prevent a U.S. president from pardoning someone who was intended to aid the president from being convicted. House Intelligence Committee Chair Adam Schiff (D-California) called it "offensive to the rule of law and principles of justice."
Presumptive Democratic nominee Joe Biden called Trump "the most corrupt president in modern American history" over his Twitter post.