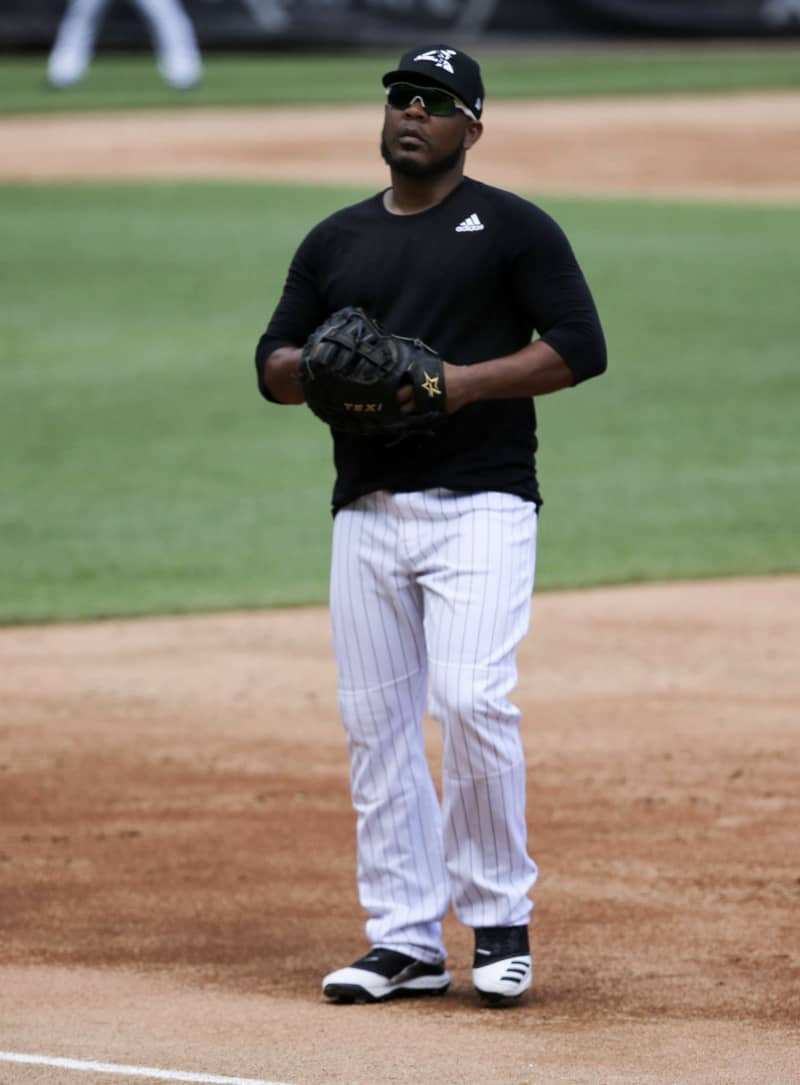 Edwin Encarnacion started circling the bases after homering in Thursday's intrasquad game at Guaranteed Rate Field.
As he neared second base, his Chicago White Sox teammates began yelling from the dugout. They wanted to see "the parrot."
Encarnacion obliged with his signature home run trot, bending his right arm and keeping it out as he continued to home plate.
"The parrot made an appearance on the South Side," interim manager Joe McEwing said excitedly when he was asked about Encarnacion after the game.
The Sox signed Encarnacion, 37, to a one-year, $12 million deal in the offseason, looking to boost their power numbers at designated hitter.
Encarnacion intends on delivering, parrot and all.
"The parrot is alive, still on my elbow," he said through an interpreter a day before hitting the homer in the intrasquad game. "Hopefully when the season starts, you're going to see it very often."
Encarnacion has become synonymous with the long ball. He has hit at least 30 home runs in each of the last eight seasons, combining for 34 last year with the Seattle Mariners and New York Yankees. The 15-year veteran has 414 career homers.
"I'm just glad he's on our side now," said reliever Aaron Bummer, who allowed the home run in the intrasquad game.
Encarnacion had a tough spring training, going hitless in 15 at-bats with eight strikeouts in six Cactus League games. But he was also dealing with a variety of injuries, missing time first because of back stiffness and then a sore right hip.
As he participates in summer camp, Encarnacion said he's healthy.
"The break helped me just to get better from my soreness in the lower back," he said. "I took advantage of it and I feel very good, strong physically."
McEwing said the addition of Encarnacion gives the Sox depth.
"It lengthens an extremely good lineup," McEwing said. "It was a good lineup before. It makes it extremely longer. And the professionalism, you can't put a number on it. You can't put a measure on what he means to this ballclub, not just in the clubhouse but on the field.
"When he steps in the box, it's a presence. That model of consistency in what he has done throughout his career and what he's capable of doing, it means so much to every individual in that locker room. Every time we step on the field, it's a different presence."
He's already making an impact on his teammates.
"We talk to him a lot," right fielder Nomar Mazara said during a conference call Sunday. "He's very open-minded and he actually wants us to have fun and go out there and don't worry about anything. Just play the game. That makes it easier."
Beyond the conversations, Mazara has learned from watching how Encarnacion works.
"It's great to have him around," Mazara said. "He's been doing it for so long and putting (up) good numbers. The way he works, in the cage, everywhere, it's pretty impressive. There's not many guys like him who are still doing it like that."
Encarnacion said he's mentally prepared for the pandemic-shortened season.
"It's not what we're used to, but mentally we're ready for that," he said. "That will be the key for us. I'm ready mentally. When the season starts, I will be more than ready."
———
©2020 Chicago Tribune