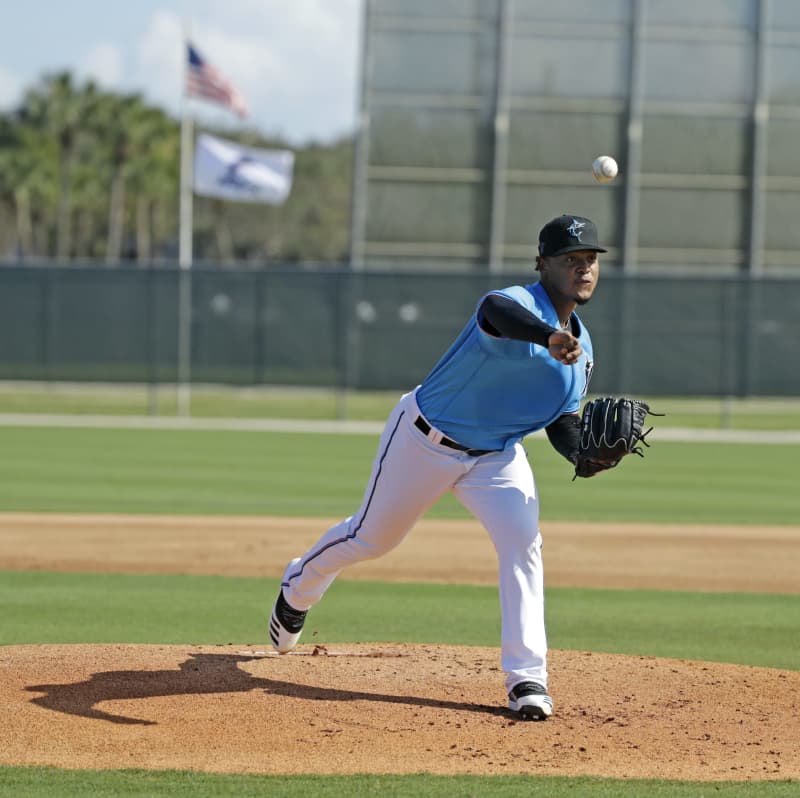 Elieser Hernandez and Jordan Yamamoto have the same end goal. Nick Neidert and Robert Dugger are chasing it, too.
Four starting pitchers. One spot up for grabs.
"A spot in the rotation," Hernandez said Monday.
Barring injury or unforeseen circumstances, four of the Marlins' five rotation spots appear to be locked up by Sandy Alcantara, Caleb Smith, Pablo Lopez and Jose Urena.
One from the quartet of Hernandez, Yamamoto, Neidert and Dugger will emerge as the fifth starter.
But does that mean the other three wouldn't make the Marlins' Opening Day roster when they face the Philadelphia Phillies on July 24? Not exactly.
The implementation of the designated hitter and rosters starting at 30 players to begin the shortened 2020 season is allowing Miami Marlins manager Don Mattingly some flexibility with assembling his pitching staff.
Mattingly has said the Marlins plan to carry either 16 or 17 pitchers to start the season. That makes sense because with the DH in place, the Marlins won't have to rely on a slew of pinch hitters like they would in a normal season when the pitcher's spot in the lineup comes up.
"It's figuring out what gives us a better chance to win games," Mattingly said. "Is it 17 pitchers and 13 players? Is it 16 pitchers and 14 players to start? We'll listen to those guys a little bit, but some of it is your personnel and how you want to be able to use it."
With that in mind, the Marlins could very well use starting pitchers out of the bullpen in long-relief roles depending on how the Marlins craft the rest of their bullpen. This would provide the Marlins some insurance should a starter struggle and they need a pitcher or two to eat multiple innings while also allowing pitchers who otherwise wouldn't get live playing time some extra and needed reps.
"We've been talking about as a locker room quite a bit," Yamamoto said. "This is a sprint not a marathon, so (we'll do) whatever we need to do because not many of us have played in that season or those games that matter to make the playoffs but this year is that year is where we would say, 'we're good enough to be there. We're good enough to compete and be on the top.' We're going to do as a staff, as a team, whatever we can to make it to the end."
Every starting pitcher will have gone through one simulation game after Monday. Alcantara, Smith, Lopez and Hernandez threw five innings each. Urena and Yamamoto each went four innings. Neidert and Dugger will be on the mound Monday night at Marlins Park.
"We'll let it play out and then decide on our roster," Mattingly said.
Now, something that also needs to be considered: Teams still have to option players when they are taken off the active roster for reasons other than the injured list or special designations (military list, restricted list, suspension, etc.). Teams must wait at least 10 days after optioning a player before they are allowed to bring him back to the active roster.
"It's not like interchangeable pieces that you can bring back up the next day," Mattingly said. "You still have the same rules."
———
BREAKING DOWN THE CONTENDERS
— Yamamoto: The 24-year-old righty from Hawaii made his MLB debut last season and dazzled early, going 4-0 with a 1.59 ERA in his first six starts. He lost five of his final nine games from there and finished the year with a 4.46 ERA and 82 strikeouts over 78 2/3 innings that spanned 15 starts. He relies more on command and a five-pitch mix (four-seam fastball, cutter, slider, curveball and changeup) than an overpowering fastball.
— Hernandez: The Marlins selected him as a Rule 5 draft pick before the 2018 season. He spent that season as a reliever after never playing above Class A Advanced in the minor-leagues. He started 2019 at Triple A and ultimately appeared in 21 games (with 15 starts) for the Marlins last year. He went 3-5 with a 5.03 ERA but his career splits showed moderately better results as starter (4.70 ERA, .313 batting average against over 99 2/3 innings) than as a reliever (5.96 ERA, .361 batting average against over 48 1/3 innings).
— Neidert: The Marlins' No. 10 overall prospect likely would have made his MLB debut in 2019 if not for an injury to his right meniscus that required surgery. Neidert, who was acquired as part of the Dee Gordon trade, impressed at the Arizona Fall League, posting a 1.25 ERA and 19 strikeouts in 21 2/3 innings over five fall league starts.
— Dugger: The Marlins' No. 30 overall prospect according to MLBPipeline made his MLB debut on Aug. 5 as part of the Marlins' doubleheader against the Mets and went 0-4 with a 5.77 ERA over the course of seven big-league starts. He relies primarily on a four-seam fastball and a sinker, both of which are generally in the low 90's, as well as a low 80's slider and a mid-70's curveball.
———
©2020 Miami Herald