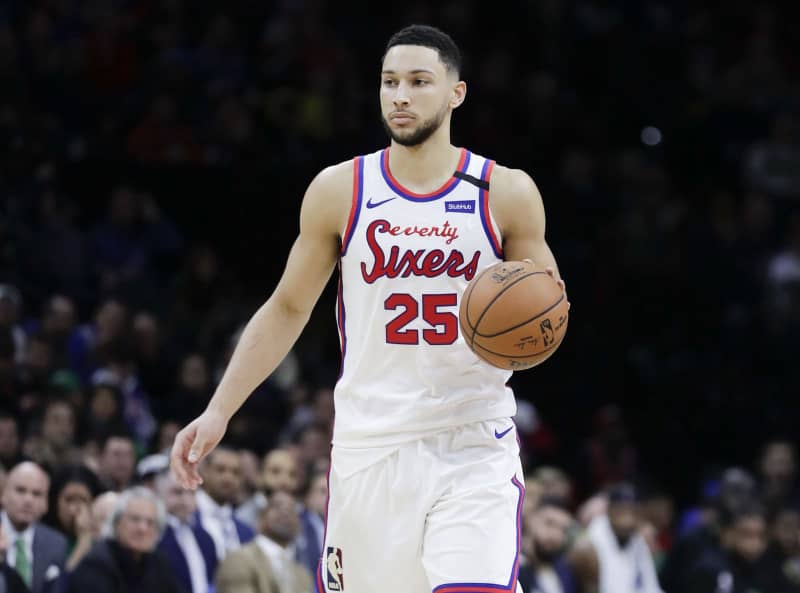 As a point guard, Ben Simmons is a two-time NBA All-Star.
That's impressive considering this is the former Rookie of the Year's third season. Yet, the 6-foot-10, 250-pounder is at his best playing point forward.
Traditional post players can't guard him because he's too athletic. He's also too big and strong for wings to defend. Simmons' play in the post, at times this season, has been like a cheat code for the 76ers.
They intend to take advantage of that during the 22-team NBA restart at Walt Disney World near Orlando, Fla. Coach Brett Brown said before Monday's practice that the 23-year-old played exclusively at power forward during the two days of training camp. Shake Milton assumed the starting point guard duties.
If all works out, Simmons and Embiid could develop into the league's most dominant frontcourt tandem.Embiid is a three-time All-Star and arguably the NBA's best center.
Milton was outstandingas the starting point guard while Simmons was sidelined with a pinched nerve in his lower back in the final eight games before the NBA shutdown on March 11.
The Sixers have been increasing Simmons' minutes playing off the ball. In addition to him being a matchup problem down low, a reluctance to shoot perimeter shots could make Simmons an offensive liability at point guard in the playoffs.
The Sixers always needed a point guard who can stretch the floor. They have that in Milton, who is not afraid of the spotlight. On occasion, look for him to bring the ball up the court and make an initial pass to Simmons, who will handle the ball in the high post. Milton, who averaged 19.4 points and shot 51.9% on three-pointers in the Sixers' last five games, will help to provide the spacing needed.
"I think he has a huge opportunity to help us accomplish what we believe we can," Embiid said of Milton. "He's been doing an amazing job, just running the team, and we're going to need him to knock down open shots, which he did before the league basically got shut down."
One could argue that moving Simmons to power forward is long overdue. He played the position in his only season at Louisiana State University before the Sixers drafted him first overall in the 2016 draft. At the time, they intended to pair him with point guard Jerryd Bayless. It never worked out due to injuries. Simmons missed the entire 2016-17 season with a fractured right foot, while Bayless only played in three games due to a torn ligament in his left wrist. The following season, the Sixers were fully committed to playing Simmons at point guard even after drafting point guard Markelle Fultz first overall.
"It's not like Ben came in and we had Chris Paul or Damian Lillard on the team," Brown said. "We were young and really not that good. And so like it was my decision: 'You take the ball. We are going to make you the point guard.' "
The coach has zero regrets about that decision.
As a point guard, Simmons developed into one of the league's transcendent players. He has 30 career triple-doubles, including the postseason. Six have come this season. He's also averaging 16.7 points, 7.8 rebounds, 8.2 assists, and a league-leading 2.1 steals this season.
"How has he responded to that? Like a star," Brown said of Simmons buying into playing power forward. "Just a mature (attitude), whatever it's going to take to get this team to be the best that it can be with the pieces that we have … designed into a smooth thing, and it's not clunky."
———
©2020 The Philadelphia Inquirer