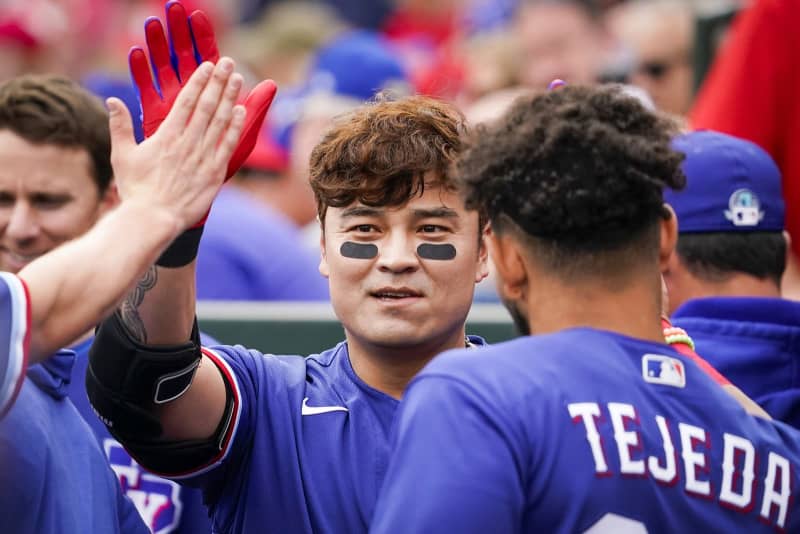 ARLINGTON, Texas — On his 38th birthday Monday, Shin-Soo Choo obliged the media with around 15 minutes of his time.
He is long past the point when birthdays become just another day, something that has remained a constant for the seasoned crowd during the life-altering coronavirus pandemic.
To wit, in the spirit of social distancing, Choo was available via a Zoom call.
He was the first Texas Rangers player to make his second Zoom appearance of summer camp (manager Chris Woodward does a Zoom availability every day) and brought to the podium the same upbeat attitude he did a week ago.
"I feel really good, to be honest," Choo said. "We're supposed to be in the regular season, but the three months extra gave me a lot of rest. Everything's good."
Choo will likely be at designated hitter and atop the Rangers' lineup July 24, when they open the season against the Colorado Rockies at Globe Life Field. He has been batting leadoff in simulated and instrasquad games, and has seen some time in right field in case he's needed there during the 60-game season.
The sprint to October marks the end of Choo's seven-year, $130 million contract and potentially will be the end of 16 MLB seasons with four different teams. He hasn't decided on 2021, though he has said he doesn't want to play if it's not with the Rangers.
If 2020 has reinforced anything, his future is out of his control.
"I really believe each person has their own fate, so I want to see my fate at the end of this year and what happens next year," he said. "If it's one game we play this year, I'll prepare for that one game, I'll play the best I can, and, yeah, we'll see."
His two loves are his family and baseball. The shutdown was a blessing because he was able to spend so much time with his wife and three kids in their new home in Southlake. He was a part-time handyman, making daily trips to the hardware store, as he knocked out the punch list on his house.
He donated $1,000 to every Rangers minor-leaguer, a donation that ran in the neighborhood of $200,000. That's a very respectable neighborhood.
But he also spent the shutdown concerned there wouldn't be a season, and to that end urged people in the community to follow CDC guidelines. He had some reservations when camp opened July 3, but those have been mostly addressed.
Now that there is a season, baseball has filled a void.
"First of all, I was really happy to see my teammates, the training staff, a lot of front office people," said Choo, a first-time All-Star in 2018. "Seeing baseball people makes me feel a different energy. Staying home with my family brought a lot of happiness and good energy, but baseball brings a totally different happiness. When I wear the uniform and walk in the clubhouse, I feel alive. This is who I am. Baseball always makes me happy."
To help keep that feeling, he is urging teammates to stick to the safety protocols MLB has enacted to fight COVID-19. If they wear masks, keep their distance and avoid public spaces, the Rangers will make it to the finish line.
It only takes one player to potentially cause a disruption.
"That's the message I want to give my teammates, too," Choo said. "If you make a bad decision one time, you're affecting your family, you're affecting your teammates, and then your teammates go home and you don't know their health situation. So you don't want to bring risk to your other teammates' family. So, I think this is a great time to think about other people first."
Choo gets it. He had a headlock on life before turning 38 on Monday and before the pandemic hit.
Whether the Rangers play only one game this season or make a run into the postseason, Choo will still have the energy to give baseball his all — perhaps for the final time.
"To be honest, I was worried this may be my last season for my career," Choo said. "Who knows. I'm not thinking about that now. Right now everybody is healthy. My teammates are healthy, hopefully in the whole world everybody is healthy and living a normal life.
"Actually, I am not worried about what happens next year. I talked about it a lot. I just think about every season, I always believe in myself and I can play a couple more years. I just prepare every day. Even when this happened, I try to prepare the best I can."
———
©2020 Fort Worth Star-Telegram