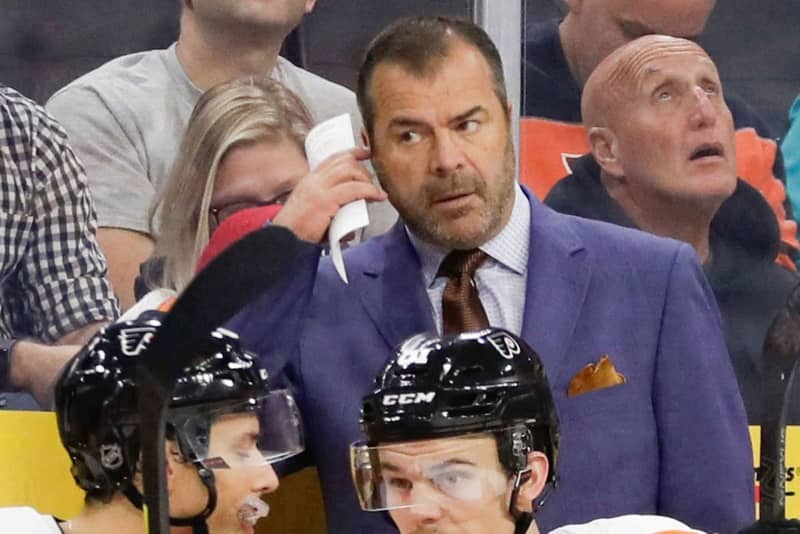 It had been 124 days since the Flyers were last on the ice at their Voorhees practiced facility, but who's counting?
Not the players, who opened Training Camp II on Monday. And not management.
During the NHL's long pause caused by the coronavirus outbreak, the players weren't counting the days they missed. They were looking ahead to getting back on the ice and trying to win the franchise's first Stanley Cup since 1975.
"As a group, you can tell in our players' faces when we saw them this morning that there was excitement and understanding of the opportunity in front of us," coach Alain Vigneault said after Day 1 of camp in Voorhees. "We're getting to do what we love. … We've earned the right to compete for the Cup. Now it's up to us to do the work and get it done."
"Why not us?" general manager Chuck Fletcher said. "Let's push forward here and see what we can do."
While it will take time for the players to regain the sharpness they possessed while winning nine of their last 10 games when the season was stopped March 12, defenseman Matt Niskanen said he feels the chemistry "should come back real quick now that everybody is here. Guys are excited. We've earned the opportunity to be one of the top seeds in the East … I think everyone knows our potential now because we showed we can beat anyone."
Thirty-four players are at camp, including a goalie, Carter Hart, who looked sharp, in his return. On Monday, the players were divided into two groups, one that was on the ice in the morning, the other in the afternoon. As the first group's session came to a close, players from the second group watched from outside the rink while wearing masks because of coronavirus protocols.
Welcome to the NHL's return, 2020.
The players are easing into camp, captain Claude Giroux said after Monday's session.
"We're just trying to get our legs going," he said "We're going to ramp it up here as the days go by."
The Flyers won't play until Aug. 2, when they face Boston in a round-robin, seeding tournament that will also include Tampa Bay and Washington. The tourney will determine the Eastern Conference's top four seeds.
Vigneault said the seeding tournament was important, but that he was more focused on the Flyers' first Stanley Cup playoff game Aug. 11. He said he wanted to play lots of players in the three round-robin games to figure out the best combinations to use when the playoffs start.
"As important as they are," Vigneault said of the seeding games, "I'm going to look at different players in different situations during that time. It's not about an experiment, but it's about finding where guys are and then making the best decision for the team."
One of the questions Vigneault will try to answer is whether rookie left winger Joel Farabee is part of the lineup. With left winger James van Riemsdyk now healthy, Farabee could be the odd man out — or he could impress his coach during camp and win a job by his play in an exhibition game and the round-robin tourney.
"Before we play our first playoff game, it's going to be a five-month stoppage," Vigneault said. "I am going to utilize this time to see (who deserves to play), whether you're a 10-year veteran or a 10-game player. Whatever we feel, Chuck and I and our staff, after watching the games and the preparation."
He said he would use "the best lineup I believe is going to permit us to win, and from there, like any playoffs, make adjustments we have to make."
Fletcher also stressed that the playoffs, not the round robin, are the main focus.
"I don't think it would be smart to overstate the importance of the round robin," he said. "Ultimately, the first game that is going to be truly of massive importance is that Game 1 on Aug. 11th. We are certainly going to try to win (the round robin), but I think we are going to give certain players an opportunity to get some game participation. We're going to need more than 20 healthy bodies to get through this."
Fletcher said the "important thing is that everybody at some point gets some action and some ice time. You would hate to put somebody into play in the playoffs who hadn't played in a game since March."
Vigneault liked what he saw from his players on the first day of Training Camp II, and said the intensity and execution will increase with each practice. He said everyone is in different stages of conditioning because of what was available to them during the pause, and that the team would "use the science we have available" to get back into shape.
"Our group is excited, focused, and energized," he added. "We've been waiting a long time here for this opportunity to compete for the Stanley Cup. We're going to get it."
When the season was paused, the Flyers were the NHL's hottest team.
"Any momentum we had is gone now, but our job and our overall goal is to get back to where we were and build on it," Niskanen said.
———
©2020 The Philadelphia Inquirer