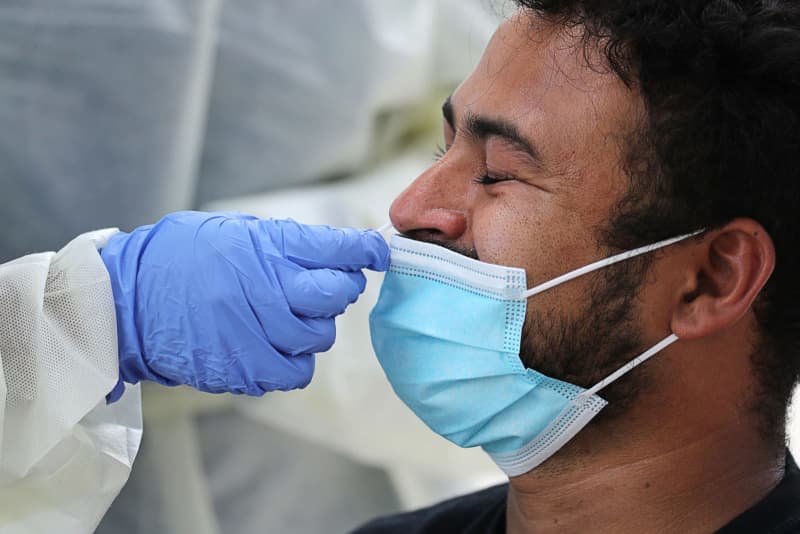 FORT LAUDERDALE, Fla. — Florida faces a rough few weeks at least from COVID-19, according to experts, although there are faint signs of hope in the flurry of statistics that indicate the disease's future.
The state posted the U.S. record for new daily cases Sunday and the second-highest count on Monday, numbers that are difficult to spin as anything but indications that COVID-19 has become more entrenched. Sunday's record 15,300 new cases generated headlines around the U.S., cementing Florida's status as one of the worst-hit states in the country.
Yet the number of deaths reported Monday was the lowest in 10 days, and more important, the positivity rate for tests continued a decline started last week. Accompanying this was a sharp increase in the number of tests, as Florida ramped up the deployment of a key weapon against the disease.
Jill Roberts, assistant professor at the University of South Florida's College of Public Health, said she was "cautiously optimistic" from the decline in new cases from Sunday and the reduced positivity rate.
"The decreasing case numbers and decreasing (percentage) positives are both encouraging signs," she said. "Especially given that a large number of tests were performed. This may be a sign that social distancing measures are gaining in acceptance."
But she said an increase in hospitalizations appeared to be evidence that the feared transmission of the disease from younger to older people is taking place.
In fact, the movement of the disease to an older, more vulnerable age group appears to be taking place.
The median age of victims rose from 35 to 41 over the past 10 days, according to the Department of Health. At a news conference Monday in Miami, Jackson Health CEO Carlos Migoya said he's observed an increase in the number of older COVID-19 patients who got the disease from younger people.
And Roberts said we have yet to experience the impact of any partying that took place on July 4.
"My biggest concern at the moment is potential cases as a result of the July 4th holiday," she said. "The impact of the holiday on cases will begin to appear in the numbers in the next week."
The daily death toll set a state record last Thursday, with 120 fatalities. But Monday's death count of 35 was less than a third of that. The average daily death toll, however, has been rising for three weeks, and it's unclear what to make of day-to-day jumps up or down.
Derek Cummings, professor of biology and an infectious disease expert at the University of Florida, said fluctuations in the daily death rate indicate very little, since they can depend on when records are turned in to authorities.
And while the decline in the positivity rate may be a good sign, he said it's less important than the sheer number of new cases, totals that indicate enormous numbers of people will go on to infect others and wind up in the hospital or worse.
"If we still have cases growing, I think it's a subtle difference to say that confirmed cases come from a 10% positivity rate compared to a 20% positivity rate," he said. "I think the 10% is better, but you have a whole bunch of confirmed cases out there. All those people are infectious and they're all at risk. Having more of those people means there's more transmission to contain."
The disease's current spread could well worsen when schools reopen next month, he said.
"The thing I'm worried about is when school comes around, that changes the social fabric of our cities and towns," he said. "I think it's entirely possible that school kids will contribute to transmission, and then the college-age kids will contribute. And more people will return to work.
"We can't just let this continue to rise, because we're just going to be facing a lot of hospitalizations and deaths. Everybody wants to go back to school, everybody wants to go back to businesses operating. But if we just go back to the way that people were interacting before the pandemic, without making simple changes, then we won't be able to keep the schools open. We won't be able to keep the businesses open because cases will grow and grow."
Dr. Mary Jo Trepka, chairwoman of the Epidemiology Department at Florida International University, said she sees some hope in the declining positivity rate that the growth of new cases is declining.
"For Miami and I think this is probably true of South Florida as a whole, the cases are still increasing, but the rate of increase has slowed down a little bit," she said. "So I think we're starting to see the results of measures like closing the bars and so forth. So that's good."
Little immediate relief can be expected at hospitals, however, where harried medical staffs are dealing with a sharp increase in COVID-19 caseloads that is unlikely to stop any time soon.
An additional 574 people were reported hospitalized for the disease Monday, an 8% increase over Sunday, according to the Florida Agency for Healthcare Administration. The total number of hospitalized patients stood at 8,051 late Monday afternoon. Miami-Dade County hospitals have the most patients, followed by Broward, then Palm Beach.
And even if the curve flattens over the next week or so, hospitals are still likely to see heavier caseloads as the huge number of new infections leads to additional demand for hospital beds.
"Unfortunately, because the slope of that increase was so steep, it's going to be a while before we get to that peak, I'm afraid. Which means the hospitals are going to have a couple rough weeks going forward."
———
©2020 Sun Sentinel (Fort Lauderdale, Fla.)