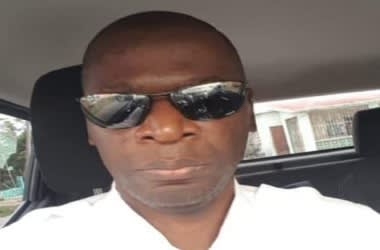 The Antigua and Barbuda government says it is willing to bring in foreign investigators to help probe the murder of a 44-year-old Customs Officer , who was murdered after he was allegedly abducted from his home over the last weekend.
Attorney General and Legal Affairs Minister Steadroy Benjamin, who described the murder of Nigel Christian as "horrendous," said any request from local law enforcement authorities would be acted upon by the government.
"I am satisfied that once they make a request for overseas assistance it will be given to them whether it is from the FBI, the Mounted police (Canada) or Scotland Yard. Once that request is made the government will ensure that they get the full assistance necessary to solve this horrendous crime.
"We are not accustomed to that type of crime and it is obvious that this is an organised group who committed this crime and we shall not tolerate that behaviour in Antigua and Barbuda. There is zero tolerance to crime," Benjamin added.
Christian was allegedly abducted from his home on Friday afternoon by four men and his body was later found along a dirt road with several gunshot wounds.
Prime Minister Gaston Browne has already announced an EC$50,000 (One EC dollar=US$0.37 cents) reward for information leading to the capture of his killers.
The police in a statement said the attack on Christian, "is an attack on all law enforcement in Antigua and Barbuda," adding "this type of behaviour should never be condone or encourage by any citizen or resident of this country.
"The police will spare no effort, as we investigate this distasteful and coward act. As an organization we are committed and determined to bring these perpetrators to justice. The police will be collaborating with other local law enforcement agencies to bring about a successful closure to this matter. We are therefore calling upon every member of the public to come forward and share whatever information they may have surrounding this incident," the statement added.
Comptroller of Custom Raju Boodu had denied any link between Christian's murder and that shooting of another Customs Officer to the multi-million dollar probe at the port.
"He is not involved in any investigation in the last six to eight months or so. He is not involved in any active investigation," Boodu said, adding "it is a puzzling thing, what is the motive behind this who did it and what for."
"I don't have words to describe how painful it is and how destroyed we are. Nigel has been a competent and very passionate senior customs officer…and displayed a very high standard of professionalism in his work, he is my brother, my eyes and ears.
"It's a dastardly act of cowards and the entire customs fraternity is mourning and we will do everything in our power to bring justice to our beloved fallen officer, Boodu added.
Meanwhile, the main opposition United Progressive Party (UPP) said that Christian's death is the second violent attack on workers who were involved in the investigation of a multimillion-dollar fraud at the Port. It recalled that the first was the ambush and shooting of Cornell Benjamin at his home and that following "that shocking incident, the UPP repeatedly called on the silent Gaston Browne Administration to launch a full-scale investigation into the attack and its likely connection to the fraud investigation at Customs, to no avail".
The UPP said that it had also sought an audience with Governor General Sir Rodney Williams and implored him unsuccessfully to use his constitutional authority to commission an inquiry into the matter.