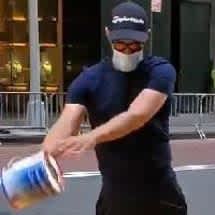 NEW YORK — Surveillance video released Tuesday of the vandal who defaced the massive Black Lives Matter mural in front of Manhattan's Trump Tower shows he dumped an entire can of red paint before fleeing.
Police are asking the public's help identifying the culprit and tracking him down.
The man, wearing a black baseball hat with white lettering, sunglasses and a surgical mask, approached the mural on Fifth Avenue near West 57th Street in Midtown about 12:15 p.m. Monday, pulled an open can of red paint from a paper bag and emptied the can onto the "V" in LIVES, the video shows.
He emptied the can's contents in two quick moves, careful not to douse himself, then ran off. If arrested, he could be charged with criminal mischief.
City workers painted over the vandalism Monday afternoon.
"BLACK LIVES MATTER" was painted in front of the Fifth Avenue high-rise on Thursday, with Mayor Bill de Blasio participating in the painting.
Anyone with information on the vandal is asked to call Crime Stoppers at (800) 577-TIPS.
———
©2020 New York Daily News