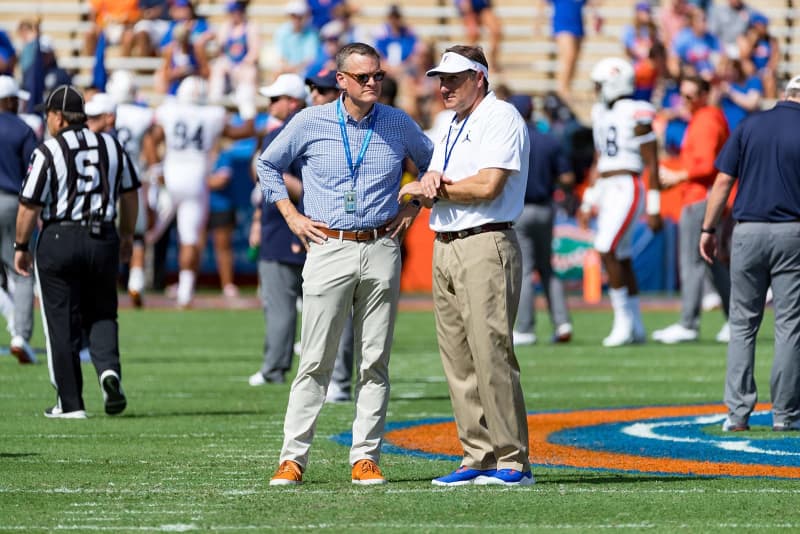 Florida athletic director Scott Stricklin said he tested positive last week for COVID-19, experiencing "mild symptoms" before making a relatively quick recovery.
Stricklin said he began to experience a runny nose, congestion and headache, leading him to get tested the next day.
"Woke up the next morning, didn't feel much better — slight chills," he recalled. "And it just, the first thing in this day and age that goes through your head is, 'I wonder if this is it?' "
Stricklin soon found out he had contracted the illness caused by the novel coronavirus that has set the nation into a tailspin and put college athletics in serious jeopardy.
Unlike many who have been stricken by a virus that has claimed the lives of more than 138,000 American lives, Stricklin said he personally did not experience much suffering and his family remained safe.
"My symptoms were mild, so I never really had any anxiety," said Stricklin, 50. "I was kind of mad at myself I put myself in that situation. My family's fine."
Stricklin said he was told to quarantine for 10 days from the onset of his symptoms.
"I had about 48 hours where I felt really crummy and probably had another three or four days where I didn't feel like going out and running a marathon," said Stricklin, an avid runner. "Then after that, I felt like I was back to normal. But I haven't run any marathons since, but I have run since."
Stricklin spoke to reporters Tuesday about the challenges facing his department due to the illness caused by the novel coronavirus, including whether the Gators will be able to play football in the fall.
The SEC announced Monday it would not make a decision on the fate of football until month's end.
Whatever the conference decides, the challenges will be legion and the potential financial ramifications crippling for athletic departments.
Stricklin, however, said nothing will be a higher priority than the well being of the school's more than 500 athletes.
Those from fall sports, like football, along with basketball players are back on campus for voluntary workouts. Only three of the initial 188 athletes tested were positive for COVID-19. In total, 238 tests and 29 been positive.
Stricklin said up to a dozen athletes at a time have been quarantined.
———
©2020 The Orlando Sentinel (Orlando, Fla.)