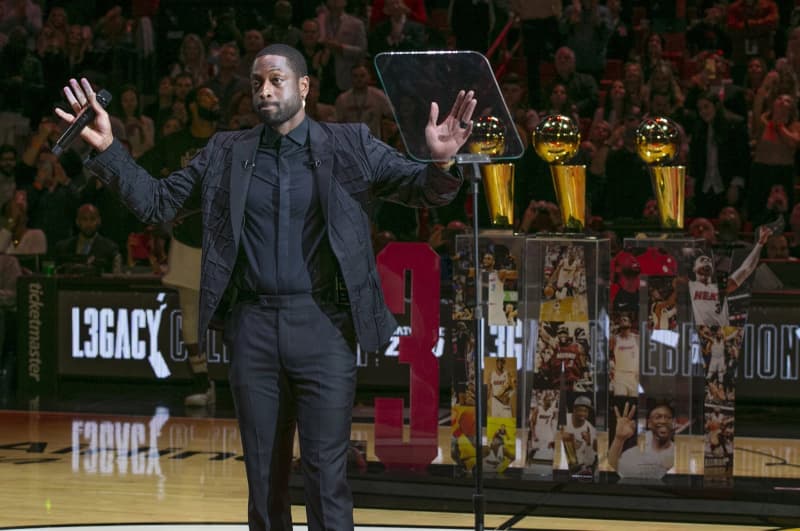 Dwyane Wade is in hot water on social media after throwing his support behind Nick Cannon following Cannon's ouster from ViacomCBS following a series of anti-Semitic remarks he made on a podcast last month.
Cannon, a TV personality who was fired by ViacomCBS on Tuesday, spouted anti-Semitic conspiracy theories on an episode of his "Cannon's Class" podcast and refused to apologize for his remarks. On Wednesday, Wade stood in support of Cannon with a post on Twitter, although he quickly deleted the message.
"We are with you," Wade wrote in a since-deleted tweet directed to Cannon. "Keep leading!"
About an hour later, the former Miami Heat superstar attempted to clarify with a second tweet. Eventually, he made a second apology.
"I want to clarify my now deleted tweet," Wade wrote in the first apology. "I was not supporting or condoning what Nick Cannon specifically said, but I had expressed my support of him owning the content and brand he helped create."
In the second apology, Wade finally addressed Cannon's anti-Semitism, claiming he was unaware of what Cannon had said.
"I was too quick to respond without being fully informed about his hurtful anti-Semitic remarks," he wrote. "As you all know I have ZERO tolerance for any hate speech!"
The Heat declined to comment on the three-time champion's tweets.
Cannon had been the host of MTV's "Wild 'n Out" and a chairman for Nickelodeon's TeenNick. Last month, he hosted former Public Enemy rapper Professor Griff on an episode of his podcast. Part of the conversation centered upon Professor Griff's departure from Public Enemy in 1989, largely because of a string of homophobic and anti-Semitic remarks. At the time, Professor Griff told The Washington Times, "The Jews are wicked. And we can prove this."
On the podcast, he doubled down on his past remarks.
"I'm hated now because I told the truth," he said.
Cannon agreed, referring to Black people as the "true Hebrews."
"You're speaking facts," he said. "There's no reason to be scared of anything when you're speaking the truth."
He added: "I find myself wanting to debate this idea and it gets real wishy and washy, and unclear for me when we give so much power to the 'theys' and 'theys' then turn into illuminati, the Zionists, the Rothschilds. … You can't be anti-Semitic when we are the Semitic people. That's our birthright, so if that's truly our birthright, there's no hate involved."
In Wade's initial vague tweet, it was unclear what about Cannon he was supporting. In his second tweet, he insisted he was simply supporting Cannon as he fought to gain control of some his properties, however Wade did not make any mention of anti-Semitism or prejudice against Jewish people until making a second apology on social media.
Wade's tweets come a week after Philadelphia Eagles wide receiver DeSean Jackson triggered a firestorm by sharing anti-Semitic messages on Instagram, including a quote he mistakenly attributed to Adolf Hitler. While some people in the sports world quickly condemned Jackson and Jackson himself was contrite, others expressed support for the wideout, agreeing with some the anti-Semitic conspiracy theories he mentioned.
Eagles defensive lineman Malik Jackson supported his teammate on social media and praised political activist Louis Farrakhan, who has referred to Hitler as "a very great man." Farrakhan is the leader of the Nation of Islam, an organization which the Southern Poverty Law Center describes as black nationalist and a hate group.
Former NBA player Stephen Jackson, who has been a leading force in the George Floyd protests, initially said Jackson was "speaking the truth" and claimed Jews "are the richest" and "control the banks."
Wade, who now works as an NBA analyst for Turner Sports, has often addressed issues involving race and equality on social media. In recent weeks, Wade has been vocal in the Black Lives Matter movement and also has been a supporter of the LGBTQ community. Earlier this year, Wade said Zaya Wade, his daughter, has known she was transgender since she was 3.
———
©2020 Miami Herald