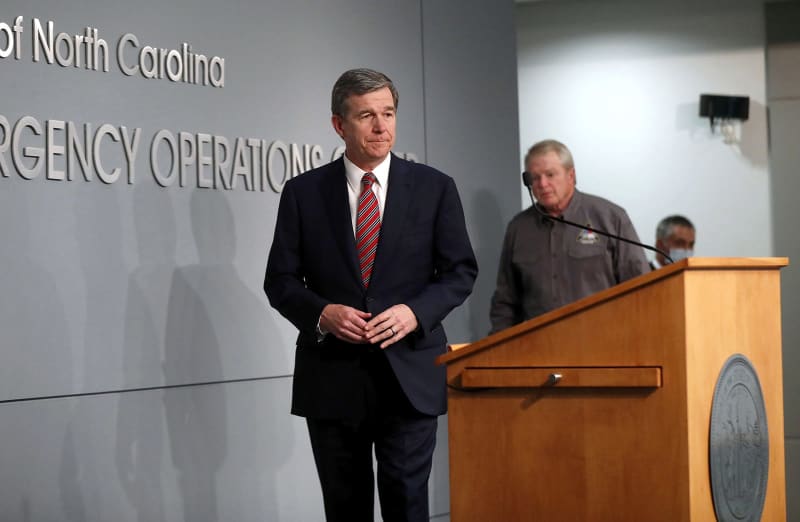 Wednesday afternoon, Myers Park High football coach Scott Chadwick said, felt like "a gut punch."
One day after North Carolina Gov. Roy Cooper said the state's public schools could reopen under a modified plan to allow in-person and remote learning, the N.C. High School Athletic Association announced it would delay the start of high school practice until at least Sept. 1.
NCHSAA rules state that football players must have at least eight practice days before playing, including three in full pads. Teams usually practice at least two weeks before playing, but the earliest date a team could play, after the eight days of practice, would be Sept. 10 or 11. But that's a very ambitious timetable. Sept. 18 would be a more likely Week 1 date, Chadwick said.
At Myers Park, for example, that would mean the Mustangs would lose three high-profile games: vs. Mallard Creek at the Matthews SportsPlex Aug. 19, against Texas power Trinity Christian, which features Deion Sanders' son at quarterback, on Aug. 29 plus a game against Rock Hill's South Pointe High School at Bank of America Stadium on Sept. 5.
That would've been the first time high school teams had played at the home of the Carolina Panthers.
Missing those games, Chadwick estimates, will cost his school more than $50,000. Longtime Hough High athletic director Masanori Toguchi said most Mecklenburg County schools have athletic budgets of more than $150,000, with heavy support from CMS, which covers officials, coaching stipends, security and ambulance at football games. Minus the CMS contribution, Toguchi said those school budgets would average between $50,000 and $100,000.
"Obviously," Chadwick said, "there was a lot of work and planning and meetings that went into putting that kind of schedule together, and it's certainly a gut punch to have this happen and to lose those opportunities for our kids. We felt like we had put together a schedule unlike any other that had probably been put together in N.C. high school football and to not have the opportunity (to play those games) is pretty tough."
———
In addition to moving back the start of the season, the NCHSAA also designated the first five student days of the school year as a "dead period," which means no workouts are allowed. The NCHSAA will allow teams to continue with limited summer conditioning and workouts under Phase One of its return to athletics plan.
The NCHSAA allowed teams to begin summer workouts on June 15, but Charlotte-Mecklenburg Schools and Wake County have not begun and have not announced a date to start.
"For now," NCHSAA commissioner Que Tucker said, "we believe these steps provide hope for our student athletes, and the possibility for playing fall sports. We know that many decisions are being made relative to the reopening plan your (schools) will follow. After each (school district) has had an opportunity to formalize and finalize those reopening plans, the NCHSAA staff will survey the membership to determine how sports should and/or can fit into the various models that will exist across the state."
Tucker said the NCHSAA plan was not "in cement" and could change or be delayed further if COVID-19 numbers do not improve around the state.
"We acknowledge that playing certain sports are more problematic at any time without a vaccine," she said, "however, we remain in consultation with our Sports Medicine Advisory Committee members, and they believe we can and should offer a sports program, with all necessary modifications, delays, etc. "
———
Two neighboring states, Virginia and South Carolina, also announced return to sports plans Wednesday.
— South Carolina will delay the start of its sports season until September. The S.C. High School Executive League committee voted 14-2 in favor of the changes, which would push back the start of games to Sept. 1 or as late as Oct. 2. Teams will play conference games first with potential to add non-conference games later. Practice will begin Aug. 17 instead of July 30.
A proposal to move spring sports, like baseball, to the fall was voted down 16-1.
— In Virginia, the state association presented three options to schools today, but none included football.
One option had non-contact sports like golf and cross-country being played this fall. High-risk sports like football would be canceled. Another plan called for fall and spring sports to switch seasons. The third would be to start winter sports in December and to play shortened seasons; winter first, followed by fall and spring.
The decisions by both associations will have some effect in North Carolina due to scheduling. N.C. 4AA state champion Vance, for example, was scheduled to play Heritage (VA) at home Aug. 28.
Likewise, the NCHSAA decision will also effect North Carolina's private schools, many of whom have multiple games with public schools scheduled early in the season. SouthLake Christian, for example, was scheduled to play Lake Norman Charter Aug. 21.
Providence Day had games with Green Level Aug. 21 and West Cabarrus Sept. 11. NCISAA state champion Charlotte Christian had two public games among its first three — Sun Valley at home Aug. 21 and at Clinton (SC) Sept. 4.
NCISAA executive director Homar Ramirez said his office planned to meet virtually with the state's 97 private schools about fall sports on Monday afternoon. Of the 97 schools, Ramirez said 35 play football.
Ramirez said options include starting on time, delaying the start of the season, plus "a variety of contingency plans." None, he said, involved moving football to the spring.
At Myers Park, Chadwick said he's looking at all the state association decisions and thinks one thing.
"I think the varying degrees of what each state is doing kind of lets you know that nobody has a true picture of what's going on," he said. "I have hope (we play this fall) but I don't know that I have confidence. I feel once we get our kids back in school and the mask mandate runs its course that maybe we'll be in a better position come September to have some sense of normalcy."
———
©2020 The Charlotte Observer (Charlotte, N.C.)